The Real Reason Armie Hammer Moved To The Cayman Islands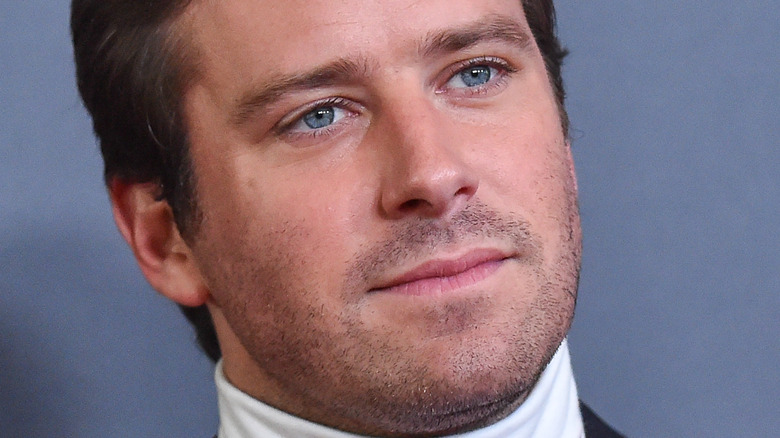 DFree/Shutterstock
Trigger warning: The following article contains language about sexual abuse and cannibalism. 
Armie Hammer, an actor known for his roles in "The Social Network" and "Call Me by Your Name," took a massive career plunge amid a huge scandal. In 2021, Hammer was the subject of disturbing allegations, some of which claimed the actor sent numerous women sexual messages about his cannibalism fetish and rape fantasies, per Complex. Amid the developing news, an Instagram page exposed screenshots between the actor and other women. In addition, a woman who dated Hammer accused him of rape and physical assault, per Variety.
As a result of these allegations, Hammer left two major projects and was dropped by his agency, William Morris Endeavor, per Vanity Fair. Hammer said in a statement, "I'm not responding to these bulls*** claims but in light of the vicious and spurious online attacks against me, I cannot in good conscience now leave my children for four months to shoot a film in the Dominican Republic," per another Variety report. 
Since the scandal, Hammer has been raising eyebrows due to his mysterious new life, which includes some time spent in the Cayman Islands. 
Armie Hammer recently returned from the Cayman Islands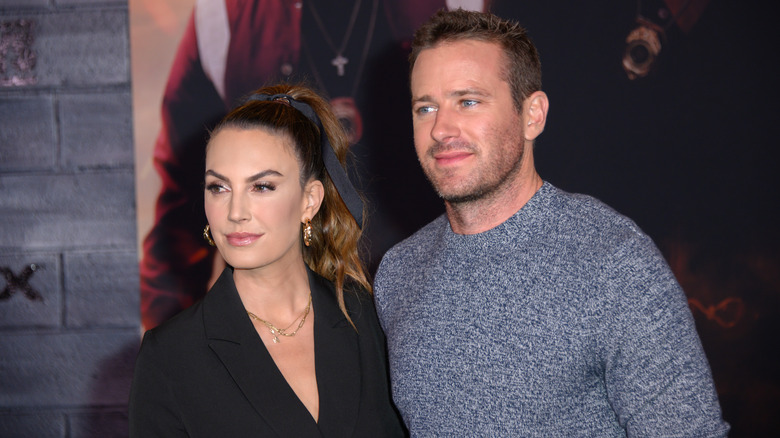 Silvia Elizabeth Pangaro/Shutterstock
In late July, Armie Hammer was spotted outside of a restaurant in Venice, California. After dealing with a media frenzy regarding rumors selling timeshares, he returned from the Cayman Islands. According to Page Six, he had been in Los Angeles for two weeks with his estranged wife Elizabeth Chambers and their two kids. Until then, he hadn't been publicly seen in the United States since his highly publicized downfall. Robert Downey Jr., has been supportive of Hammer and allowed him to stay at his California home. In addition, the "Iron Man" star reportedly paid for Hammer's six month rehab stay, per Vanity Fair.
While we're uncertain about Hammer's future living situation, we do know he's been back and forth from the Cayman Islands since the beginning of the pandemic. He initially retreated there with his ex-wife in 2020 before his scandal made headlines. Chambers filed for divorce in July 2020, per Fox News. According to the outlet, this particular location isn't random for Hammer, as he lived there with his family for several years of his childhood.
Rumors circulated about Armie Hammer selling timeshares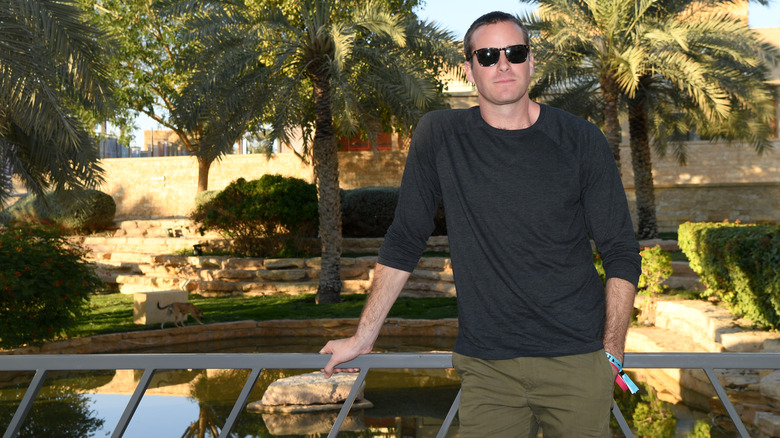 Daniele Venturelli/Getty Images
Before returning to Los Angeles, Armie Hammer appeared to be pressing the reset button on his career. Recently, rumors circulated about Hammer's professional pursuits in the Cayman Islands. This July, a flier advertised Hammer as a hotel concierge at a Cayman Islands resort, per Variety. A producer of "Desus & Mero," whose friend's parents had been vacationing at the spot, posted the flier of Hammer on Twitter and then deleted it. Though the hotel denied these claims to numerous media outlets, there was major confusion as to what Hammer was actually up to. According to Variety, the flier was nothing more than a practical joke initiated by the hotel staff for attention. In addition, Hammer's attorney, Andrew Brettler, confirmed that the flier was a hoax.
In the same month, pictures of Hammer selling timeshares in an office were shared on TMZ. A hotel staffer emphasized that Hammer didn't work there, but occasionally "hangs around" the resort, per Variety. Another insider countered these claims, telling the outlet, "He is working at the resort and selling timeshares. He is working at a cubicle. The reality is he's totally broke, and is trying to fill the days and earn money to support his family." In an emailed statement to Entertainment Tonight, Brettler said he couldn't "confirm or deny it." He defended his client, saying, "I just think it's s****y that, if he is selling timeshares, the media is shaming him for having a 'normal job.'