Who Is Jude Law's Model Daughter, Iris Law?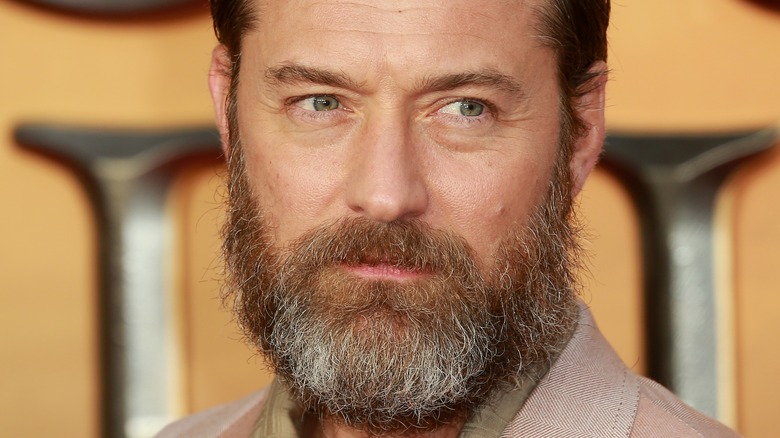 Cubankite/Shutterstock
Jude Law is one of Hollywood's biggest and brightest stars. The acclaimed actor and nominee of two Academy Awards is known for his performances in movies such as "The Talented Mr. Ripley" and "Closer," per IMDb. "Jude Law gives a very stylish and charismatic performance as the exquisite Dickie, all cruelty and caprice," The Guardian wrote in a review for "The Talented Mr. Ripley."
Law's ex-wife, Sadie Frost, is an actor and producer who gained recognition with her role in the 1992 film "Bram Stoker's Dracula," per Rotten Tomatoes. She's also known for her work as a fashion designer, including her opulent yoga collection, per Women's Wear Daily. The former couple shares three kids together, including their daughter, Iris Law, who was born in 2000.
Regardless of talent or beauty, being part of a celebrity family can certainly open doors in the entertainment industry. Lily-Rose Depp, daughter of model Vanessa Paradis, is now a sought-after model and actor. Maya Hawke, daughter of famous actors Ethan Hawke and Uma Thurman, has become a fan favorite on the hit Netflix television series "Stranger Things." Now, we can add Iris Law to the list of prospering young Hollywood elite. So, what are the details of her career?
Iris Law is a successful model and budding actor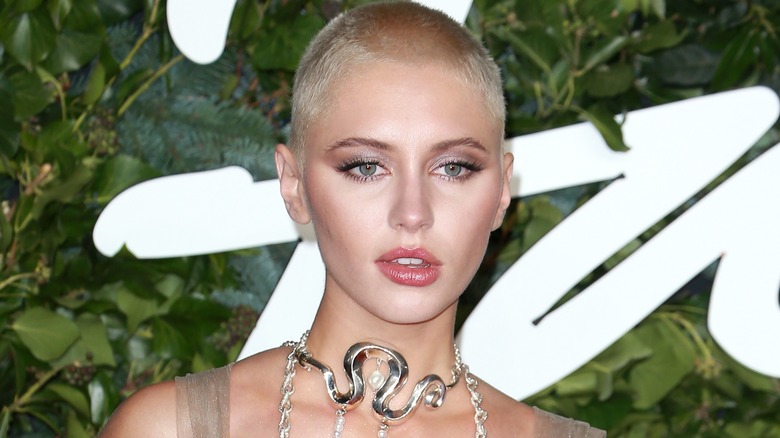 Cubankite/Shutterstock
Iris Law has garnered attention for her thriving modeling career. She is also an actor, as she recently made her television debut in the punk mini-series "Pistol," per IMDb. According to L'Officiel, Law had her breakthrough in a 2017 campaign for Burberry Beauty. Subsequently, she was featured in campaigns for high-profile brands such as Versace, Marc Jacobs, and Calvin Klein. She's also strutted down the catwalk for designers Miu Miu, Roberto Cavalli, and Missoni. To top it all off, she is Dior Beauty's U.K. ambassador, per Elle.
In February 2022, Law posted a series of Instagram photos walking the runway for Missoni. The supermodel wore a thin-strapped, long, black dress decorated with sparkles. She captioned the pictures, "Was a dream walking such a beautiful show." Her status as an "it girl" has been cemented through her iconic looks. That same month, Law made headlines for her Versace dress, which Beyoncé famously wore for the 2003 MTV movie awards, per Page Six.
Though she's entered an industry that's highly focused on appearance, Law has made her intentions clear. She told L'Officiel, "I practice gratitude and don't dwell on how I look because that shouldn't be the most important thing in life." The key for Law? "I try to focus more on what I'm doing in my life or for others," she continued. And when it comes to her career, "being passionate about what I'm doing" feeds the model-actor's stamina, per Interview Magazine.
Iris Law is a fearless fashionista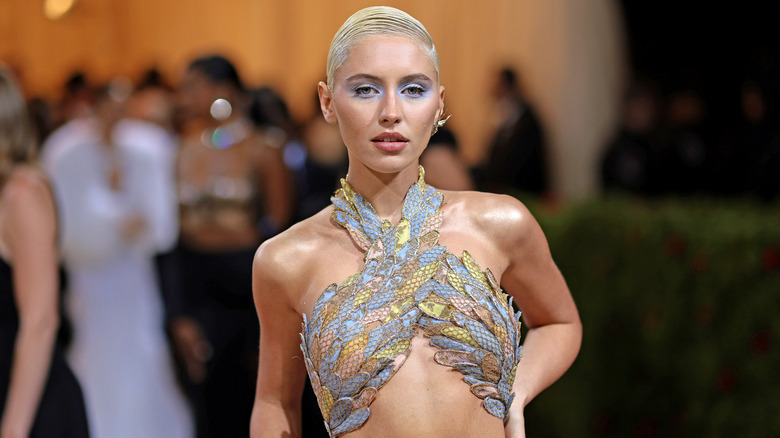 Dimitrios Kambouris/Getty Images
Iris Law has also amassed a following for her daring fashion sense, including her short bleached hair. In 2021, she told Vogue, "I wanted to do something that felt liberating. The day I shaved my head, I changed my life. I've never done anything like that before." According to Law, not all of her friends were a fan of the look. But she brushed off the comments and owned her hairstyle, saying, "I'm just so confident in it that I don't care."
This isn't the only time Law has displayed her bold style. In 2022, Law talked about beauty in an interview with Elle. "I've always loved experimenting on the red carpet or at shows or events, but now it feels a little braver and maybe more refined," she said. One way the star has experimented? Edgy eyebrows, which she debuted in July 2021 at Cannes Film Festival. "I've wanted to slit my eyebrows since January when I was in Jamaica," she told Elle. "I was really inspired by a lot of the kids there who had slits in their eyebrows, and I really wanted to do it."
On Instagram, Law is a trendsetter for her 651,000 followers. Combining funky nails, colorful, patterned outfits, and chic accessories, her "more is more" cool-girl style is both envy-inducing and inspiring. In one Instagram post, she showed off a heart shaved in her hair. Law has certainly mastered the art of embracing her fashionista fearlessness.