Inside Armie Hammer And Johnny Depp's Off-Screen Friendship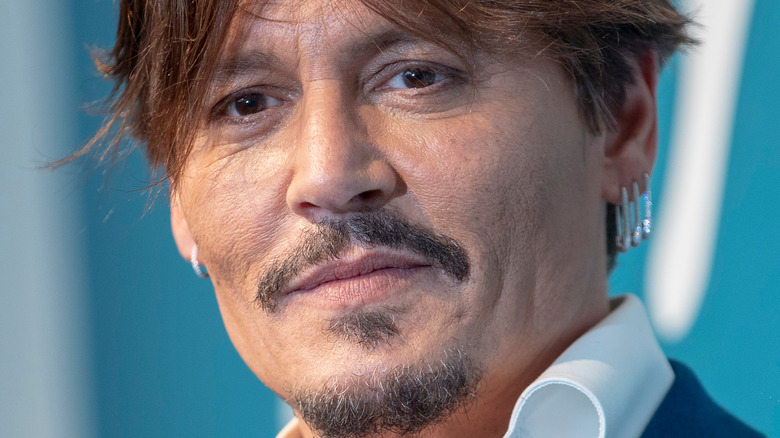 Denis Makarenko/Shutterstock
Movie fanatics are familiar with Johnny Depp and Armie Hammer's acclaimed on-screen performances. Depp has become a household name for films such as "Pirates of the Caribbean," "Sweeney Todd," and "Edward Scissorhands," just to name a few. Hammer was praised for his performance in the 2018 drama "Call Me by Your Name," which won an Oscar for best adapted screenplay, per IMDb. A review for Collider said, "Anchored by a phenomenal breakout performance from Timothée Chalamet, Armie Hammer's best work yet, and masterful craftsmanship, 'Call Me by Your Name' is an instant addition to the best romances of the 21st century."
However, in the past year, Hammer and Depp have been the subjects of groundbreaking headlines — and not for their acting talents. Hammer has demanded attention for his rumored activities in The Cayman Islands following a string of sexual assault allegations, while Depp has infamously taken centerstage for his dramatic legal win to ex-wife Amber Heard. But once upon a time, these two stars received publicity for far less serious claims. Apparently, Hammer and Depp developed a friendship while filming the 2013 movie "The Lone Ranger" together.
Armie Hammer revealed Johnny Depp's quirks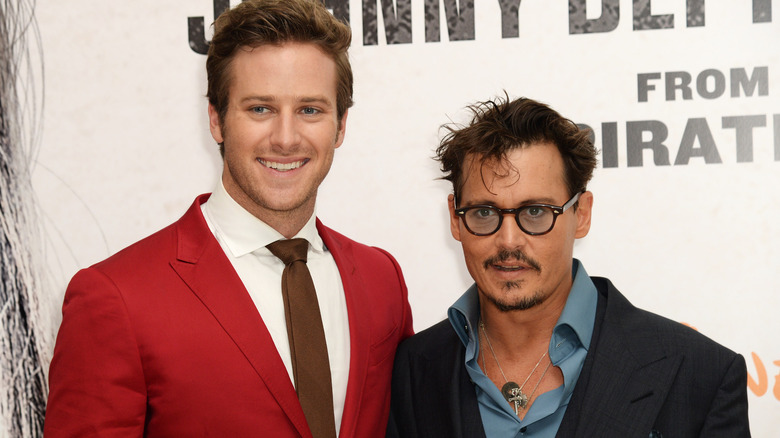 Dave J Hogan/Getty Images
While promoting "The Lone Ranger," Armie Hammer had plenty of kind words and stories to share about his co-star Johnny Depp. In an interview on "Conan," the actor described Depp as a "character," and gushed, "He's every bit as cool as you don't think it's possible for him to be." However, Hammer was "startled" upon their first table read, as Depp was fully decked out in extensive character makeup.
From Hammer's account, it sounds like Depp is one quirky guy. When asked about Depp's on-set eccentricities on "Watch What Happens Live," Hammer laughed and said, "Pass." Then, he explained, "So, here's the deal, like yes, the guy lives an extravagant lifestyle. There's no way around it, but he also lives on like a totally other planet." Hammer was referring to Depp's surreal mega-fame. He continued, "We'd be somewhere in public and it would turn into a riot and people would try to pull out his hair." You know, just a typical day in the life of a world-renowned celebrity.
Johnny Depp and Armie Hammer bonded on-set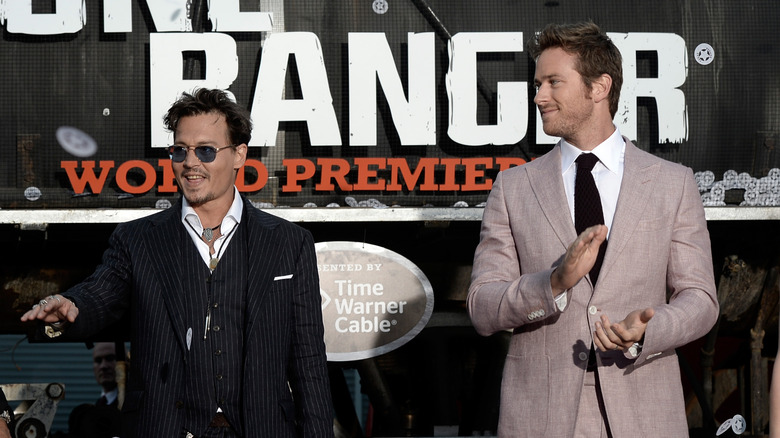 Kevin Winter/Getty Images
While Johnny Depp hasn't been outspoken about Armie Hammer, the two's intimate relationship while shooting "The Lone Ranger," has been summed up by "The Social Network" actor. According to E! News, Hammer said, "I braided his hair!" at the Artios Awards in Beverly Hills. He elaborated on their "magical experience," saying, "That was so nice. We would stay up talking till the sunrise."
In an interview with Rolling Stone, Hammer revealed his and Depp's unique dynamic during filming. Hammer explained, "He was my man-servant on set. He held my water for me. If I got hot he would fan me with his bird. We had a terrific sort of serf relationship. It was great to have a permanent helper." And at a Japan TLR conference, Hammer and Depp talked about working on "The Lone Ranger." 
Hammer raved about Depp on-set, saying, "He knows everybody's name, he knows what job they do, he knows how to do the job, he knows how the job will affect the final outcome." With all of Hammer's positive claims about Depp, we're curious about one thing: How did Depp really feel about Hammer? In this case, what happens in Hollywood, stays in Hollywood?