Olivia Newton-John's Heartbreaking Last Post On Instagram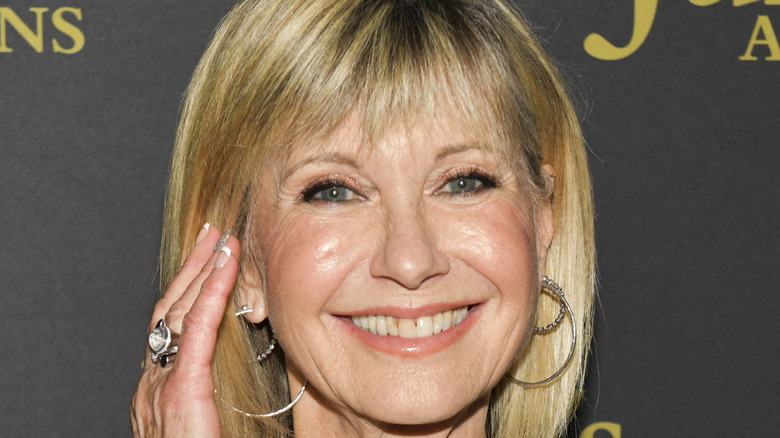 Rodin Eckenroth/Getty Images
Olivia Newton-John, the star of the beloved movie-musical "Grease," died on August 8, her family confirmed on her official social media accounts. She was 73. "Dame Olivia Newton-John passed away peacefully at her Ranch in Southern California this morning, surrounded by family and friends," her husband John Easterling announced on Facebook. While the official cause of death has not been released, the post celebrated the star's long journey with breast cancer, symbolized by the Olivia Newton-John Foundation Fund. "Her healing inspiration and pioneering experience with plant medicine continues with the Olivia Newton-John Foundation Fund," Easterling wrote.
Newton-John was first diagnosed in 1992, People reported. She underwent a partial mastectomy to treat the tumor. The cancer returned in 2013, though she opted not to disclose the diagnosis at the time, according to SurvivorNet. "I thought, 'It's my life' and I just decided to keep it to myself,'" she said. By 2017, Newton-John's tumor had evolved to IV stage and spread to her back, People reported. 
Through the years, Newton-John poured herself into raising funds and awareness for breast cancer. In fact, it was through her activism that she met Easterling, a herbalist who has been studying the methods of Indigenous healers in the Amazon regions since 1976, according to LabAroma. Their effort to find gentler ways to fight the disease led Newton-John and Easterling to jointly establish the foundation named after her, the American Botanical Council reported. Newton-John and Easterling married in 2008, a union she celebrated until the last days of her life — even publicly.
Olivia Newton-John's last Instagram post honors her husband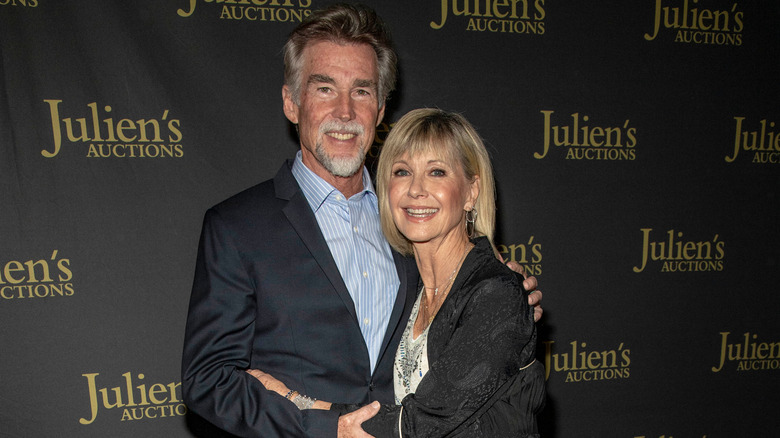 Eugene Powers/Shutterstock
Olivia Newton-John updated her 500,000+ Instagram fans one final time on August 5, a post she dedicated to her husband, John Easterling. In the caption, the actor and musician simply added the hashtag "Flashback Friday," letting the photo speak for itself. In the snap, she and Easterling are seated close to the ground in nature against a backdrop of tall vegetation. Easterling has his arms wrapped around Newton-John, who is smiling at the camera. The shot is from her October 2016 People profile.
Her fans were quick to gush over the happiness they exuded. "You two make the perfect couple," one wrote in the comments section. Another wished her luck in her health journey. "Beautiful photo! I'm sending you wishes for continued good health. I'm keeping you in my prayers. Love and light." Some even expressed concern over Newton-John's decreased social media presence in recent weeks. "I'm not the only one wondering if you're really okay. The silence is deafning [sic] and to be honest sometimes scary," a fan wrote. Newton-John's last update before the photo with her husband was on July 15.
Newton-John's post honoring Easterling takes on extra meaning as she mainly used her Instagram for work or activism-related content. Rarely did she use it to honor her family. In December 2020, she shared a photo that showed her and Easterling kissing under the mistletoe, but even then she used it to promote the work of the Olivia Newton-John Foundation. 
Olivia Newton-John called John Easterling 'the love of my life'
Olivia Newton-John met John Easterling in 2007, two years after the baffling disappearance of her longtime partner Patrick McDermott. In the aftermath of the traumatic events, Newton-John turned her focus to her activism and was in no rush to be in a relationship again, she told People in 2016. Her passion for finding alternative cancer treatments led her to a trip to the Amazon, one that John Easterling was also on. "I wasn't expecting to fall in love with him and then bam!" she shared. 
It wasn't the first time Easterling and Newton-John's paths crossed. They were introduced by a mutual acquaintance shortly after she was diagnosed with cancer, but nothing happened between them at the time, according to People. The rainforest trip all those years later marked a new chapter in Newton-John's life. Through Easterling, Newton-John learned the meaning of true love. "I found the love of my life at 59 going on 60! I'm grateful," she said in 2016.
A year after meeting, they returned to South America in June 2008 to tie the knot in an Incan celebration in the Peruvian mountains, People reported. Newton-John and Easterling's marriage became official later that month, when they wed in Florida. But the Amazon ceremony is the one she held close to her heart, with Newton-John opening an exception in her work-filled Instagram to mark the occasion on June 21, 2020. "Seems like yesterday I married the man of my dreams in Peru on the winter solstice," she gushed.