John Travolta's Tribute To Olivia Newton-John Will Make You Emotional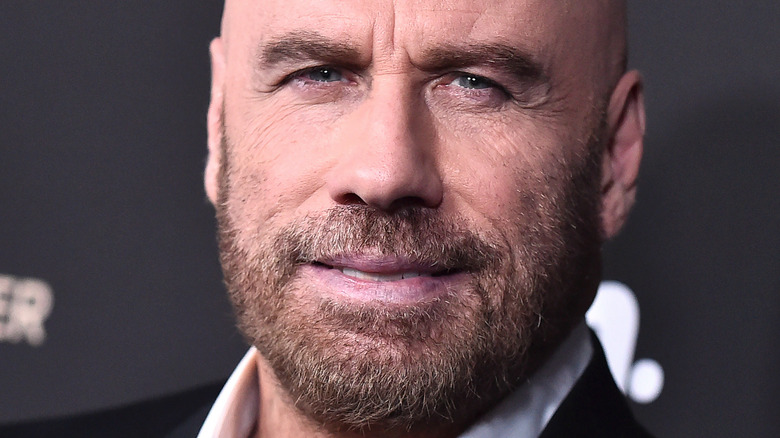 DFree/Shutterstock
Actor and singer Olivia Newton-John died on August 8 at the age of 73, and it's certain to say that watching yet another rerun of "Grease" will now feel differently knowing that she's not here anymore. Newton-John's husband John Easterling shared a statement with the public that pretty much summed up what many of her fans thought of the Australian singer and actor.
"Dame Olivia Newton-John passed away peacefully at her Ranch in Southern California this morning, surrounded by family and friends," Easterling said (via CNN). "We ask that everyone please respect the family's privacy during this very difficult time. Olivia has been a symbol of triumphs and hope for over 30 years sharing her journey with breast cancer." While her diagnosis of breast cancer wasn't an easy one throughout the years, the talent was a fighter as much as she was an entertainer, and an inspiration to so many people and the lives that she touched.
As many know, Newton-John's fans loved her thanks to her role as the iconic Sandy in "Grease," and of course, her extensive catalog of musical hits, like "Physical." While there's no doubt that her loved ones are mourning her death, there is someone else that has something to say about her and the impact that their relationship had on his life: his "Grease" co-star, John Travolta. In fact, his tribute to his former on-screen love interest on his Instagram account is making some of their fans emotional. Get ready to hold back those tears.
John Travolta shared a message to his 'dearest Olivia'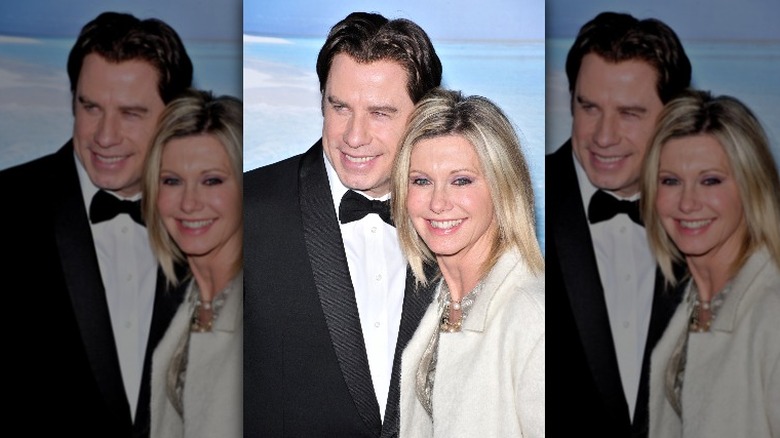 Featureflash Photo Agency/Shutterstock
It might have been decades since they last shared the screen together, but John Travolta has made it clear that Olivia Newton-John has always had a very special place in his heart. Sharing a throwback photo from the earlier years of her career, Travolta paid tribute to his "Grease" co-star on his Instagram account following the news of her death.
He wrote, "My dearest Olivia, you made all of our lives so much better. Your impact was incredible. I love you so much. We will see you down the road and we will all be together again. Yours from the first moment I saw you and forever! Your Danny, your John!" Many of Travolta's fans commented on the post, with one writing, "I immediately thought of you when I heard the news. Peace be with you and all of us who loved her," as well as, "That brought tears to my eyes. Grease was on yesterday."
That said, there was a reason Travolta and Newton-John were so close, and it had to do with their off-screen relationship as much as their on-screen relationship, too. The two had often promoted "Grease" together for many years after its 1978 release. In fact, Travolta even admitted during a 1981 interview that he had to do some heavy pitching in order to convince the producers that Newton-John was the one that everyone wants. Clearly, Travolta saw something in Newton-John that the rest of the world would quickly see, too.
Inside John Travolta and Olivia Newton-John's ever-lasting bond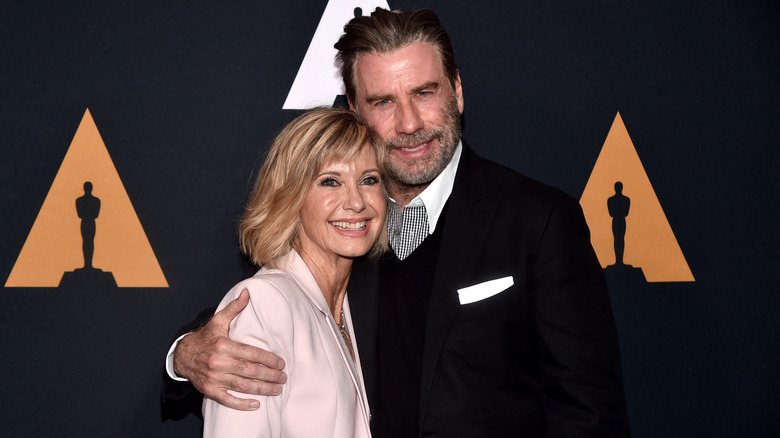 Alberto E. Rodriguez/Getty Images
While "Grease" did help make both John Travolta and Olivia Newton-John international stars, it looks like their on-screen pairing almost didn't happen. During a joint-interview they did together while on "The Merv Griffin Show" back in 1981, Travolta admitted that he had to do some serious campaigning to help Newton-John land her role as Sandy. He said at the time (via Express): "Well I had put in heavy pitching for Olivia. I wanted this girl bad in Grease. Because I had done the show on Broadway on a national tour and I said: 'The perfect Sandy, the ultimate Sandy, would be Olivia Newton-John."
Well, Travolta's insistence on making Newton-John his co-star worked. During an interview with Us Weekly in 2021, Newton-John had nothing but wonderful things to say about Travolta and their long-lasting friendship throughout the years. She said, "John is a lovely, sweet man. And he made all my acting experiences really easy. He was very thoughtful and encouraged me if he thought I wasn't doing a good enough job." She also opened up about their first on-screen kiss. Newton-John said, "I remember just before that we were sitting on a rock and it's actually in the movie that these waves broke over us. These rogue waves came in. And I can't remember if that was before or after that because my hair was perfect."
Newton-John was the one that Travolta wanted, and who everyone wanted, too.