Anne Heche's Behavior Right Before Her Car Crash Raises A Lot Of Questions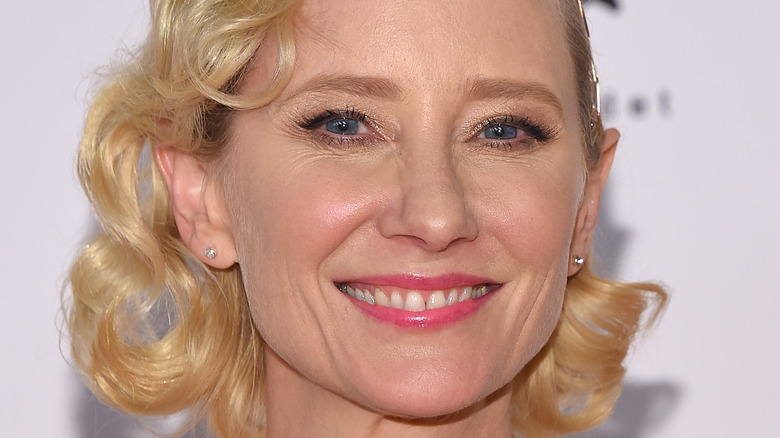 DFree/Shutterstock
It has been a concerning few days for actor Anne Heche since the "Wag the Dog" star crashed her car several times in a residential Los Angeles neighborhood. In footage published by TMZ, Heche is shown driving erratically, narrowly missing a pedestrian before ramming into another vehicle and taking off. Heche then drove her Mini Cooper directly into a nearby home, setting it ablaze. Although nobody else was luckily injured in any of these incidents, Heche sustained severe burns on-site and later fell into a coma while hospitalized, per the Los Angeles Times. A spokesperson for the "Donnie Brasco" star told the outlet Heche was in critical condition as of August 9, having sustained a "significant pulmonary injury" that required intubation as well as "surgical intervention" for her burns.
Although Heche has not been arrested or charged at this point, authorities are investigating the actor for a hit-and-run as well as driving under the influence, per the LA Times. Amongst other things, the TMZ clip featured a possible bottle of alcohol near the driver's seat during the incident. Police also managed to draw a sample of Heche's blood on-site for testing, per Page Six. 
Raising brand-new questions about Heche's state at the time of the crashes, a salon owner shared his one-on-one interaction with her mere hours before the incident. 
Anne Heche purchased a red wig before her fiery car crash
Anne Heche seemed sober and upbeat as she purchased a wig right before her fiery August 5 car crash. Richard Glass, who owns Glass Hair Design in Venice, Calif., told The Los Angeles Times that Heche entered his salon (located two miles from the crash site) that morning and did not appear inebriated (or "wasn't speaking in cursive," as Glass put it). During their encounter, Glass recalled that Heche inquired about buying a bright blue wig. When told the blue was unavailable, Heche went for the red, despite his warnings that it hasn't been cut, styled or washed yet. 
He posted a sweet selfie of him with Heche that day, but Glass later admitted to the LA Times that their interaction was "so strange" and "very, very random." Glass says Heche "grabbed [his] face" and cradled it in her hands, asking him if they had collaborated before. Saying no, Glass did offer to work with her in the future. Glass told the Times that Heche was "very pleasant" and behaved like "a sweet little girl." With the police still investigating Heche for a possible DUI and hit-and-run, Glass' Instagram comments were flooded with inquiries, wondering if Heche seemed "under the influence." "Wow. How life changes so quickly," mused another follower. 

If you or anyone you know is struggling with addiction issues, help is available. Visit the Substance Abuse and Mental Health Services Administration website or contact SAMHSA's National Helpline at 1-800-662-HELP (4357).