How Harry Styles Really Developed His Flair For Fashion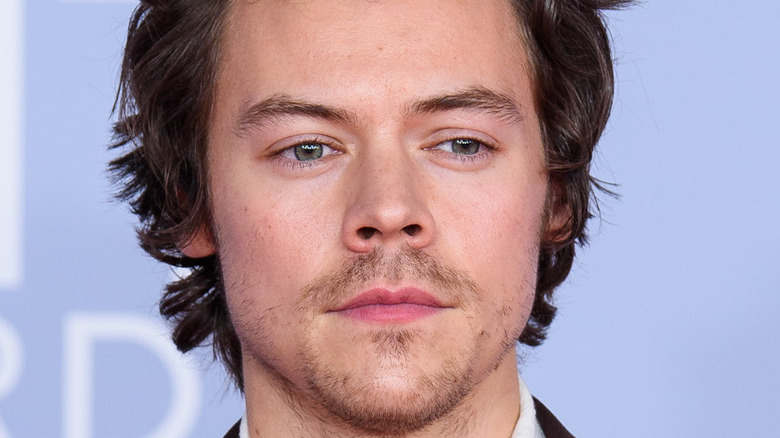 Joe Maher/Getty Images
Looking back at Harry Styles' outfit choices during the early days of One Direction, many would never guess he would eventually become a style icon. The former boy band crooner was not one for dressing up back in the day, as he was usually clad in polo shirts and high Supras. It wasn't until a few years into show business when he started experimenting with various looks and made bold sartorial choices.
By the time One Direction broke up and Styles went solo, he had already made his mark in the fashion world. GQ described him as having one of the most eccentric styles out there because it's difficult to predict what he's going to wear on any given day. Styles also went on to become Gucci's Alessandro Michele's muse. "Harry has an incredible sense of fashion," the creative director said in a statement, per Teen Vogue. "The idea of working together came to me one day while we were talking on the phone: I proposed creating a 'dream wardrobe' with him."
While it seemed like Styles did not have a handle on his style yet during his early One Direction days, he said that he was already interested in fashion from an early age. In fact, it was a school play that catalyzed his love for dressing up. 
Harry Styles' love for fashion started in school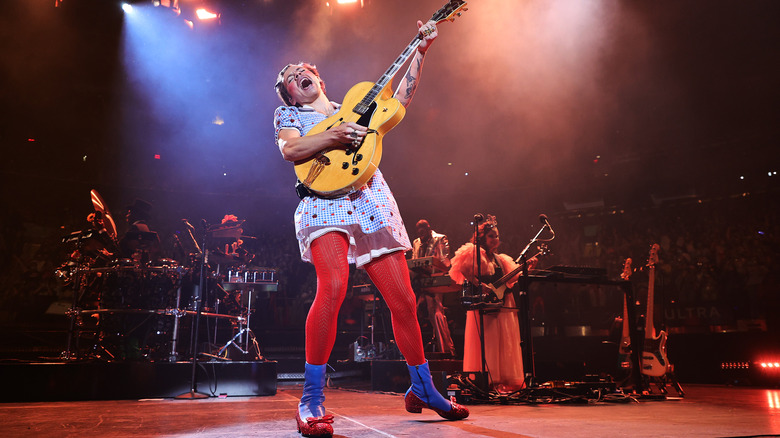 Theo Wargo/Getty Images
In 2020, Harry Styles became Vogue magazine's first-ever male cover star. It was then when he explained his passion for fashion dates back to his childhood. "As a kid I definitely liked fancy dress," he told the outlet. Styles explained that participating in school plays also influenced his style evolution — starting with getting cast as a church mouse named Barney. "I was really young, and I wore tights for that," he told Vogue. "I remember it was crazy to me that I was wearing a pair of tights. And that was maybe where it all kicked off!"
His mother Anne Twist likely contributed to Styles' fashion-forwardness as well. In an appearance on the U.K. talk show, "Lorraine," Twist said she loved dressing Harry and his sister Gemma when they were growing up. "I think maybe I had something to do with it, because I was always a big fan of doing fancy dress with them when they were smaller, which Gemma hated, but Harry always embraced," she shared.
Styles also credits his musical heroes — including Prince, David Bowie, Elvis, Freddie Mercury, and Elton John — for inspiring him to dress freely. "As a kid it was completely mind-blowing," he said on "Lorraine." "Now I'll put on something that feels really flamboyant, and I don't feel crazy wearing it."
Harry Styles on facing criticism over his fashion choices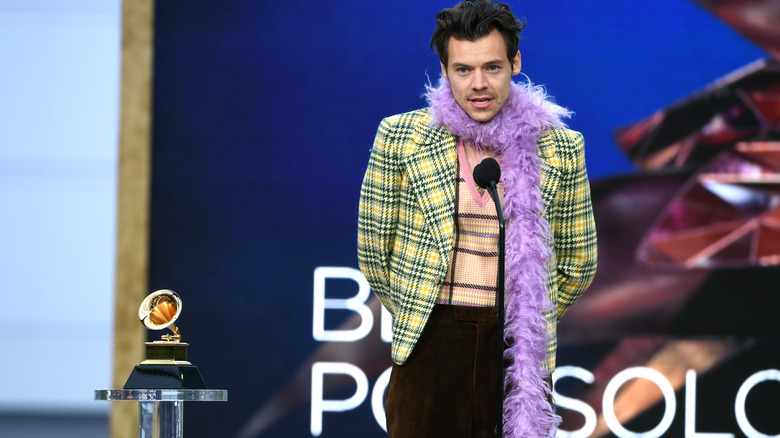 Kevin Winter/Getty Images
What many love about Harry Styles' personal style is that he never limits himself to strictly men's clothing. But he's also drawn flak for his fashion choices. In addition to Vogue's cover story featuring Styles wearing a dress, conservative commentator Candace Owens tweeted: "There is no society that can survive without strong men ... Bring back manly men."
Meanwhile, Billy Porter called out the fact that a cis white man was featured on the Vogue cover instead of the people who had paved the way for him. "I created the conversation [about non-binary fashion] and yet Vogue still put Harry Styles, a straight white man, in a dress on their cover for the first time," Porter told The Sunday Times in October 2021. "This is politics for me. This is my life. I had to fight my entire life to get to the place where I could wear a dress to the Oscars and not be gunned now. All he has to do is be white and straight." Porter later apologized to Styles on "The Late Show With Stephen Colbert," explaining it was never his intention to drag his name into what's clearly a systemic issue.
Styles has yet to address the criticisms flung at him, but he did say that he never pigeonholes himself when it comes to fashion. "It's like anything — anytime you're putting barriers up in your own life, you're just limiting yourself," he told Vogue, for the cover story. "There's so much joy to be had in playing with clothes. I've never really thought too much about what it means — it just becomes this extended part of creating something."