The Truth About Lauren Graham And Scott Patterson's Rumored On-Set Feud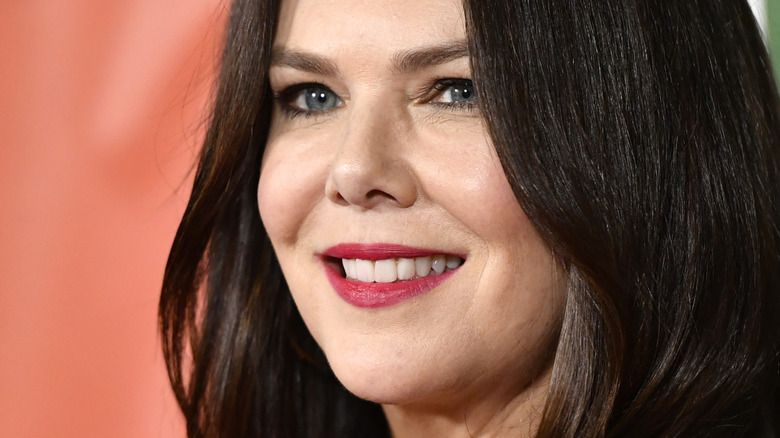 Frazer Harrison/Getty Images
"Gilmore Girls" centered on the lives of the mother-daughter duo, Lorelai Gilmore (Lauren Graham) and Rory Gilmore (Alexis Bledel), as they navigated small-town living in Stars Hollow. And while their duo's close-knit relationship was the center of the show, the supporting cast perfectly rounded out the series. Second only to the girls was the friendship and eventual relationship between Graham's characters, Lorelai, and Luke Danes (Scott Patterson).
Over seven seasons of "Gilmore Girls" and the 2016 revival, "Gilmore Girls: A Year In The Life," Luke and Lorelai's scorching chemistry transformed into an on-again-off-again relationship, which culminated in an eventual marriage. Despite the sweet onscreen relationship between their characters, rumors of contention between Graham and Patterson have swirled for years. According to Cheatsheet, it all started when Graham curtly replied "no" to the question of whether or not she and Patterson were "best friends," then moved on to the reporter's other questions. Apparently, this was all it took for fans' and journalists' imaginations to run wild.
In 2007, a reporter for TV Guide even mentioned to Graham that "conspiracy theorists" thought Lorelai's relationship with Christopher Hayden (David Sutcliffe) was fueled by her "prickly relationship with Scott Patterson." Graham maintained the situation was "overblown." She also mentioned that the Lorelai/Christopher romance was influenced as a result of wanting to keep the show fresh. As for how she felt about working with Patterson, Graham said things were "totally great" and they had a "working relationship."
Scott Patterson's thoughts on Lauren Graham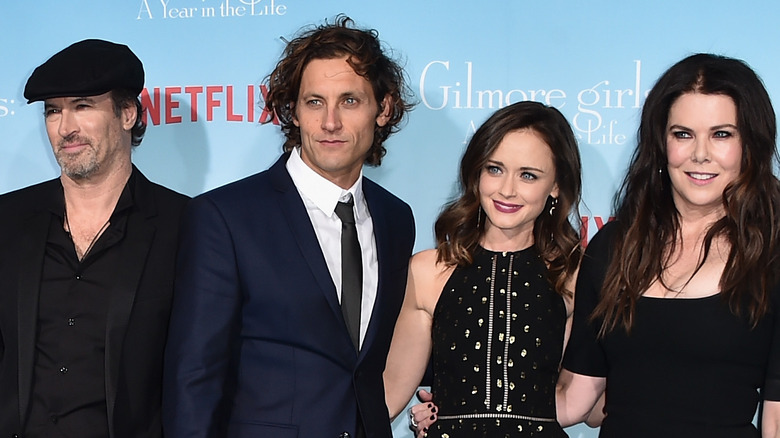 Alberto E. Rodriguez/Getty Images
Over the years, Scott Patterson has also fielded questions about working with Lauren Graham on the long-running comedy. And like Graham, he's had nothing but pleasant things to say about his former onscreen love. During a 2016 press junket for "Gilmore Girls: A Year In The Life," the actor implied to Glamour that he actually had a little crush on Graham when they first met. "I thought, 'You know, uh-oh. Let's keep this professional! Let's just keep it professional as long as possible and not blow up the show!'"
When asked if she and Graham achieved professionalism, he replied: "Yeah! Because I knew it would go for a long time! I was seeing somebody, anyway. I think she was too. And she probably wasn't interested in me. That matters little to me. So yeah, listen, the whole thing just worked. The chemistry was there." Patterson also once revealed that he and Graham bonded over the need to kick their smoking habit. Apparently, the series' famously fast-paced dialogue was difficult to execute and they both quit smoking just to keep up. "She needed her wind," Patterson admitted to the New York Times, referencing Graham. "And I needed my wind." 
There's also the fact that, when the cast gathered on The Today Show for the show's 15th anniversary, Patterson didn't hesitate to state he'd be "all in" if the opportunity to do a "Gilmore Girls" movie ever arose. Yeah, definitely doesn't sound like a feud!
Scott Patterson's other rumored onset feud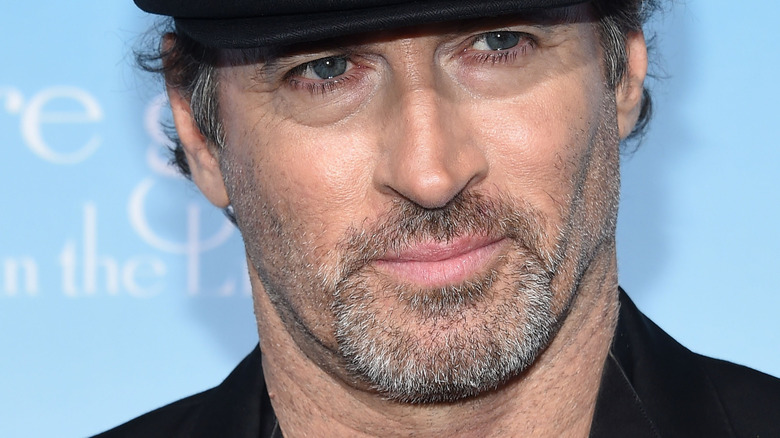 DFree/Shutterstock
Despite Lauren Graham putting rest to the rumors that she and Scott Patterson had bad blood between them, not all of his co-stars shared that same sentiment. Following the 2006 finale of "Gilmore Girls," Patterson landed a starring role as Gary Tolchuck in the 2007 show, "Aliens In America." The half-hour comedy followed centered on a middle-class family hosting an international exchange student and the many hijinx that ensued.
Gary Tolchuck, the family's patriarch, was married to Amy Tulchuck, played by Amy Pietz. While Pietz has fond memories of the onscreen relationship, her opinion of their working relationship was not so great. Prompted by a conversation about finding chemistry in her costars, Peitz shared with Page Six that she sometimes thinks she "should be a casting director" because she can "spot stars a mile away." This, in turn, helps her to "stay away from projects that have horrible people involved."
Peitz added, "As great as 'Aliens in America' was, the guy who played my husband was ... horrible. And I don't mind saying that in public. And that experience was one I never want to repeat, so now I'm doubly careful." While Pietz didn't elaborate why she feels that way about Patterson, they clearly didn't have that same unique chemistry.