What Camille Kostek Really Looks Like Without Makeup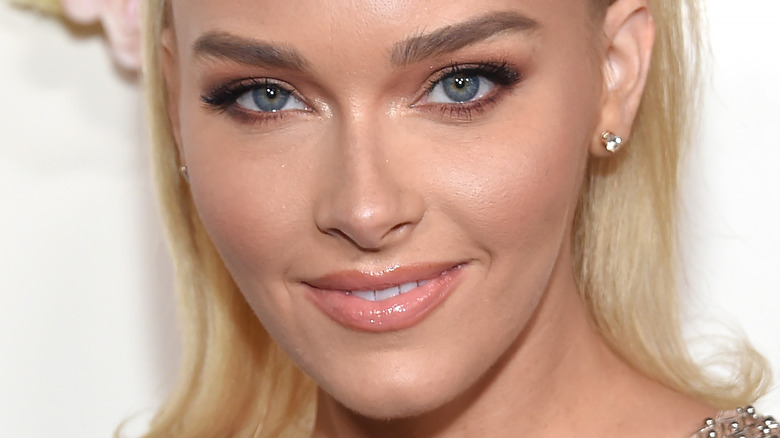 DFree/Shutterstock
Camille Kostek is not only insanely gorgeous, but she's making quite the name for herself in Hollywood too. The multi-talented model got her big break thanks to Sports Illustrated's iconic Swimsuit Issue (she even landed the Sports Illustrated Swimsuit Calendar cover in 2022!) before expanding her empire to appear alongside Ryan Reynolds and Channing Tatum in the comedy movie "Free Guy." That's certainly not all, though. You may also recognize this star from showing off her hosting chops on TBS's "Wipeout" or even the NBC dance competition "Dancing With Myself," where she appears alongside the likes of A-Listers Shakira and Nick Jonas.
It's no surprise then that everyone wants to know Kostek's beauty secrets, including how she looks so darn flawless every single time she steps out of the house (hey, over 1 million Instagram followers can't be wrong, right?). But while we know Kostek likes a little glam in her life (we still can't get enough of that silver bandeau top, matching skirt, and mermaid-inspired locks she rocked on Instagram in Miami in July!), what does she actually look like when she strips things back a little? Spoiler alert: She's still drop-dead gorgeous.
Camille Kostek's makeup-free selfies
Unsurprisingly, Camille Kostek is a totally natural beauty. So much so that she's not afraid to go natural in public and give fans a look at herself without a stitch of makeup. One of the most obvious displays that she doesn't need the cosmetics to look and feel good came on August 2 when she treated us to the most stunning makeup-free summer selfie on Instagram. The shot showed the model turned TV host sitting in her car as her skin glowed as she rocked a black and white tank top and perched her sunglasses on top of her pulled back hair. She captioned the photo, "loves a fresh sunkissed summer face," and, we can't lie, on Kostek, so do we!
She previously showed us how stunning she is without the cosmetics again just over a year earlier, also on Instagram. That time, Kostek flaunted her gorgeous freckles as she hit the beach with adorable plaited pigtails, giving the camera a coy smile as she posed by the ocean.
They're not the only times the star has gone sans cosmetics on Instagram, either. Back in August 2021, she showed off her blemish-free skin once again in a short video as she revealed one of her beauty must haves. The star revealed she swears by Clarins' Total Eye Lift, revealing she uses the product to make herself look and feel more awake on both makeup and no makeup days.
Camille Kostek's makeup routine
But while Camille Kostek is clearly beyond stunning without makeup, that doesn't mean she doesn't like to enhance her beautiful features sometimes. The star initially appeared without cosmetics once again in September 2019 when she filmed a makeup tutorial video for her YouTube channel that revealed exactly how she gets her glow with products. The star gave us a rundown of how she does her makeup herself on days she's not in the makeup chair with a pro dolling her up, describing her everyday look as a natural, bronzed, and glowy.
Kostek (who may soon become Mrs. Rob Gronkowski, if she gets her way) revealed to People in October 2019 that she prefers to keep the makeup to a minimum when she's not working, confirming that there are certain occasions in her life that she always ditches the cosmetics in order to keep her skin clear and glowing. "My number one tip is if you do not need to wear makeup for something, don't," Kostek shared. "I never travel wearing makeup. That's helped so much with my skin... If you need to look nice when you get off the plane, walk into the bathroom, touch up your skin and walk out looking like you never even flew," she added. Hey, if that can give us clear skin like Kostek's, count us in!