What Jeff Bezos' Girlfriend Lauren Sanchez Really Does For A Living
Dia Dipasupil/Getty Images
In January 2019, the masses were shocked and dismayed to learn that "Good Day L.A." golden girl Lauren Sanchez was at the center of a massive marital scandal involving billionaire Jeff Bezos and his then-wife MacKenzie Scott Bezos. In text messages released by the National Enquirer, Bezos was caught proclaiming his love to Sanchez seemingly before he and his wife had even separated. Adding fuel to the fire, Sanchez and her own husband, powerhouse talent agent Patrick Whitesell, were also in the midst of a separation. Still, one source told Us Weekly that Whitesell was caught completely off guard by the affair as the married couple "were having problems in their marriage for the last year," but "were trying to work things out." YIKES.
Since then, however, the rumor mill has died down and many are simply clamoring to know more about the business magnate's girlfriend — including what she does for a living. But buckle up and prepare for take-off because the answer just might surprise you.
Lauren Sanchez made a name for herself as a journalist
Amy Sussman/Getty Images
While her billionaire beau Jeff Bezos made his fortune by founding Amazon (the world's largest online retailer) Lauren Sanchez carved out an illustrious career for herself as a journalist, eventually becoming the first Hispanic woman to snag an anchor gig with Los Angeles' Channel 13. "I was just trying to make my way; I was just trying to get through," Sanchez told The Hollywood Reporter in 2017 about the not-so-small feat. "I never really thought about it until people started saying, 'Wow, this is kind of a big deal.'"
Aside from her journalistic aspirations, however, Sanchez has also gotten her feet wet in the acting world starring in various movies and television shows including "Fight Club," "The Longest Yard," "NCIS," and "Days of Our Lives," per IMDb. But that's not all. As it turns out, Sanchez was also in the running to become a co-host on ABC's "The View" in 1999. Alas, that gig never came to fruition. "I just remember when Barbara called and told me I didn't get the job. I was so depressed," Sanchez later confessed during a guest appearance in 2013. But as the saying goes, when one door closes another one opens... 
Lauren Sanchez has her helicopter pilot license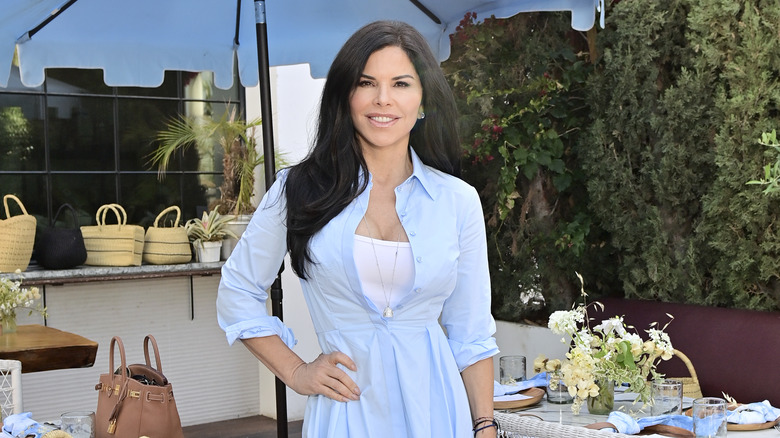 Stefanie Keenan/Getty Images
Entertainment reporter and news anchor Lauren Sanchez feels the need, the need for speed... while piloting a helicopter, that is.
In 2017, Sanchez opened up about her late in life calling to fly choppers and the familial ties that bind her love of flying. "I was always in the hangar growing up but knew nothing about flying," she recalled to The Hollywood Reporter about fond memories of going to work with her father, a flight instructor and plane mechanic. Fortunately for Sanchez, she didn't allow her lack of knowledge to keep her down for long. "You go to school for a year, take a test, then you do a check ride — you go up with an instructor, and they take you through the emergency procedures. If you lose your engine, he turns off the throttle, and you have to get down. It's like life," she explained. 
Since getting her pilot license, however, Sanchez has coupled her love of flying with her love of the entertainment world through the art of aerial filming. "I had my job, I had a career, and then I found a calling," she gushed.