James Marsden's Son Is Basically His Twin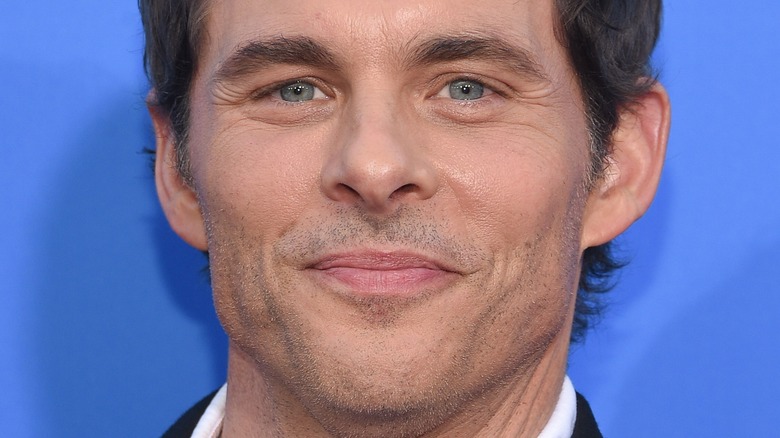 DFree/Shutterstock
James Marsden may sometimes fly under the radar, but there's no doubt he has appeared in plenty of hit shows and movies. You might recognize Marsden from Netflix's "Dead to Me," when he played the role of Steve Wood and his twin brother, Ben. In 2007, Marsden proved that his talents stretch beyond acting when he sang and danced as Corny Collins in "Hairspray." That same year, he also starred in one of his other more-famous roles as Prince Edward, alongside Amy Adams and Patrick Dempsey in "Enchanted," per IMDb.
Outside of the spotlight, the actor plays the role of dear old dad. According to Hollywood Life, he is the father of three — he shares Jack and Mary with ex-wife Lisa Linde, as well as son William with ex Rose Costa. Marsden hasn't shied away from beaming over his kids, either. In a 2018 interview with People, he talked about how much he adores being a parent. "Of all my achievements in life, being a father is the one thing I'm most proud of. It is the most fulfilling," he told the outlet. "I'm always self-deprecating, but I don't have a problem saying that I am a great dad."
It doesn't seem like the star plays favorites when it comes to his kids. But one thing is for sure — his son Jack boasts an uncanny resemblance to Marsden, and fans simply can't get over it. Trust us, they're legit twins.
Fans can't get over how much James Marsden's son Jack resembles him
While there's no doubt that James Marsden is incredibly proud of his son, Jack Marsden, they share another striking quality — their looks. Jack's popularity on Instagram has been growing, and so far, the model has amassed a following of over 26,000. It doesn't look like Jack has shared any photos with his dad on the social media platform, but luckily, James has posted a few pictures of his son on his Instagram account. And the verdict is in: They look like twins.
On August 10, 2021, Marsden shared a carousel of photos via Instagram, including one in which he posed with his lookalike son and Ant Anstead. Fans couldn't help but point out the father-son duo's resemblance in the comments section. "Thought that had to be your son ... a mini you," one person commented. "He is a spitting image of you," another Instagram user pointed out. "Okay, who's the dad, and who's the kid?! It's very confusing," one more joked.
In 2018, the star shared another Instagram photo of Jack, this time of the younger Marsden walking a runway. Once again, fans couldn't help but gush over their uncanny resemblance. "He looks exactly like you when I first started to watch you in the beginning of your career," one fan wrote. "Wow, he has the same lovely jawline," another added.
James Marsden is proud of his model son — but dotes on all of his kids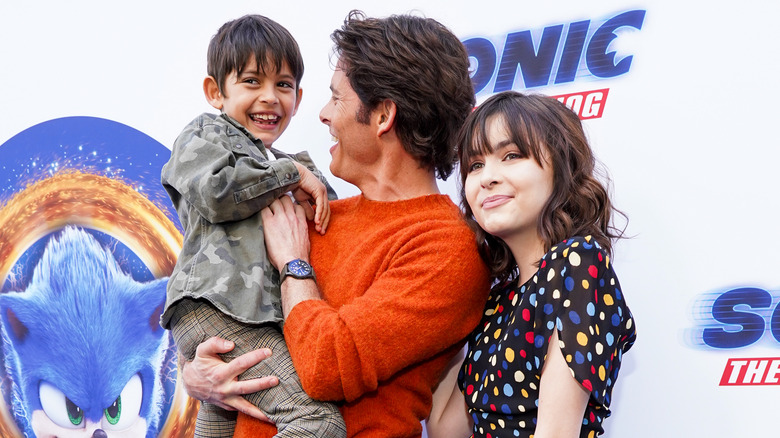 Rachel Luna/Getty Images
As you can tell from his Instagram feed, James Marsden adores his kiddos, and he posts about them from time to time. In a 2017 interview with Wonderwall, James talked about his son Jack Marsden, his modeling career, and how he was just "dipping his feet" at the time. "It would have been crazy for me at 16, but nowadays, this is when people start. It's nuts," the "Westworld" actor told the outlet. "But we're supporting him. I didn't know what the hell I wanted to do at that age. I think he's just trying to figure it out. You don't think 'career' at 16, but if he wants to learn about it, great."
Although James and Jack look the most alike, that doesn't mean he doesn't beam over his other kids as well. In 2018, the doting father took to Instagram to wish his daughter, Mary Marsden, a happy birthday in the sweetest way. Along with a carousel of photos, the star penned a sweet caption as he beamed over his only daughter. "You will never be too big for me to carry you on my shoulders. You will never be too big for me to sing you to sleep," he wrote before adding a few other examples.
And in the photo above of the actor holding his son William Marsden at the "Sonic the Hedgehog" premiere? Cuteness overload. What a cool dad!