Drake Lands In Unlikely Drama After Shading Self-Portrait Tattoo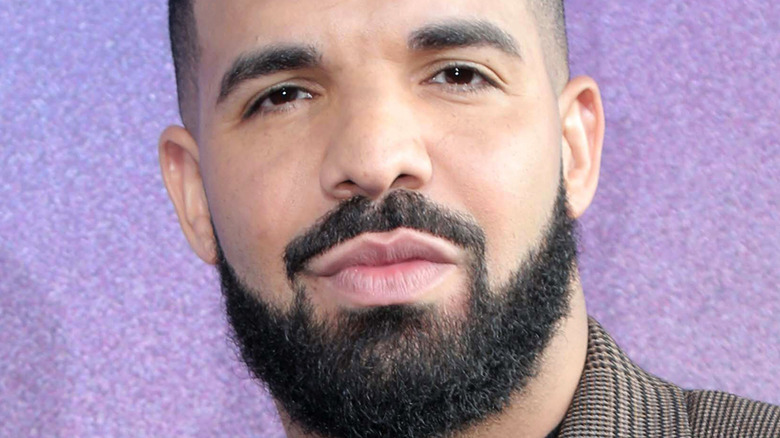 Kathy Hutchins/Shutterstock
Drake's dad might just be his biggest fan. The famous rapper's father, Dennis Graham, showed his love for his son by getting a realistic tattoo of Drake on his bicep back in 2017. According to TMZ, Graham met tattoo artist Money Mike at a party, and the two hit it off. Graham circled back a while later and asked Mike to do the large tattoo of his son — which Mike reportedly did for free.
Fast-forward to 2022 when the whole thing blew up in Mike's face. On August 8, Drake posted a photo of his dad's tattoo with the caption, "I was just sitting here thinking why you do me like this we family." Turns out that "realistic" homage of Drake wasn't that realistic after all. Graham's large tattoo looks sort of like his son, but it's not spot-on, at least according to Drake. It may not be the worst celebrity tattoo of all time, but it's certainly not up to Drake's standards.
What Drake intended to be a humorous post, and nothing more, turned into a feud when Mike fired back with the truth behind the now infamous tattoo.
Drake may have burned bridges in the tattoo world
Drake might be laughing at his dad Dennis Graham's tattoo now, but Graham may not feel the same way. After Drake posted a photo mocking the ink, Graham commented that since first getting the piece back in 2017, he'd had "16 people" try and fix the wonky tattoo. "They're hurting me," he added. Despite now having 17 different artists contribute, the original credit still goes to Money Mike, who did the original, and Mike is not too happy about being put on blast by Drake and his dad.
He explained to TMZ that he did the piece for free, hoping it would lead to some publicity, but Graham wanted to cut the job short. "Four hours into the tattoo he was in severe pain and he was telling me basically just to wrap it up," Mike said of feeling rushed. Mike isn't holding a grudge against Graham, though. He places the blame squarely on Drake. He claimed Graham loved the tattoo until Drake first saw it and dissed it, forcing Graham to apologize on his son's behalf. The worst part? Mike thinks Drake burned some bridges in the tattoo world by pushing his father to get other artists to cover up Mike's work. "It's kind of an unspoken rule," he explained.
It makes sense Drake would want his dad to have a good tattoo, as he's something of a connoisseur himself, per Men's Health. The rapper has at least 35 tattoos, including a tattoo of Graham and a portrait of Denzel Washington.