How Tall Is Nicki Minaj?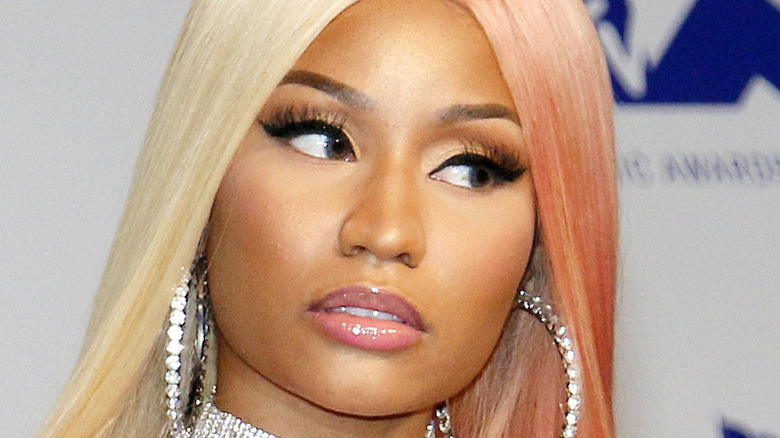 Tinseltown/Shutterstock
Nicki Minaj is undoubtedly the big kahuna of the rap scene. Before becoming the Queen of Rap, Minaj began her career as a mixtape artist in New York City, where she developed her rhyming talents as early as 12, per Britannica. After being mentored by rapper Lil Wayne and coming up with the Young Money record label, Minaj released her first studio album, "Pink Friday," in 2010. The world was never the same. With mega-hits like "Super Bass" and "Your Love," "Pink Friday" would go platinum three times, and cement Minaj as a cultural phenomenon.
A large part of the conversation around Minaj when she burst onto the scene was her overall image. With her multi-color wigs and outrageous ensembles, the "Anaconda" singer loves to use fashion to express herself. And when you look at Minaj's red carpet outfits, you can tell that she has a relatively small stature.
However, many outlets have the wrong height measurements for Minaj — and she has set the record straight about how tall she is.
Nicki Minaj set the record straight about her height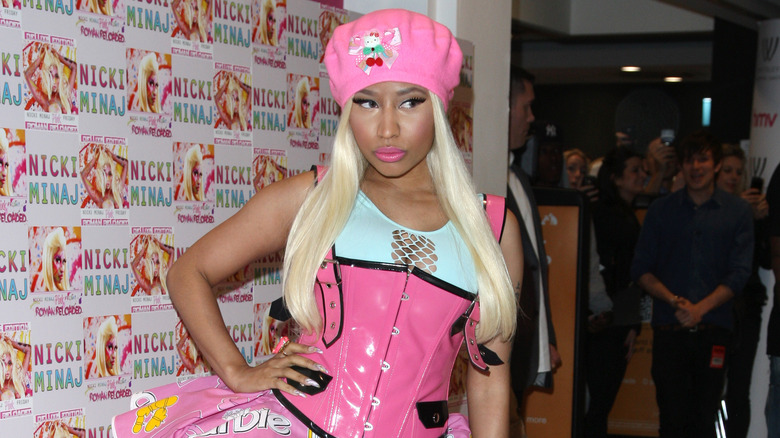 Featureflash Photo Agency/Shutterstock
Although she dominates on the stage, Nicki Minaj is pretty short. As of this writing, most websites report that the "We Go Up" rapper is 5 feet, 2 inches tall. But this is actually because of a white lie Minaj wrote in one of her own songs. After the massive success of her debut album, Minaj released "Pink Friday: Roman Reloaded" in 2012. The album's 12th track, "Whip It," includes Minaj singing, "I'm like 5'2" / My SAT scores was high too," according to AZLyrics. So, it seems most people just took her word for it.
But, it turns out that Minaj was putting a huge emphasis on the "like" part of that lyric. In 2015, Minaj tweeted, "He 6'3 — I'm 5'3. How tall r u?" This was most likely a reference to her boyfriend at the time, Meek Mill, who she began dating in 2015 after her 12-year relationship with Safaree Samuels, per Us Weekly. Of course, Minaj is now married and has a son with Kenneth Petty, who is reportedly 5 feet, 11 inches tall.
Still, most people believed that Minaj was 5'2", and she finally spoke out about the false rumors during an Instagram Live in 2020, via YouTube. When a fan jokingly commented that Minaj needed to "watch her 5-foot-2 mouth," she clapped back by saying, "First of all, I'm glad you said that. I'm not 5'2", I'm 5'3"! I said that on ['Whip It'] ... I just said that 'cause it rhymed! Durr!" Well, the Queen has spoken!
Nicki Minaj's heels are sky-high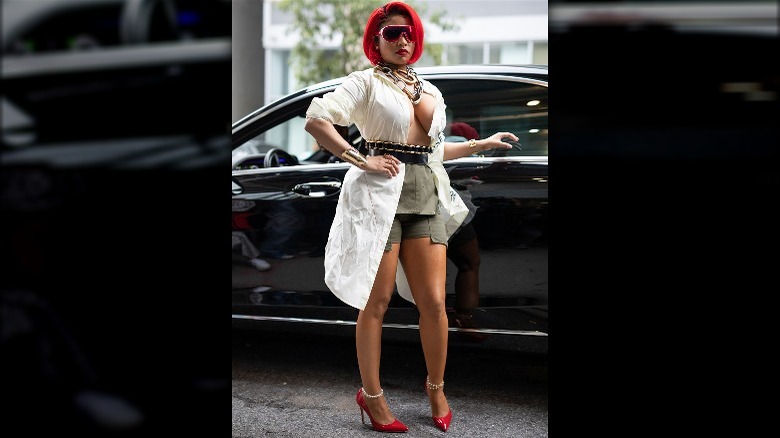 Matthew Sperzel/Getty
Nicki Minaj proves the old saying that dynamite comes in small packages. Of course, this applies to her domination in the music industry with dozens of hits on the Billboard charts. But it also applies to Minaj's personality and how her personality translates into her style. Just glancing at Minaj's footwear choices throughout the years, you can tell that the rapper definitely uses super high heels to enhance her height.
The "Starships" singer is certainly never afraid to strut in her heels, and wearing them is a frequent occurrence for Minaj. Once, she was pictured in insanely high 7-inch Versace heels, and she even wore platform boots at the Los Angeles International Airport in 2015. Minaj also once confirmed in a Twitter thread that a fan's life-sized cutout of the rapper should be 5'9" since she was wearing 6-inch heels in the photo. And although Minaj loves her pumps, she has also recently popularized her iconic bedazzled Crocs.
Whether she's rocking sky-high heels or flats, one thing's for sure: Minaj is a force to be reckoned with when it comes to musical talent and influence.