Steven Seagal's Latest Antics Crossed A Major Line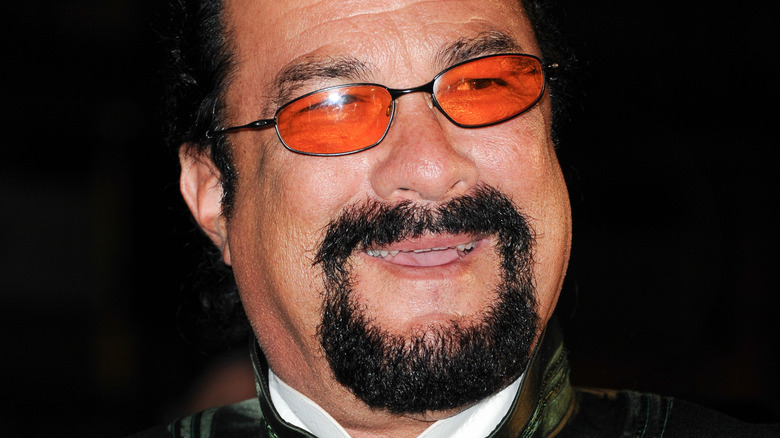 Allen Berezovsky/Getty Images
His roles in a number of successful '90s action movies, including "Hard to Kill," "Under Seige," and "Executive Decision," helped Steven Seagal attract a loyal audience of filmgoers who enjoy fight sequences and fiery explosions. But the list of Hollywood stars who can't stand Seagal is long, and he has faced numerous allegations of various forms of misconduct over the years.
For one thing, the star of the reality series "Steven Seagal: Lawman" has been accused of making his fight scenes all too real. Speaking to the New York Post, his "Executive Decision" co-star John Leguizamo alleged that Seagal purposely struck stuntmen he was filming with. Leguizamo also told "Q" that Seagal slammed him into a breakaway wall because Leguizamo laughed at something he said. Seagal has faced a number of sexual misconduct allegations, too. Per Movieline, Jenny McCarthy accused him of demanding that she undress while auditioning for a movie with no nude scenes, and in 2017, Portia de Rossi tweeted that she fled from an audition when he started to undo his pants in front of her. Per The Wrap, an extra on the set of the movie "On Deadly Ground" also accused Seagal of raping her in 1993.
These serious allegations haven't kept Seagal out of the spotlight, though, and the "Above the Law" actor has used his celebrity to promote his political views. Per TMZ, his latest move is stirring up controversy and being decried as a pro-Putin stunt.
Steven Seagal's photo-op inside a Russian prison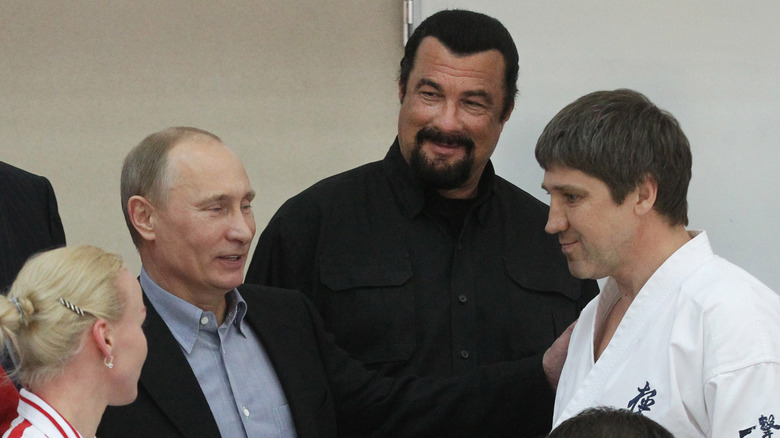 Sasha Mordovets/Getty Images
After Russia launched its invasion of Ukraine, many celebrities spoke out against President Vladimir Putin's brutal attack on his neighbor. However, Steven Seagal, who's one of the celebs who has been friendly with Putin in the past, didn't condemn the Russian leader's actions. Instead, he told Fox News, "I look at [Russia and Ukraine] as one family and really believe it is an outside entity spending huge sums of money on propaganda to provoke the two countries to be at odds with each other." Now, Seagal is being slammed for participating in pro-Russia propaganda.
Per the New York Post, Seagal posed for photos at a Russian prison where dozens of Ukrainian POWs were killed by an explosion. According to a report by the Russian news outlet TVZVEZDA (translated using Google Translate), Seagal suggested that Ukrainian President Volodymyr Zelensky was responsible for the deaths of his own imprisoned soldiers, whom the actor called "Nazis." He also accused Zelensky of war crimes. A rep for the humanitarian nonprofit Nova Ukraine told TMZ that Seagal's actions were a "reprehensible example of how when your career is already tarnished some of us scrape to the lowest levels of Earth to claw back any relevancy, even being paraded around by dictators who oppose the U.S."
Seagal was awarded citizenship in Russia in 2016, and he supported the Kremlin when it annexed Crimea in 2014. Per The Guardian, he has also described Putin as "one of the greatest world leaders."