Who Is Madison LeCroy's Fiance, Brett Randle?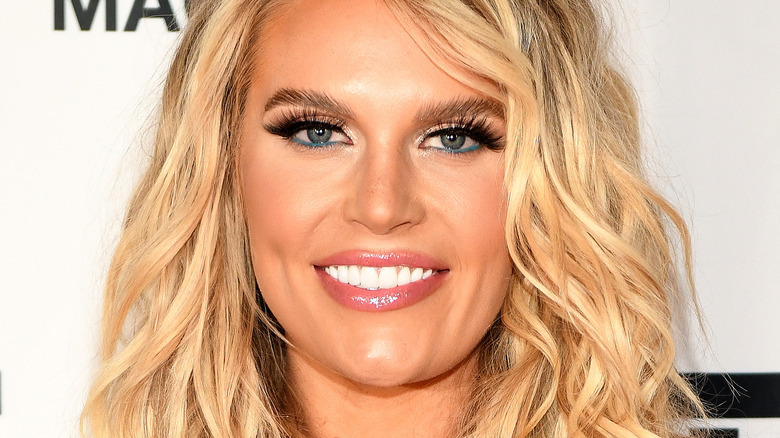 Derek White/Getty Images
"Southern Charm" star Madison LeCroy announced that she was engaged to her boyfriend, Brett Randle, in October 2021 after dating for less than a year, per People. LeCroy shares a young son with her ex-husband, Josh Hughes, and it's assumed the couple broke up around 2015, according to Us Weekly. Prior to dating Randle, LeCroy had also been linked to co-star Austin Kroll, according to Page Six, and ex-NFL player Jay Cutler, per E! News.
LeCroy began dating Randle after they met in April 2021 and is adamant that she knew he was the one from the very first night. She told her friends, per People, "'That's him, y'all.' I was like, 'I'm marrying that man.' There's something about him that I've never felt before in my entire life. I knew right then." After they met, the couple spent that summer traveling together, and LeCroy had an idea that Randle was thinking about popping the question.
She didn't, however, realize that he was actually going to propose to her at her birthday celebration in front of her son, Hudson, that fall. Following the engagement, which occurred in her living room, she told People, "It was so intimate. I've been crying like crazy from joy. [I'm] so excited." She's continued to post about her fiance on social media ever since the big day. So, who is Brett Randle?
Brett Randle used to live a very low-key life
"Southern Charm" fans all know Brett Randle as Madison LeCroy's fiance, but before the pair began dating, he lived life under the radar. Randle does not seem to have any social media accounts despite his constant appearances on LeCroy's Instagram. LeCroy told People, "He doesn't do social media." She also mentioned that fans shouldn't hold their breath about seeing him on "Southern Charm," saying, "He's not a reality TV kind of person, so he's not going to go out there and cause a scene or anything."
Randle is one of five siblings, according to Us Weekly, and was born and raised in northern California. He is also a practicing Mormon. In an interview with All About The Tea, LeCroy revealed that she and Randle are waiting until marriage to have sex in order to honor his religion. While that may come as a shock to some, the reality star revealed she was more concerned about the undergarments that traditional Mormon women wear because she typically doesn't even wear underwear.
Compared to LeCroy, who is always being followed around by cameras, Randle has a calmer job as an account manager for Nike. Despite their apparent differences in lifestyle, the couple appears to be happier than ever and has recently taken a big step in their relationship.
Brett Randle and Madison LeCroy bought a home together
Following Brett Randle proposing to Madison LeCroy last year, the lovers recently took a big step in their relationship even before walking down the aisle. LeCroy shared on Instagram in May that they purchased a home together in Charleston, South Carolina, where they would move in together with her son, Hudson. Randle appears to give LeCroy the creative space she needs to be herself and live the life that "Southern Charm" viewers have fallen in love with over the years. In fact, she recently told InTouch that Randle is letting her take full control of planning their intimate wedding which will be in front of just "30 to 35 people."
"He's liked everything we've picked out, and he trusts me. We just bought a house, and it's the same thing — I'm like, 'Just let me do my thing, and I'll let you see it when it gets delivered!'" LeCroy told the outlet.
Will viewers see Randle on the next season of "Southern Charm"? LeCroy revealed to InTouch that she's not too sure. "He wants to see how this season goes and then let me know," LeCroy explained. Luckily, fans still get to catch a glimpse of the couple on the reality star's Instagram while they wait.