Why Madison LeCroy Isn't Inviting Southern Charm Co-Stars To Her Wedding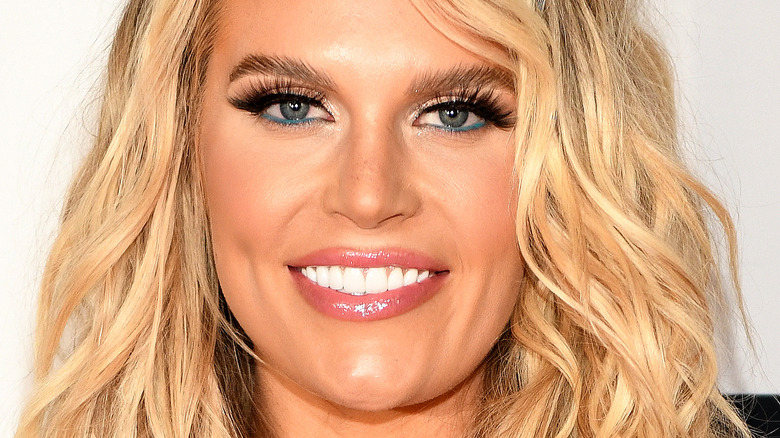 Derek White/Getty Images
Madison LeCroy delighted fans of "Southern Charm" when she announced her engagement to her boyfriend Brett Randle in October 2021. The couple, who met during the summer in a trip to Arizona, had been dating for seven months when Randle popped the big question to LeCroy in their home in Charleston, South Carolina — just in time for her 31st birthday. "I honestly was not expecting it that day," the reality star said, as she recalled her romantic engagement to People. "I'm thinking it's just a birthday dinner, [but then] I turn around and my fiancé is down on one knee and proposed to me in my living room. It was so intimate. I've been crying like crazy from joy."
Following her announcement, many assumed that LeCroy's new fiance would be making a guest appearance on "Southern Charm", but the salon owner — who has dated one of her co-stars in the show, Austen Kroll — denied this, saying she wants to protect her new relationship that she cherishes a lot. "I think that keeping that private was the best decision that I made," she said, per Showbiz CheatSheet. "And I love him so much, and I hate that if people were mean to him, I would go bats*** crazy. So we're just going to avoid that and keep our love to ourselves."
Apparently, that last statement would also ring true for the pair's much-anticipated nuptials this coming fall, which LeCroy just revealed would not involve any of her co-stars in Bravo's "Southern Charm."
Madison LeCroy's wedding will be intimate
Turns out, there's no tea here! Madison LeCroy said the only reason none of her "Southern Charm" co-stars are invited to her wedding is simply that hers will be a small and private affair. "Only because we're doing family, and that's kind of it," she said in her recent Instagram Live, as quoted by Reality Tea. She reiterated this in her interview with Us Weekly in February, where she confirmed that her big day won't be filmed for the reality show. "The wedding is going to be super small," said the Maven salon owner. "So therefore I'm not going to be able to invite the whole cast, unfortunately, but it's OK."
According to LeCroy, she and her soon-to-be hubby decided to go with a smaller, budgeted ceremony so they could save and shell out more money on their home in Charleston, South Carolina instead. Regardless, the "Southern Charm" alum teased that it will be a "fun" destination wedding (per Page Six). She also recently dished to E! News that the ceremony is taking place this coming November. "I feel great about it," she added. "I'm just going to show up and marry the man of my dreams."
What does her ex Austen Kroll think of her engagement?
Following news of her engagement, Madison LeCroy said she hopes that her "Southern Charm" co-star Austen Kroll — whom she dated on and off for three years — is happy for her, even though the two of them haven't had the chance to talk yet. She told Page Six, "I hope he shows some maturity and supports me and is happy for me. He knows what I want in my life and to actually see that this is becoming a reality, I think that he'll be happy for me." Despite all the drama between them, the South Carolina native happily shared that she and Kroll are friends now and have been "getting along great" so far. 
Appearing on "Watch What Happens Live" in October 2021, Kroll finally dished about his feelings toward his ex-girlfriend's engagement. "So the overwhelming thing that I've been thinking about is that this goes further than just, like, whatever nonsense that I had going on with her for ages," he said. "She has a son, so this is something that she's about to start a new family, and I wish the best for her and her new family."
Indeed, LeCroy has a 9-year-old son, Hudson, with her former husband Josh Hughes. The pair married in 2010 (when LeCroy was only 20) and split after five years of marriage (when Hudson was only 3 years old). They now have a great co-parenting set-up, which LeCroy has talked about in a previous episode of "Southern Charm."