Why You Rarely Hear About Dakota Johnson And Chris Martin's Relationship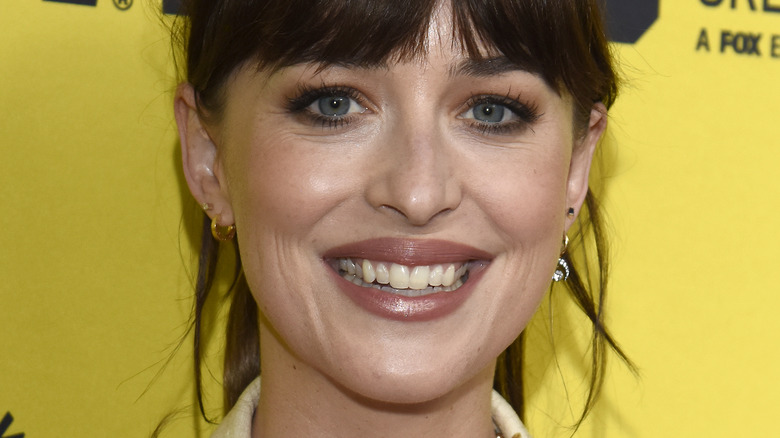 Tim Mosenfelder/Getty Images
"Fifty Shades of Grey" star Dakota Johnson met Coldplay frontman Chris Martin when a friend introduced them, and the pair clicked so well, they became pretty much inseparable, per Vanity Fair. The couple has been going strong since 2017, according to Us Weekly, but fans don't get to see them together that often.
While the actor and the singer make their livings selling love on-screen and in song, they're more hesitant to speak about their own real-life romance. When Tatler (via Just Jared) asked Johnson about her relationship with Martin in 2018, she flat-out refused to talk about it, only saying, "I am very happy." Fans have mostly had to rely on paparazzi sightings of the two for updates and it can be difficult to keep your relationship low-key when you vacation with your boyfriend's ex-wife — which is exactly what Johnson did when she joined Martin and Gwyneth Paltrow on a Hamptons getaway in 2019, per People. The group included Paltrow's husband, Brad Falchuk, as well.
Another sign that Martin and Johnson were getting serious came at a 2021 Coldplay concert, where Martin revealed that the song "My Universe" was about his girlfriend, per Entertainment Tonight. He even pointed to Johnson in the crowd when dedicating the song to her. The couple also started opening up about their relationship just a little bit more, and Johnson explained why fans don't hear more about it.
Dakota Johnson and Chris Martin are homebodies
Yes, they've been photographed linking arms and enjoying a romantic stroll in Mallorca, Spain, per Page Six, but Dakota Johnson told Elle UK that she and Chris Martin aren't exactly the jet-setting types. "We've been together for quite a while, and we go out sometimes, but we both work so much that it's nice to be at home and be cozy and private," she said. Even when they feel like being social, she revealed they prefer entertaining friends and loved ones at home.
An insider told People that Martin and Johnson started cohabiting in October 2020 after Martin purchased a $12.5 million property in Malibu. "They both love the outdoors and often take beach strolls. They also support local restaurants," the source dished. According to Vanity Fair, Johnson also enjoys cruising around in a special birthday present from Martin: a 1965 Mustang she christened Dixie.
While Johnson has decided to only drop tantalizing little tidbits about her relationship with Martin here and there, she did share something pretty big about her future plans while discussing the ups and downs of growing up with divorced parents who were trying to blend their families. "There were times where it was not cool, but I experienced that, so I don't want that in my life. I don't want any kids to experience anything like that," Johnson said. (Having kids would give her another great excuse to stay home, just sayin'.)
Dakota Johnson and Chris Martin have worked together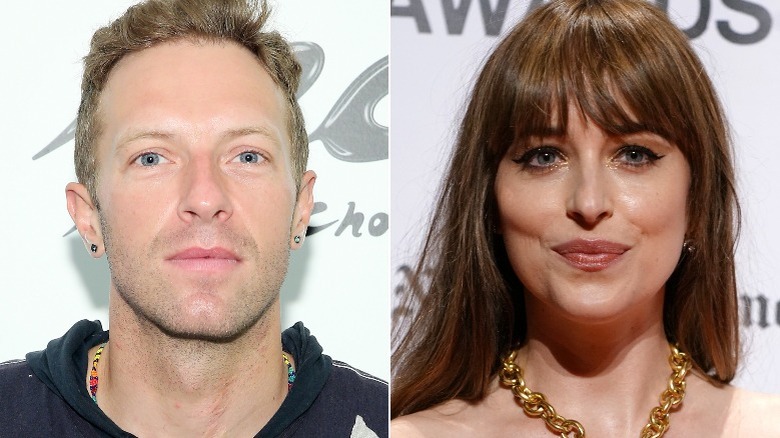 Jemal Countess/Getty & Jemal Countess/Getty Images
Dakota Johnson and Chris Martin haven't just worked closely with Gwyneth Paltrow to ensure that her and Martin's kids, Apple and Moses, grow up in a happily blended family, per Harper's Bazaar; the couple has also worked together on an artistic endeavor. Per Marie Claire, Johnson directed the music video for Coldplay's "Cry, Cry, Cry" in 2020. "I wrote the story and pitched it to the band like every other director did, and they chose mine — not because they're partial to me at all," she said.
Johnson is also partially responsible for Coldplay's efforts to make their concerts more accessible for hearing-impaired fans. In an appearance on "CBS Mornings," Martin revealed one of Johnson's Christmas gifts to him was a SUBPAC, a vest that allows the wearer to feel vibrations from music. The singer then decided to offer such vests to hearing-impaired concertgoers.
Martin got his own opportunity to be a supportive partner when Johnson was on the job and needed a little help. Per Access, she was promoting her movie "Cha Cha Real Smooth" by participating in a virtual Q&A, but was having trouble setting up the Zoom meeting. Luckily, Martin came to her rescue and was rewarded with some grateful giggling. Before leaving his lady's side, he greeted viewers with a peace sign. So, while the loved-up stars might keep doing their best to avoid being seen together, sometimes the universe seems to have other plans.