Why Brittney Griner's Fate Involves A Russian Arms Trafficker, Diplomatic Efforts, And Nicolas Cage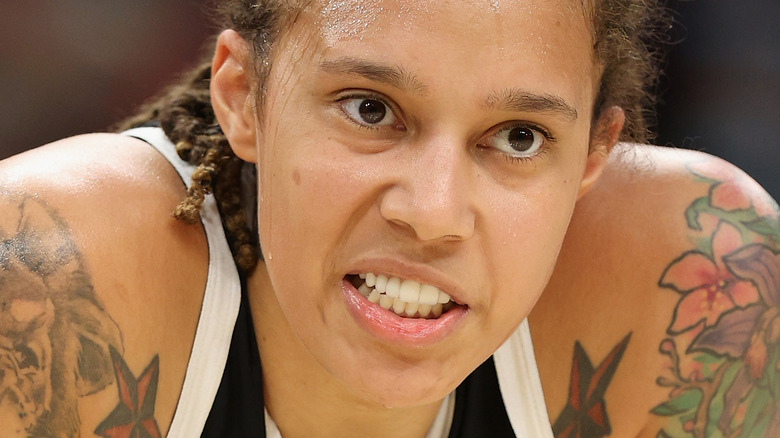 Christian Petersen/Getty Images
WNBA superstar Brittney Griner has been in the news recently for essentially becoming a political pawn used by Russia in its feud with the United States, which was only exacerbated after she was arrested in Moscow on February 17, one week before Russia's full-scale invasion of Ukraine. Russia's Federal Customs Service alleged that she was carrying less than a gram of cannabis oil, an illegal substance in Russia, according to The New York Times. (She had been prescribed medical marijuana in Arizona for chronic pain.) In July, she pled guilty in what has been widely regarded as a show trial. On August 4, she was sentenced to nine years in prison and fined one million rubles. 
In response to the invasion of Ukraine, the United States, along with other Western powers, have imposed numerous sanctions against Russia since February, leading many, such as former Obama-era Pentagon official Evelyn Farkas, to refer to Griner as a "high-profile hostage" used by Russia and President Vladimir Putin. In addition, Griner's race and sexuality — she's Black and lesbian — have led many to express increased concern over how the former basketball star will be treated by a government known for its oppression of human rights, particularly against the LGBTQ+ community. 
Now, after months of diplomatic efforts, Griner's fate may rest in the hands of a Russian arms trafficker, who many may associate with American actor Nicolas Cage. 
Brittney Griner's fate may rest in the hands of a notorious international arms dealer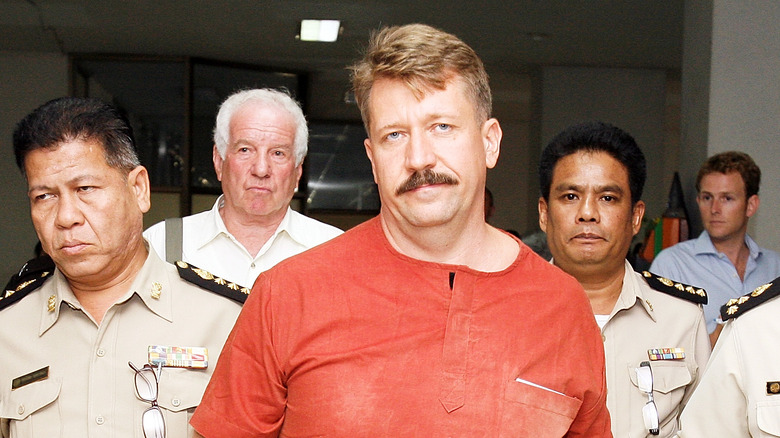 Chumsak Kanoknan/Getty Images
Viktor Bout, an international arms trafficker from Russia who has been labeled the "Lord of War" and the "Merchant of Death," is now back in the news for arguably being the key to Brittney Griner's release. 
According to The Guardian, Bout, who was arrested in Thailand in 2008 and extradited to the United States in 2010, took advantage of a massive stockpile of weapons and transport material leftover from the collapse of the Soviet Union in the '90s to sell to numerous criminals and authoritarian leaders across the globe. This included Liberian warlord Charles Taylor, as well as the Taliban and al-Qaeda, among many others, according to The New York Times. In 2011, he was convicted on numerous counts of conspiracy, and began serving a 25-year prison sentence. 
Bout's influence was so notorious that it even led to a 2005 movie inspired by his life, appropriately titled "Lord of War," in which the main character, Yuri Orlov, was portrayed by Nicolas Cage. In July, President Joe Biden officially offered Bout in exchange for Griner and Paul Whelan, another American political prisoner who was imprisoned in Russia in 2018 on charges of espionage, though no deal has been finalized. Now, Griner, Whelan, and Bout's fates are all in the hands of Biden, Vladimir Putin, and diplomatic officials, who are all but certain to engage in further negotiations until an official deal is finally reached.