The Truth Behind Chrissy Teigen And Tyra Banks' Rumored Feud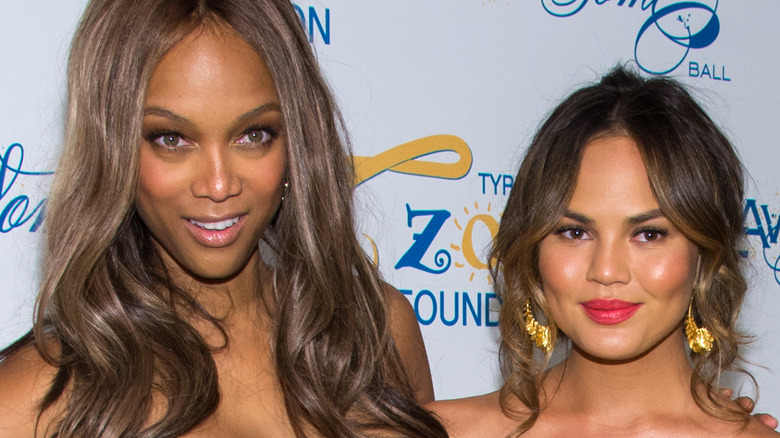 Mike Pont/Getty Images
Chrissy Teigen and Tyra Banks have both enjoyed successful modeling careers that launched their post-modeling endeavors. However, their rise to fame hasn't been without bumps in the road. Whether it's Banks' former "America's Next Top Models" contestants airing out alleged mistreatment or Teigen's extensive celeb feuds, both ladies have been involved in their fair share of drama. In fact, there were once rumors floating that the former "FABLife" co-hosts were at odds with each other.  
Before the 2015 panel-format show aired, there was already scuttlebutt about the women not getting along. A source who spoke with Page Six said the pair barely spoke to each other while filming the pilot. "You never put two supermodels on the same show together," explained the source. "Especially when one's more than 10 years younger than the other." The same source also added, "They are so different. Tyra thinks about everything. She thinks about what to say, down to when to move her arm. Chrissy is from the new school, where she says whatever she wants."
With that said, a different source painted a rosier picture, claiming it was a "love fest" between the two women. They also added that if Banks, who was also executive producer, didn't get along with Teigen, she "wouldn't be on the show."
Unfortunately, this wasn't the end of the rumored feud between Banks and Teigen. Here's everything you may have missed. 
Tyra Banks shuts down Chrissy Teigen feud rumors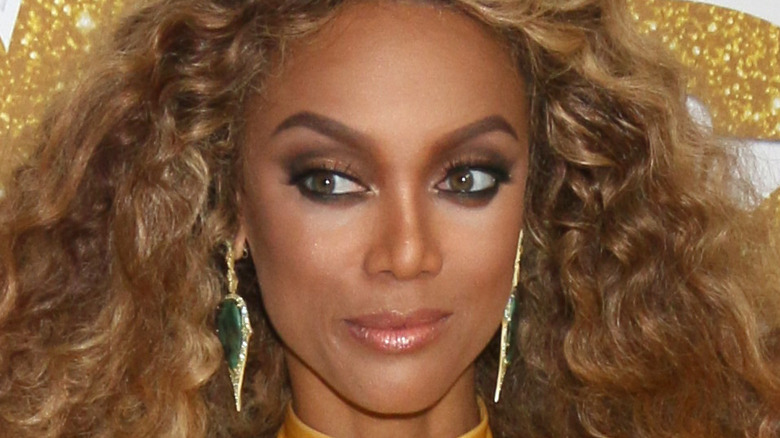 Kathy Hutchins/Shutterstock
"FABLife" premiered on September 14, 2015; the day after, Cosmopolitan published an interview with Tyra Banks where she dug into her decision to follow up her Emmy Award-winning talk show, "The Tyra Banks Show," with a panel-format show. According to Banks, ABC had been approaching her to do another talk show, but she'd wanted to "pull away" from the entertainment business and focus on her burgeoning beauty brand. After some urging from her mom, Banks told ABC she'd another show with one caveat: "I don't want to do it alone."
She reasoned that other co-hosts would allow her some breathing room. "Now, with 'FABLife,' Chrissy might be cooking a full meal or Lauren might be decorating somebody's home on the stage — and I am literally in the back having a business meeting. And I can feel like I'm not neglecting my startup."
Of course, the astute businesswoman also addressed those pesky feud rumors that she and Teigen just couldn't shake. When asked why she and Teigen had made such a "public effort" to "squash the feud rumors," Banks replied, "Well, I don't run that type of show. I've chosen every person to be on this show and I'm the executive producer of the show, so it just doesn't make sense, since I'm kind of people's bosses. It just doesn't make sense. It's just a lazy rumor."
Tyra Banks quits her own show
Despite the enduring rumors, "FABLife" premiered on ABC in the fall of 2015. During the first few months, Tyra Banks and Chrissy Teigen, who made up two-fifths of the panelists, appeared to work well together. During a segment, they even offered each other support as they discussed their journey with infertility. 
Unfortunately, this united front didn't hold off the chit-chat very long. Rumors that Banks and Teigen didn't like each other gained new steam when Banks resigned from her hosting duties after only three months. The former model told The Hollywood Reporter that she was leaving the show to devote more time to her cosmetic line, Tyra Beauty, which was "expanding faster than anticipated." However, she stated she'd continue to "support the growth and success" of "FABLife" and "admired her co-hosts." Despite the official statement, rumblings of discontent between Banks and Teigen swiftly spread. 
Shortly after, Teigen took to her Twitter to dispel the rumors. "I dunno if you guys know how bosses work but if Tyra and I were fighting as hard as you're saying, I would be the one of the show," Teigen shared to her Twitter (via HuffPost). It has also been speculated that Banks' departure was due to failing ratings. Prior to Banks' departure, Page Six reported that "FABlife" was a "ratings disaster," which failed to capture the 25-54 demographic. Ultimately, "FABLife" lasted only one season, with the last episode airing on June 22, 2016.