What Really Happened To Denzel Washington's Finger?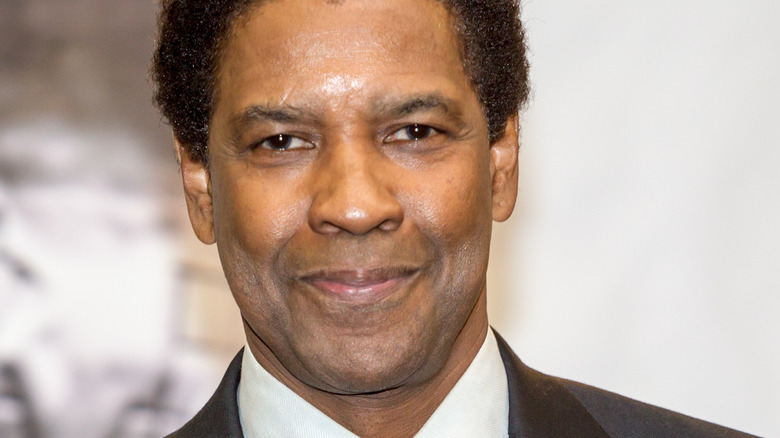 Jamie Lamor Thompson/Shutterstock
Denzel Washington is the quintessential A-lister: handsome, talented, and a tad high-strung, as seen in an interview that left Katie Couric feeling shaken. According to Britannica, Washington started acting on stage. However, like George Clooney, he segued onto the screen via a medical drama. Clooney played Dr. Doug Ross on "E.R." while Washington portrayed Dr. Philip Chandler on "St. Elsewhere." Both would've made any astronomical copays more bearable. 
In real life, Washington was a pre-med student at Fordham before eventually landing on acting. Once he set his eye on the prize, there was no stopping him. "I wouldn't limit myself by having goals," the actor told The Washington Post. But admitted he'd envisioned being a millionaire by age 25, which is a lofty goal by anyone's standards. Washington's not most people, though. "There's so much money in the world, I figure at least $20 billion of it belongs to me. Period," he said. "I just think that people play themselves real cheap. I don't. Whatever's coming to me, I expect." Washington may not have $20 billion, but he's still earned bank.
According to Celebrity Net Worth, he commands a $60 million salary, and Washington's worth a cool $280 million. He's shown throughout his career that he has that special magic that sets bonafide stars apart from actors. He also has a special "magic finger." Wait, huh? What happened to Denzel Washington's finger to make it so mystical?
Washington damaged his hand after years of playing football
"In nature, nothing is perfect, and everything is perfect," author Alice Walker once said. "Trees can be contorted, bent in weird ways, and they're still beautiful." The Pulitzer-prize-winning writer, poet, and social activist wouldn't have been musing about Denzel Washington's finger at the time, but the quote does apply.
Washington's acting abilities have resulted in multiple trophies and accolades. According to the Academy Awards website, he's a ten-time nominee and two-time Oscar winner. However, Washington has one unique talent that's never been publicly lauded. He revealed it all during a "Graham Norton Show" appearance. Fellow celebrity guest Peter Capaldi talked about a thumb injury that he sustained years ago, rendering him unable to "open a packet of crisps." Washington chimed in with his own story.
"You found my pinkie? Don't show it. It's not nice," he warned. A pic flashed up of Washington busting out the finger moves to a laughing Meryl Streep as a decidedly unimpressed Liev Schrieber looked on. Washington explained that he'd suffered digit damage so many times playing college football that his finger eventually became dislocated. "It's fine now," he said. "But it's like a gummy bear in there," Washington said that before he had surgery, the pinkie would dislocate whenever he splayed his fingers. He shared that when his children were little, they'd often beg him, "Daddy, can you show my friends the magic finger?"
Washington's damaged digit hasn't prevented him pointing the way for others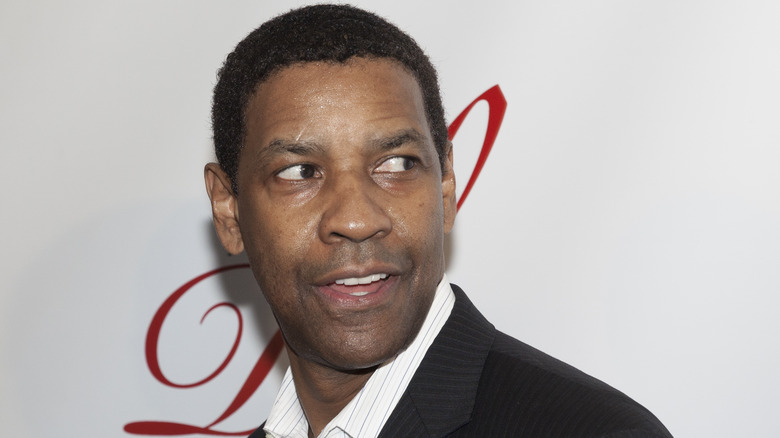 lev radin/Shutterstock
The injury spelled the end to his pro-football dreams, but Denzel Washington's disfigured finger didn't hamper his Hollywood career. Per Entertainment Weekly, the "Training Day" star is the "most nominated Black actor in Oscars history." However, Washington shuns being viewed as a "role model" for actors of color as he feels "stifled" by the responsibility. "All I can do is play the part," he told The Washington Post. "I can't do this part for 40 million black people, or orange or green. On the other hand, I'm not going to do anything to embarrass my people."
Many have drawn parallels between the late great Sidney Poitier and Denzel Washington. Poitier was the first Black actor to win an Oscar, for his role in "Lilies of the Field", and they're both trailer blazers and barrier breakers. Washington told The Hollywood Reporter that the committed civil rights activist had been his "hero" growing up and later became his "mentor."
Washington has paid it forward by mentoring other Black actors coming through the ranks, including a young Will Smith. "I would go to Denzel for advice, so he's seen me through the years," Smith told People. "And he was just telling me how proud he is of who I've become and what I've become." Washington's continued with his unwavering support. He was among the first to rush up and calm Smith during the infamous 2022 Oscars.