How Many Siblings Does Chris Rock Have?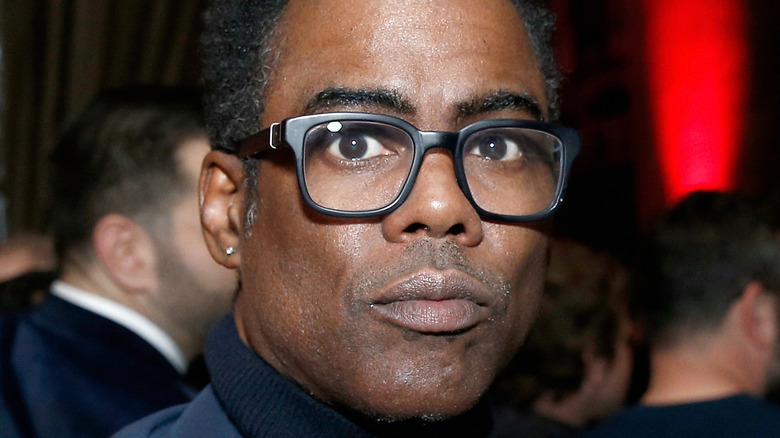 Brian Ach/Getty Images
Comedian Chris Rock has a large family unit that has played a major role in his life. Rock spoke to Oprah Winfrey for a 2002 O, The Oprah Magazine interview, during which he discussed his childhood and path to success. The publication noted that Rock felt thankful to his mother, a teacher, and his father for "giving him a strong work ethic and moral compass" as he grew up as the oldest sibling in his household. 
This impactful family setting would later come into play when Rock created his hit 2000s comedy series, "Everybody Hates Chris," a scripted show that documented his upbringing in Bedford-Stuyvesant, Brooklyn. In the series, Rock's character had two siblings, Tonya and Drew, who were played by Imani Hakim and Tequan Richmond. Similar to real life, the character of Chris — who was portrayed by Tyler James Williams — was the oldest child of the family in "Everybody Hates Chris." In reality, however, the Rock family consisted of many more siblings than the popular sitcom depicted. 
Chris Rock has seven brothers and sisters
Chris Rock has numerous siblings who have likewise achieved success in their professional fields. The "Grown Ups" star is the oldest of a total of eight children, as reported by Hollywood Life. Chris' seven siblings consist of one younger sister, Andi Rock, as well as five younger brothers: Andre Rock, Tony Rock, Brian Rock, Kenny Rock, and Jordan Rock. In addition, Chris had one older half-brother, Charles Ledell Rock, who sadly died in 2006. Similar to Chris, three of his brothers have also become actors and comedians: Tony, Kenny, and Jordan. In 2018, Tony opened up to People about how growing up with numerous siblings in the Rock home led to an interest in performing.
"We weren't rich by any means, but we had each other, so we were rich in family," Tony said. "When you don't have a lot, it just fuels that creativity. So it manifested in us doing characters of people in the neighborhood or doing impersonations of Mom and Dad. The comedy bug, it takes over." Meanwhile, Chris' other siblings have maintained a more private lifestyle. The outlet wrote that Andre quietly leads his own trucking company, Brian is reportedly a church minister, and Andi is said to be a therapist. Chris' siblings who are in the spotlight have been vocal in showing their brother encouragement through thick and thin.
Chris Rock's siblings have their brother's back
Comedian Chris Rock has some supportive siblings who stand by his side. The "SNL" alum comes from a family with seven siblings, including his two brothers, Kenny Rock and Tony Rock. Following Chris being assaulted by Will Smith on stage at the 2022 Oscars, both Kenny and Tony spoke out in favor of Chris. Kenny told the Los Angeles Times in April that Chris "was no threat to [Smith]," and Smith "just had no respect for [Chris] at that moment" and "belittled him in front of millions of people that watch the show."
Months after this incident, it was reported by People in July that Chris had sparked up a romance with fellow performer Lake Bell. The pair "were getting to know each other" and had "been seeing each other for a few weeks" at the time, according to an unnamed source. Just days later, Tony was approached by TMZ and spoke to a cameraperson about the rumored romance. "I'm just happy to see him happy," Tony said of Chris and Bell's relationship. "The fact that people are concerned with who he's dating, that must mean that people have a favorable opinion of him nowadays." The dynamic between Chris and his siblings goes to show that in the Rock household, everybody loves Chris!