Will And Jada Pinkett Smith Move On From Oscars Slap In First Public Outing After Controversy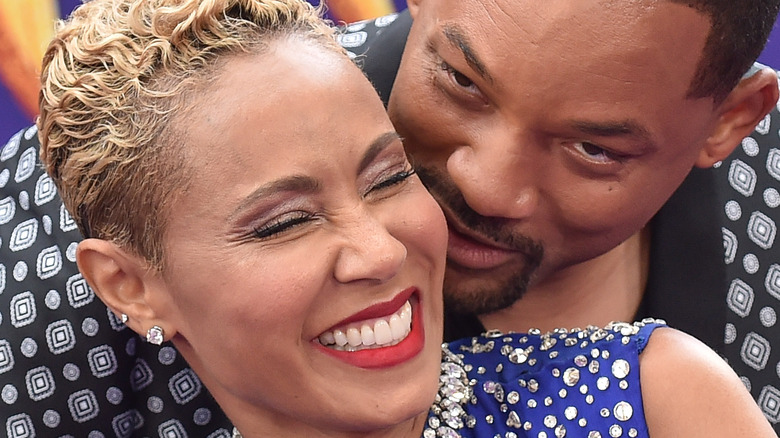 DFree/Shutterstock
Let's be honest, we still can't get over that infamous Oscars slap seen around the world. We're sure you know the exact moment we're talking about, but just in case you need a refresher, we'll throw it back to March when Will Smith took offense to a joke Chris Rock made about his wife, Jada Pinkett Smith, at the Oscars. After Rock compared Jada's hair to G.I. Jane's, Will headed onto the stage, slapped Rock, and then yelled as he sat back down in his seat that the comedian should keep his wife's name out of his mouth. Plus a few more expletives, of course.
There's been plenty of controversy stemming from the incident since then, including Will being banned from attending the Oscars for a decade after the Academy conducted an investigation into his controversial behavior. Things seemed to die down a little after that — until Will posted an almost six-minute-long apology video on his YouTube page in July. The star had already apologized on Instagram shortly after the incident, though his more recent video saw him apologize again while reaching out to Rock. Will claimed he's tried to contact the comedian but seemingly hadn't spoken to him, saying, "So I will say to you Chris, I apologize to you. My behavior was unacceptable and I'm here whenever you are ready to talk."
Now? It seems like Will and Jada are ready to move on from the controversy and get back to normal life.
Will Smith and Jada Pinkett Smith's post-slap date night
Stepping out! Will Smith and Jada Pinkett Smith decided it was time to face the world together again five months after the infamous Oscars slapping incident. The couple were spotted out and about on August 13 as they enjoyed a date night at Nobu Malibu, per People, where Jada proudly showed off her bald head (the star has been open about her experience with alopecia) as she hung on to her husband. As for Will? "The Fresh Prince of Bel-Air" star appeared pretty happy as he smiled and threw up a peace sign for the awaiting shutterbugs. Will rocked a navy outfit with a black baseball cap, while Jada rocked a black ensemble with a flannel shirt tied around her waist with oversized sunglasses.
The Smiths sighting came around two weeks after Chris Rock spoke out about the incident during a comedy show. Though the "Everybody Hates Chris" creator hasn't directly revealed how he really felt about the incident, he has given a few more subtle nods to what happened a few times. Speaking during an Atlanta stop on his "Chris Rock Ego Death World Tour" in late July, Rock claimed that everyone is trying to be a victim in life, before noting, per CNN, "If everybody claims to be a victim, then nobody will hear the real victims. Even me getting smacked by Suge Smith... I went to work the next day, I got kids."