Jason Momoa Has A Musical Talent You May Not Know About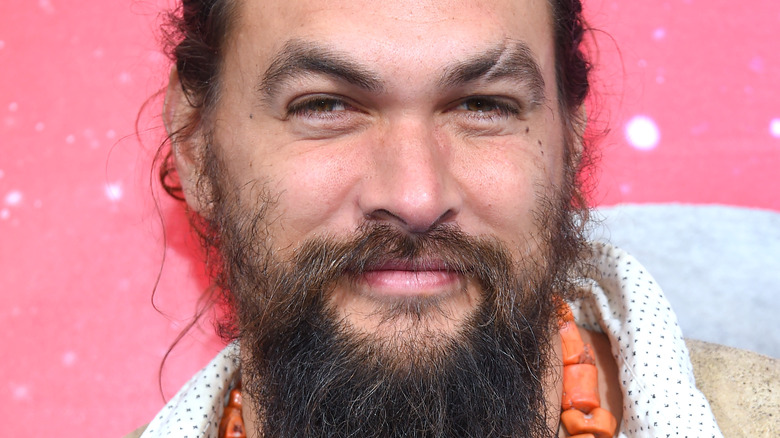 DFree/Shutterstock
Jason Momoa may be famous for his acting career — and romantic life — however, he also has plenty of hobbies. For instance, he spends some of his spare time throwing axes, per Insider. He also has an impressive collection of motorcycles, according to Men's Journal. Beyond that, when the star isn't riding a Harley Davidson, he might be out on the water riding the waves. In a video called "Surfboards for My Ohana," Momoa explained his connection to surfing, saying, "If you were to ask me when I was little what I wanted to be when I grew up, I'd want to be a surfer."
At the same time, there's another physical activity that Momoa has been indulging in for years. In October 2021, he told Men's Health that he's always found rock climbing to be both helpful and inspirational. He explained, "It's extremely hard to climb as a big guy. But I've had this passion my whole life. I love climbing, I love the way it makes me feel — and yeah, I've pulled a lot of tendons and it sucks because I'm a very heavy guy and it would be a lot easier if I was smaller."
As if that weren't enough to keep Momoa busy, there's something else that the actor likes to do when he's not on the set of his next project. It turns out that he has a musical side. While some celebrities have attempted singing careers, Momoa seems to prefer to play a certain instrument.
Jason Momoa is a guitar player
When Jason Momoa isn't working on his next movie or surfing, rock climbing, and throwing axes, he might be playing guitar. In fact, in November 2019, the actor did an interview with MTV News at Rivington Guitars in New York City. Saying that he never aspired to be a professional musician but loves music, he then gestured to the instruments around him while noting, "My mom surrounded me with music, and then I could never, we could never really afford this kind of stuff."
Momoa's love of music and ability to play both guitar and bass has led to some amazing opportunities. For instance, he performed with the Mike Hayes Band in September 2020 and shared a video of the experience on Instagram. Although his caption noted that he had been coerced into playing, his social media followers were still impressed. One person wrote, "This is soooooo amazing in SO many different ways! Facing fear no matter what level in the game [he] is shows bravery and courage. Hands down an amazing person and role model for his kids and fans! Well done, sir!"
That's not to mention the fact that Momoa got a chance to chat with Slash from Guns N' Roses while checking out a few guitars. He also posted pics that showed him spending time with Primus' Les Claypool. When it comes to the latter, the actor had something to say about the incredibly memorable music-related experience.
Bass made a 'childhood dream' come true for Jason Momoa
When Jason Momoa got the chance to hang out with the bass player from Primus, Les Claypool, in September 2020, the two men were spending time at the musician's winery, Claypool Cellars, according to NME. However, instead of merely indulging in a glass or two of pinot noir, Momoa jumped on the opportunity to pick up a bass guitar while Claypool sat down behind the drums. At the same time, Claypool offered the actor some tips on tackling Primus' "My Name Is Mud."
The band posted about the visit on Instagram and showed off a couple of pics as well as a few videos along with adding a caption that read: "[Momoa] came out to visit and we had ourselves a grand ol' time."
While it seemed pretty obvious that Momoa had also enjoyed the time he spent with Claypool, it turns out that it was more than just another cool experience for the actor. In February 2021, he did an interview with Guitar World's Bass Player and reflected on the encounter, calling it "a childhood dream." "We just hit it off. He was playing the drums and I was playing bass and going 'Jesus Christ, man,' I was so nervous. Les is like f*****' God, so it was really hard to relax because he was just playing drums and I was supposed to start filling space and I was like 'Oh my God, what's going on?'" the actor recalled.