Florence Pugh And Zach Braff Have Sad Relationship News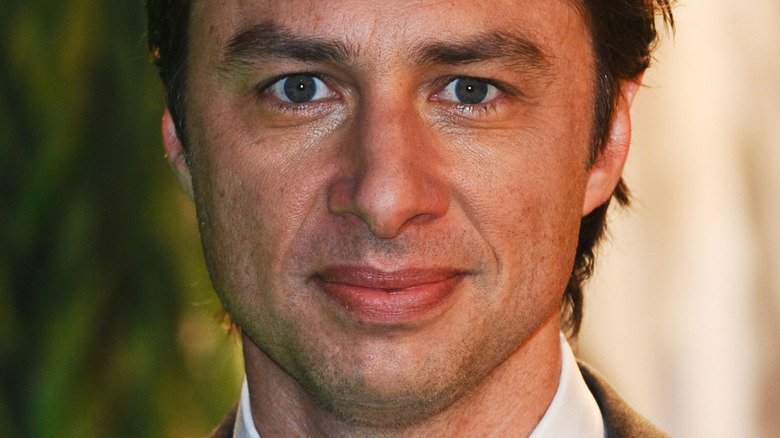 Featureflash Photo Agency/Shutterstock
Florence Pugh and Zach Braff have given us total #RelationshipGoals envy since they first confirmed their romance. The twosome kept us guessing for a little while, particularly throughout out the time they worked together on the short film "In the Time It Takes to Get There," but the game was well and truly given away in April 2019 when E! News shared snaps of the duo holding hands as they took a stroll around New York City together. How romantic! Then came what appeared to be Braff's official confirmation when he shared a snap of Pugh hanging out with some of his friends on Instagram that following October and wrote in the caption, "People I love." Adorable!
The twosome did eventually get more comfortable with directly addressing their relationship, with Pugh even clapping back at those who criticized their 21-year age gap on Instagram. The star shared a video in which she explained she had to turn off the comments on an Instagram post she shared in honor of Braff's birthday because of the abusive messages she got in response. "I am 24 years old. I do not need you to tell me who I should and should not love and I would never in my life tell anyone who they can and cannot love. It is not your place," she hit back. You go, girl!
But, sadly, the twosome we love to love had some bad news to share with fans.
Florence Pugh and Zach Braff breakup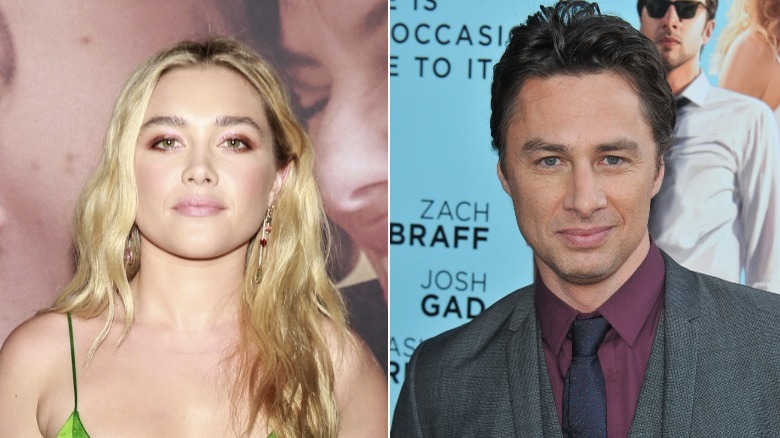 Ovidiu Hrubaru & Featureflash Photo Agency/Shutterstock
It's officially over for Florence Pugh and Zach Braff, with the former confirming their split to Harper's Bazaar in a September cover story. The "Little Women" actor explained she and the "Scrubs" star secretly separated a while ago but decided to do it privately because of all the attention their relationship attracted. "We just felt something like this would really do us the benefit of not having millions of people telling us how happy they are that we're not together. So we've done that. I automatically get a lumpy throat when I talk about it," she said. Pugh then scolded the intense interest in her personal life, stating, "I don't think that people, just because they have this job, that every aspect of their life should be watched and written about. We haven't signed up for a reality TV show."
Braff doesn't appear to have publicly commented on the split, which Pugh confirmed happened earlier in 2022, though the two had been absent from one another's social media accounts for a while before the confirmation. Pugh doesn't appear to have featured on Braff's grid since June 2021 when he shared a painting of her "Black Widow" character. As for the Pugh, she doesn't have a snap of the Braff on her Instagram grid since she celebrated his birthday in April 2021.

Fans first speculated in May that Pugh and Braff may have called it quits after she was spotted in Ibiza with Will Poulter.