Did Shannen Doherty And Tori Spelling Feud On The Set Of 90210?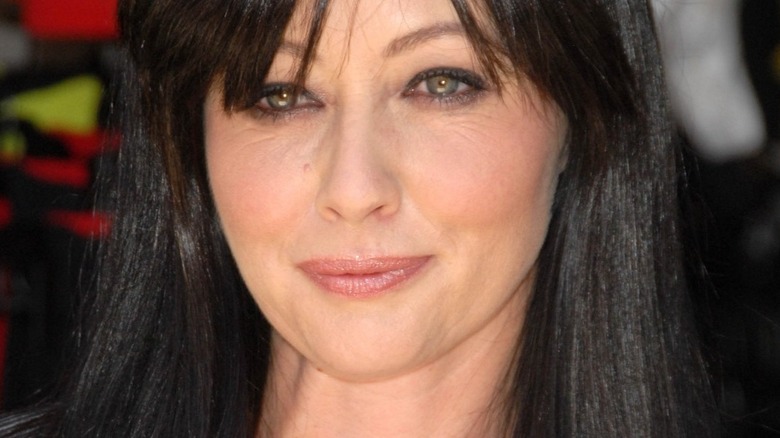 s_bukley/Shutterstock
Shannen Doherty and Tori Spelling were original cast members of "Beverly Hills, 90210," an edgy high school soap opera that chronicled the dramatic, self-indulgent lives of Beverly Hills' glamorous teens. The show, which spanned 10 seasons (1990-2000) and touched on every hot-button 90's teen issue, but the cast's real-life interactions including hook-ups, brawls, and heavy partying (per E! News) easily rivaled their onscreen dramatics. Most notable were the rumors of a rivalry between Doherty, who played Brenda Walsh, and Spelling, the daughter of producer Aaron Spelling, who played Donna Martin.
However, Spelling revealed ahead of 2019's "BH90210" reboot that there were no personal issues between her and Doherty. "We were really close on the show," Spelling said during her "Daddy Issues" podcast (via USA Today). "She was one of my best friends. And then when she left the show, there (were) all these press things that came out, like, this rivalry, and it was never with us. But the press makes what they want." Spelling also explained why they never put effort into refuting the rumors of a feud, stating that the cast was told to not say anything and just wait for things to go away. Spelling also stated she'd recently seen Doherty and that she was a great person.
There is more to the story, however. Despite Spelling's assertion that everything was roses and sunshine, she did influence Doherty's post-Season-4 departure. Here's a little more about what went down with the two former teen stars.
Tori Spelling helps get Shannen Doherty Fired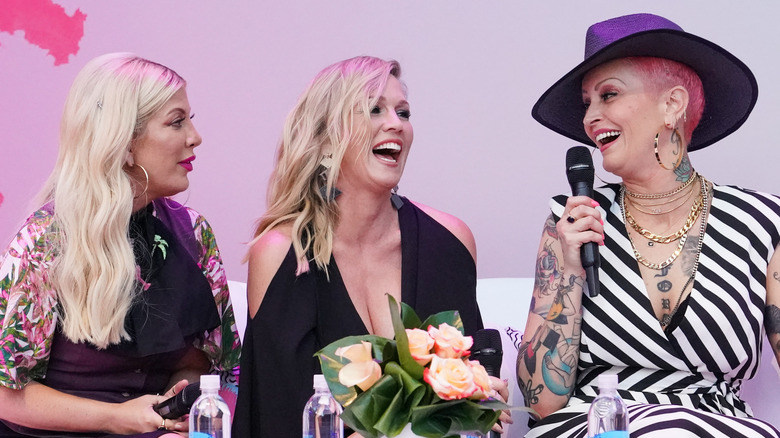 Rachel Luna/Getty Images
Shannen Doherty's character, Brenda Walsh was an integral part of the central story, so fans were shocked when she left the show. Officially, the writers wrote that Walsh was leaving Beverly Hills to pursue an acting career in Europe. In real life, things were far from ideal.
Back in 2015, Tori Spelling appeared on an episode of Celebrity Lie Detector and admitted to having a hand in Doherty getting the ax, citing a physical altercation between Doherty and Jennie Garth, who played Kelly Taylor (Brenda's romantic rival). Following the events, she went to her father Aaron Spelling and encouraged him to kick Doherty off the show. "I felt like I was a part of something ... a movement ... that cost someone their livelihood," Spelling said. "Was she a horrible person? No. She was one of the best friends I ever had (via Distractify).
Whether or not that's the inciting incident that actually got Doherty fired has never been confirmed. However, several former cast and staff members have spoken out about their negative interactions with the star. For instance, Jennie Garth, who played Kelly Taylor, addressed the fight between her and Doherty during an episode of "Watch What Happens Lives." According to the actor, the altercation was prompted by Doherty pulling up her skirt, per Today. As for who won the fight, "The guys that held us back," Garth said. "So, we never actually (did anything)."
Feuding rumors keep following Shannen Doherty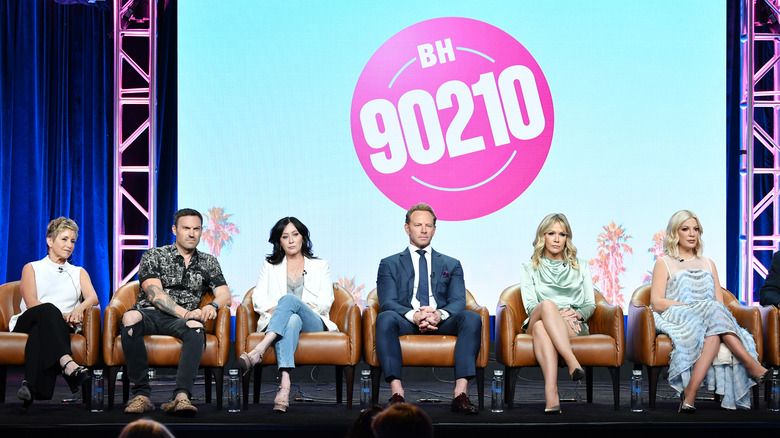 Amy Sussman/Getty Images
Feuding rumors followed Shannen Doherty for years after she left "Beverly Hills, 90210." In 2000, Aaron Spelling revealed to Entertainment Weekly that Doherty was repeatedly late to set. "It wasn't like she ruined the show or anything. It just upset the cast members tremendously," he said. "I remember them calling me and saying, 'Please, can't you get her here on time?'"
Jason Priestly, who played Brandon Walsh, Doherty's onscreen twin brother, included an interaction he had with her in his 2015 memoir, "Jason Priestly: A Memoir." Within the book, he claimed that Doherty complained that their publicist sent a town car, rather than a limo, to pick them up. "It was a very cool attitude until it wasn't," he said. (via The Hollywood Reporter).
Doherty hit back at Priestly's recollection, citing that his memory may not be the most reliable."I love Jason, but you know he had a car accident, a racing accident, and I think maybe parts of his memory got altered from that," she said during an appearance on "Just Jenny," a Sirius XM radio show.
Despite the rehashing of old drama, Doherty seems to be on better terms with many of her former castmates today, including Tori Spelling and, most surprisingly, Garth. "I adore her. Not only do I adore her, but I think she is awesome on "90210," Doherty admitted to People. "We've both grown up." Several cast members have also supported Doherty amid her battle with breast cancer.