Hoda Kotb Gets Honest About Moving On After Joel Schiffman Split
Kathy Hutchins/Shutterstock
After nearly nine years together, "Today Show" co-host Hoda Kotb announced the end of her nearly nine-year relationship with Joel Schiffman. Kotb and Schiffman reportedly met at a book signing in 2013. "It was one of those events they ask us to speak at, and it was pouring rain, and it was a bunch of Wall Street guys. I didn't even want to go," Kotb said during an appearance on "Bethenny." "And this guy walks up, and he's like, 'I'll take a book.' And I was like, 'Who do you want me to write it to? Your girlfriend, your wife, your aunt?' And he goes, 'Write it to me.'" Kotb was flattered by his interest, and that night was the beginning of a long relationship with Schiffman.
After nearly six years together, Kotb and Schiffman got engaged in 2019 and, along the way — adopted two children, Hope and Hayley. However, by Christmas of 2020, Kotb had reportedly broken things off before even making it down the aisle, per Page Six. "Joel and I have had a lot of prayerful and really meaningful conversations over the holidays," she explained during an episode of "Today." "We decided that we're better as friends and parents than we are as an engaged couple."
At the time, Kotb claimed that she and Schiffman just grew apart, but now, months later, she is opening up about what really happened behind closed doors, and what's going on with her dating life right now. 
Hoda Kotb is embracing single life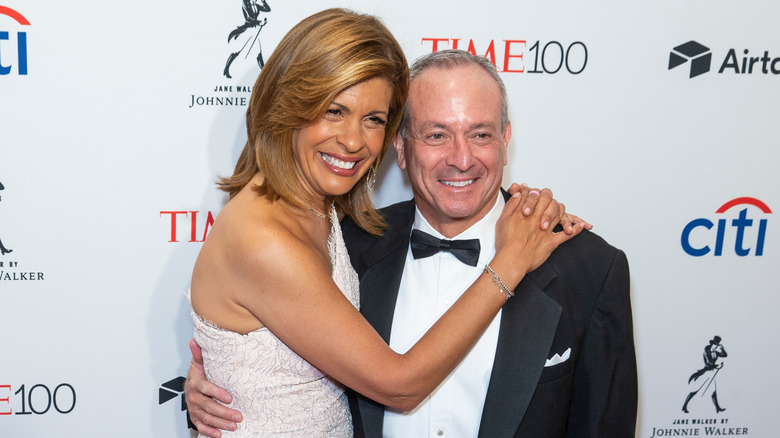 lev radin/Shutterstock
Hoda Kotb has been making the best of a bad situation for the past year. "Family to me is everything — and having one of my own is something I never thought I'd have," Kotb told People. In the year since her split for fiance, and father of her children Joel Schiffman, Kotb has been busy bonding with her daughters, Hayley and Hope. I've been digging this weird time for us," she joked of their overlapping early-to-rise/early-to-bed routines. "I'm on a child's schedule!"
Other than focusing on her kids, Kotb has had time to reflect on the end of her failed engagement. According to Kotb, there was no big blowout, just a sensible parting of ways." Sometimes relationships evolve. Sometimes perfectly nice people can go their separate ways," Schiffman and Kotb now amicably co-parent, and she continues to celebrate him on social media. "He'll have a Saturday, and I'll do the Sunday. We switch each week," she explained. "He'll take the girls and do some fun things, and I'll take some quiet time. It's a healthy mix, and the kids love it. He's a great dad."
With her ex and kids taken care of, Kotb is ready to find love again. "I haven't really thought about who I would see myself with," she told People in May 2022, adding that saw her self in a relationship nonetheless. "I have an open heart."