Inside Meghan McCain And Whoopi Goldberg's Relationship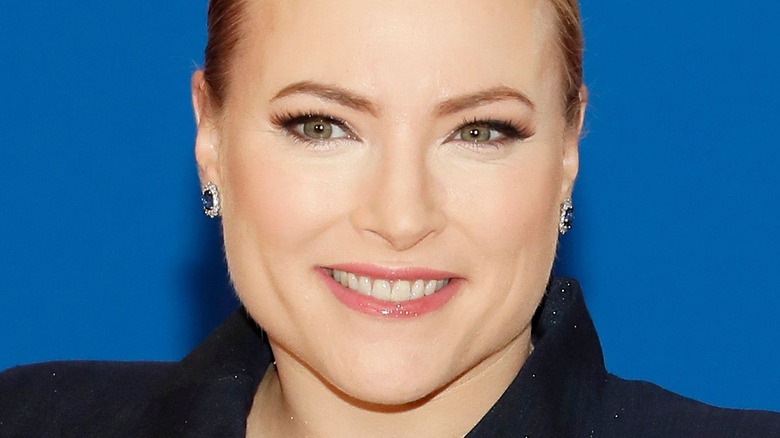 Paul Morigi/Getty Images
It's no secret that political pundit Meghan McCain's time on ABC's "The View" was tumultuous — especially towards the end of her time on the show. 
"I really, really appreciated the fact that you were a formidable opponent in many ways, and that you spoke your mind — and you're no snowflake, missy," comedian Joy Behar said to McCain after she announced her impending exit from the show. As you may recall, McCain and Behar butted heads in more ways than one on various hot topics throughout McCain's time on the popular talk show. And things went from bad to worse for the dueling co-hosts when Behar announced on air rather matter-of-factly that she did not miss McCain while she was away on maternity leave. "I did not miss you. Zero," a visibly annoyed Behar told McCain. Meanwhile, McCain appeared to be taken aback and responded, "That's so nasty!" 
Alas, some might argue that McCain's relationship with moderator Whoopi Goldberg grew to be even more contentious than that... 
Whoopi Goldberg made a promise to Meghan McCain's father
In true Meghan McCain fashion, the four-time author ruffled many feathers in April 2022 with the release of her brand new audio memoir "Bad Republican."
Within the confines of the book, McCain discussed her time on "The View" and took aim at what she referred to as an atmosphere that "breeds drama" (via Variety). But that's not all. She also set her sights on her former co-hosts — including Whoopi Goldberg. According to McCain, when she first landed on "The View" she and Goldberg shared a special connection. "She had made a promise to my father that she would look after me, and she kept her word for the first two years that I was on the show," she penned. Sadly, however, it appears McCain believes Goldberg's promise didn't go past that two-year mark. "I think again it was COVID-19 and being via satellite," McCain told ET about the demise of their relationship. "I also think that it's really arduous and intense for everyone and I think sometimes I'm the only conservative person people come into contact with in media and certainly on 'The View,' and I just think that there were moments in time that she hasn't realized how powerful she is... She's a living legend and even small slights, the audience is very savvy, they can pick up on things."
But where do the two stand today? The answer just might surprise you... 
Meghan McCain will always love Whoopi Goldberg
Perhaps time (and space) really does heal all wounds.
In October 2021, Meghan McCain revealed to ET that her former co-host Whoopi Goldberg had reached out to her and seemingly made amends. "We just had a really lovely conversation when I left and she sent me some really lovely text messages and then, I — I obviously don't want to reveal too much — but I really wish Whoopi all the best," she said. "I will always love her. I think she probably still has love for me some place too and I think she has the hardest job on that show. She is the moderator, she is in charge of so many things, we all make mistakes and again, I really don't have any ill will, and I think that show is going to be on for another 50 years. I think that she is going to be on when I am an old lady."
Fortunately, it appears McCain is extending the proverbial olive branch to the rest of her former co-hosts as well. "I really am a forgiver," she confessed. "Writing this book has been really cathartic and really healing and I really wish the show the best. I know the kind of stress they're under because I've been there. It's not easy, it is a really, really hard job." Here's to letting bygones be bygones!