The Time Scott Disick Was Caught Being Rude On Keeping Up With The Kardashians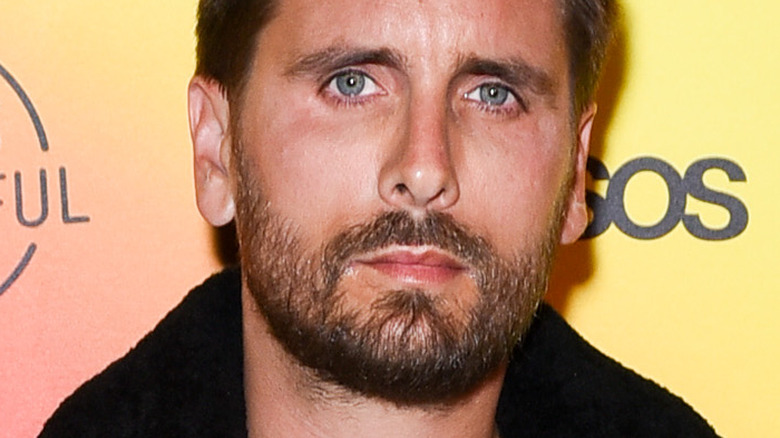 Presley Ann/Getty Images
Scott Disick may not be an official member of the Kardashian-Jenner clan, but he definitely kept the lights on over at "Keeping Up With the Kardashians." The reality star, who shares three kids with Kourtney Kardashian, appeared -– and starred -– in some of the most memorable, chaotic, and meme-worthy scenes in the show's history. Whether it was the time he convinced Khloe Kardashian to dress up like Kris Jenner or the time he recreated Ryan Gosling's iconic scene from "The Notebook," his witty one-liners and mischievous charm has delighted fans for years. However, not all of Discick's memorable moments cast a favorable spotlight over him – especially during the earlier seasons. One of his most unforgettable moments occurred during Season 4's "Blame It on the Alcohol."
Despite the episode centering on Kim Kardashian's 20th birthday celebration in Vegas, Disick's unruly behavior definitely stole the show. Earlier during the episode, he and Rob Kardashian drunkenly trashed their hotel room. And when Kris Jenner forbid the hotel waiter from serving him any more alcohol later at dinner, Disick became irate, got in a waiter's face, and shoved a $100 bill in his mouth (via Complex).
Ultimately, the reality star's actions led Kourtney Kardashian, who was pregnant with their first child, to end their relationship. And while they eventually got back together, this event was far from the only time that Disick has made headlines for the wrong reason.
Scott Disick's controversial moments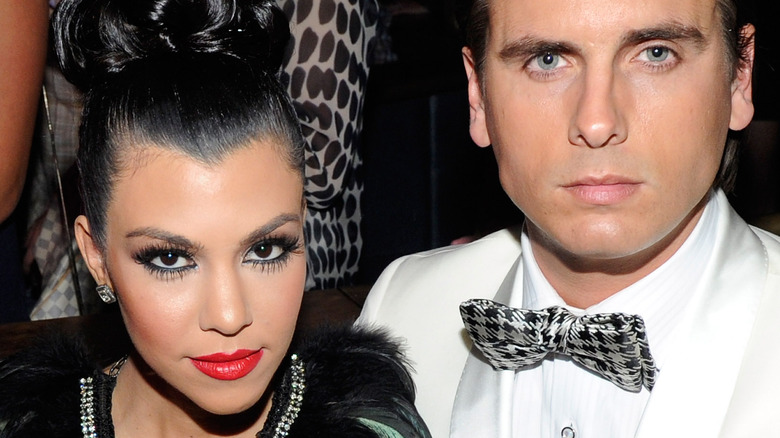 Ethan Miller/Getty Images
Scott Disick has come a long way since the first few seasons of "Keeping Up With The Kardashians. However, it's hard to forget some of the tense on-screen moments that marked his early days on the show. The father-of-three has endured a public battle with alcohol and substance abuse, which was exacerbated after he lost his parents within months of each other, according to Mirror UK. During one episode of "Kourtney and Kim Take New York," Kourtney Kardashian requested that he cut back on his partying. In response, he angrily punched and shattered a bathroom mirror, which resulted in the need for surgery (via HuffPost). 
The relationship drama between Disick and his on-again-off-again love Kourtney Kardashian was a constant fixture. Over "Keeping Up With The Kardashians'" 20 seasons, he and Kardashian dealt with a range of ups and downs, including infidelity and dishonesty (via ET Online). Once, Kim even confronted a girl that Disick had in his hotel room. Even though he and Kourtney were broken up, the Skims founder demanded the woman leave (via E! News). Disick appears to be doing better and living a quieter life these days, even if the internet keeps memeing his reaction to Kourtney Kardashian's romance with her new love, Travis Barker. But, you know, you can't win them all.
If you or anyone you know is struggling with addiction issues, help is available. Visit the Substance Abuse and Mental Health Services Administration website or contact SAMHSA's National Helpline at 1-800-662-HELP (4357).
The Keeping Up With The Kardashian Cast's memorable scenes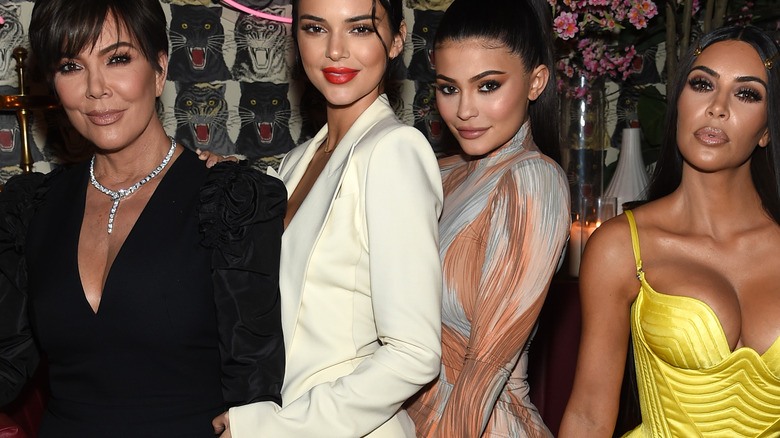 Dimitrios Kambouris/Getty Images
Despite the pivotal role Scott Disick played in the success of "Keeping Up With The Kardashians," you can't mention his controversial moments without also his co-star's antics as well. The E! Reality show, which aired from 2007-2020 and spanned 285 episodes, cemented the Kardashian-Jenner clan as reality TV royalty. For instance, Kris Jenner enthusiastically recording Kim Kardashian during a scantily-clad photoshoot has inspired memes for years. Then, there's the time Kim Kardashian nonchalantly took selfies as Khloe Kardashian was headed to turn herself in for a DUI charge. And even though the show that helped thrust America's favorite family into the limelight is no more (at least not on E!), in true Kardashian fashion, they kept the same energy for the show's entire run. 
During season 16, the Kardashian-Jenner's reaction to finding out that Khloe Kardashian's then-boyfriend, Tristan Thompson kissed Kylie Jenner's friend Jordyn Woods, will forever go down in history as one of their most controversial moments (via US Magazine). "For Jordyn to know all I've been through with Tristan, literally, my heart is in my eyeballs," Khloe Kardashian said during an episode. "She's blaming him. She's like, 'I was so naive.' They're both wrong" (via W Magazine).
Ultimately, despite Khloe Kardashian's valid feelings of betrayal, much of the internet still felt that she and the family unfairly cast most of the weight on Woods, who at the time was 21, and seven years younger than Tristan Thompson (per Black Enterprise).