Cardi B Finally Gets Extreme Body Modification She's Been Teasing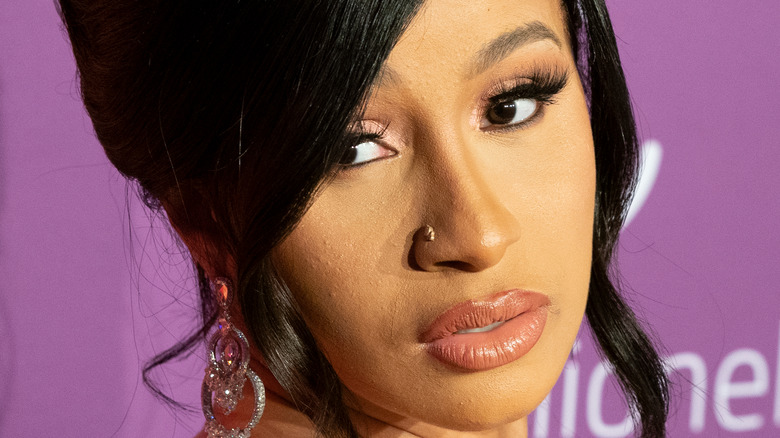 lev radin/Shutterstock
Tattoos have become a Hollywood staple, with plenty of stars experimenting with ink in unique ways. Pete Davidson once got a series of tattoos in honor of Kim Kardashian, his girlfriend at the time. But just because the images are intended to be permanent doesn't mean they'll stay. According to BuzzFeed News, the comedian has already had many of his tattoos removed, with Davidson crediting the lengthy process of covering them up on film sets as the reasoning for this move.
In addition to showing off their ink, many celebrities dish about their tattoo desires on social media. Remember when Cardi B almost got that one face tattoo? In 2021, she tweeted, "Everyday I'm thankful at the fact that ain't get this face tatt I wanted when I was 16." She then elaborated, writing, "Little stars from the top of my eyebrow swirling down to my jaw." On Twitter, one fan actually brought this fantasy to life by adding the imagined tattoo to a photo of Cardi B's face. Now, fans may be surprised to learn that the rapper has decided to follow through with a new tattoo design — and this one's not where you'd expect.
Cardi B's latest tattoo leaves fans guessing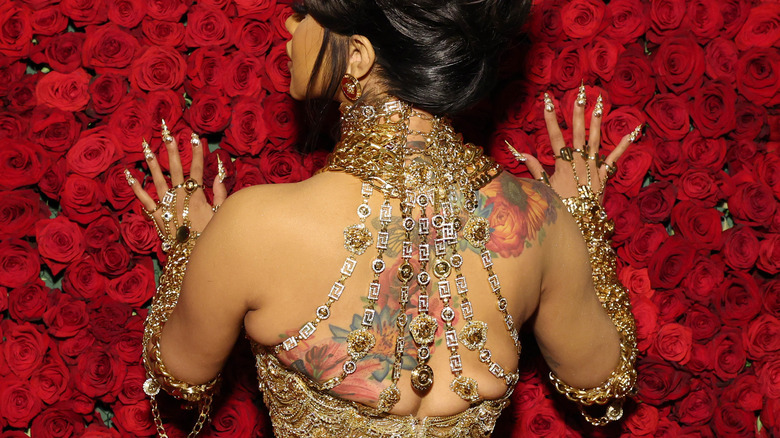 Cindy Ord/mg22/Getty Images
Cardi B is flaunting a new look. On August 15, tattoo artist Robinson De Los Santos posted an Instagram video of him applying red ink to Cardi B's face. In the clip, Cardi B can be seen laying on her side as Santos concentrates on drawing the tattoo. A fan account for the rapper also shared a photo of the two smiling after the procedure. However, Cardi B's tattoo is only partially visible, so it's hard to decipher what the tattoo actually feature. But some fans have their theories. Back in January, Cardi B tweeted, "Random but ....I'm 1% close too tatting my sons name on my face....I really really wanna do it!"
Of course, this wasn't the rapper's first tattoo. Back in December, while shooting for her reality show "Cardi Tries," Cardi B and her rapper husband Offset got tattoos of their wedding date, 9/20/17, on their hands, per TMZ. It was a deeply personal gesture, as they each drew a tattoo on the other's hand. Cardi B also has a massive, detailed tattoo of colorful flowers on her back and thigh. In one Instagram video, she shared close-ups of the art, writing, "It took me several months but I'm finally finished." In another Instagram post, she wore a bikini to show off the tattoo. Though it's on her face, her new tattoo appears to be much more subtle. Looks like we'll just have to wait for the big reveal!