Pink Slams Rumors Of A Reignited Feud With Christina Aguilera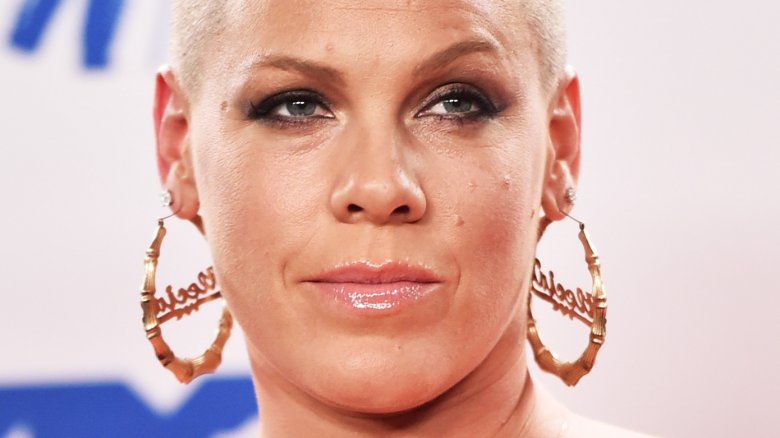 Getty Images
The "What About Us" singer is over all the drama.
In the early morning of Tuesday, Nov. 21, 2017, Pink, whose real name is Alecia Moore, took to Twitter to put an end to rumors that she's once again feuding with fellow pop star Christina Aguilera. The gossip started after both women performed at the 2017 American Music Awards. Though Pink received plenty of attention for her emotional duet with Kelly Clarkson and her gravity-defying live performance on the side of a building, the 38-year-old also faced some hate from fans who thought she made faces during Aguilera's powerful tribute to Whitney Houston.
"Last night was about honoring first responders, singing with one of the greatest voices I have ever heard @kelly_clarkson, and pushing myself to do something I was afraid of and everyone thought was impossible. I scaled a building. While singing live," Pink tweeted.
"Waking up to see a newly created riff between myself and another incredible woman, Christina, who took on an incredible feat, who I support fully, makes me so sad. You all perpetuate keeping women apart b/c you're afraid of the power we have when we get together," Pink continued, adding, "I choose to remember last night as being a celebration of women, of Diana, of Whitney, of love and life and joy and all things good. THANKYOU to everyone that had the courage to take that stage- wether it be right side up or sideways. All love."
Aguilera, 36, has not yet addressed the rumors.
Pink and Aguilera previously feuded years earlier after a 2001 collaboration on the song "Lady Marmalade." According to a Behind the Music interview with Pink, the singers butted heads when deciding which parts they'd sing. Pink reportedly later found Aguilera's professional relationship with her former writing partner Linda Perry "annoying," which further caused issues between the two pop stars (via Fuse).
However, Pink and Aguilera have since made up. In August 2017, Pink revealed to fans that she and Aguilera had "made amends." Then, during an appearance on Andy Cohen's Watch What Happens Live, Pink said that she and Aguilera had "hugged it out," despite Aguilera allegedly once taking a swing at her years earlier.
While we wait to see if Aguilera comments on Pink's reaction to her AMAs performance, read all about where other celeb feuds stand today.