Brandi Glanville Won't Apologize For Messy Feud With Son's Ex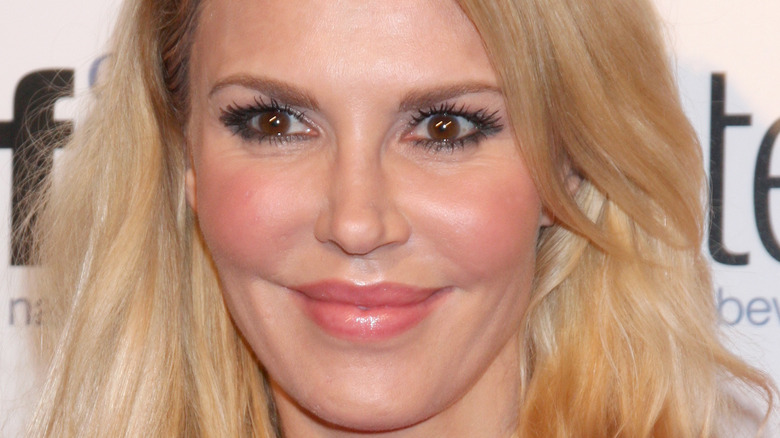 Kathy Hutchins/Shutterstock
Brandi Glanville is known for stirring the pot. The former "The Real Housewives of Beverly Hills" co-star once outed another cast member for allegedly "doing crystal meth in the bathroom" and all but ousted Denise Richards from the show after the two reportedly shared a romantic relationship, which Denise denies this, per US Magazine. 
Glanville hasn't been a main cast member for years, but the drama hasn't stopped. As recently as July, Glanville and ex-BFF Kim Richards publicly fell out after Glanville posted a photo of Kim post-surgery. "There were some pictures she posted of me after my surgery — it was a tough surgery for me," Kim explained to E! News, adding that the two haven't hung out since Glanville refused to take down the photo.
You might think Glanville has her hands full with her "Real Housewives" feuds, but the reality star also finds time to stir up drama with her family. Glanville has never held back about the details of her ex-husband's alleged affair with Leann Rimes. Now, years after her divorce, Glanville has found another woman to feud with — this time it's her teenage son's ex-girlfriend.
Brandi Glanville ins't backing down
You do not want to get on Brandi Glanville's bad side — ask her, and she'll tell you. "Stop f***ing with [my son]," Glanville messaged 18-year-old Bella Bernhardt. "I'm not f**king joking leave him alone and let him heal," she warned the teenager. Bernhardt, who shared screenshots of the messages via TikTok, omitted the son's name, though it was likely the older of Glanville's two sons, Mason, who is just a year older than Bernhardt. "You don't get to have your f***ing cake and eat it too and you think you're crazy??? you don't wanna f*** with my crazy," wrote Glanville.
Bernhardt explained to Glanville that she and her son had recently broken up and that her son wanted to remain friends. "I told [your son] I wanted to completely remove myself from his life for a while so he can heal, and he begged me not to do that," Bernhardt replied. She also included a screenshot of an alleged conversation between herself that seemed to indicate they are on good terms. Bernhardt also asked Glanville not to text her like this anymore.
Glanville responded the next day and apologized to Bernhardt, blaming her harsh words on "smoking and drinking at the same time." However, after Bernhardt posted screenshots of the convo on her social media, Glanville changed her tune. "NOT SORRY!!! Mama Bear to the end," Glanville tweeted. "That is all I'm going to say on the subject happy Wednesday."