Is Snoop Dogg Really Friends With Prince Harry And Prince William?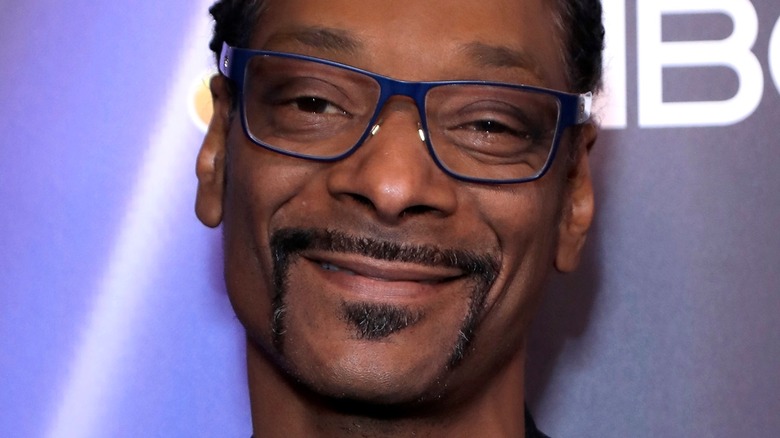 Kathy Hutchins/Shutterstock
There's no denying that Snoop Dogg has some unexpected connections — like his friendship with Martha Stewart, for example. But are Prince William and Prince Harry included in the assortment?
The world was first introduced to the possibility of a friendship between the Doggfather and the princes back in 2010. At the time, Prince William was newly engaged to Kate Middleton. Snoop had every intention of being involved in the festivities — especially after he caught wind of a rumor that Prince Harry was considering asking him to perform at the wedding reception, according to The Guardian. So invested was he, that he wrote his 2010 hit "Wet" in honor of the Duke of Cambridge's bachelor party. Snoop took to Twitter to share that while "Wet" was the go-to anthem for bachelor parties in general, he had "made tha anthem 4 Prince William's bachelor party" in particular. He then reiterated this in a tweet tagging none other than Clarence House. Yes, that would be Prince Charles' office. "U feelin it??" he wrote. (The first in line to the throne did not reply.) Next came the music video for "Wet," which provided a fictional portrayal of William's stag party, hosted in Las Vegas by Snoop. 
According to sources speaking to The Sun, William's actual bachelor party turned out to be more on the "low-key" side. Snoop confirmed that Harry invited him to perform at the laid-back party during an interview on "The Graham Norton Show" (via CTV News), but the rapper couldn't make it. Our question remains, though: is Snoop really friends with the royals? 
According to Snoop Dogg, he's 'cool' with both brothers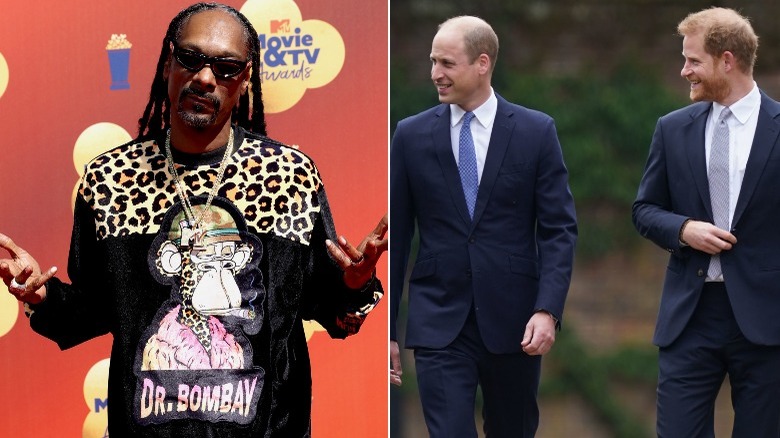 Wpa Pool & Rich Polk/Getty
Snoop Dogg might not have made it to Prince William's bachelor party, but according to the rapper himself, he's friends with both him and Prince Harry. Speaking with the Mirror in 2021, he referred to the brothers as, "my boys." According to Snoop, the friendship began when he learned that the Dukes of Cambridge and Sussex, respectively, were fans of his. "As soon as I knew they were fans I reached out to them and we've been cool ever since," he revealed. 
In the same interview, he shared that he was committed to being a source of support to both brothers. "I look out for them and they can reach out to me whenever they want, and they know that," he said. He also had nothing but kind words for Harry in wake of his estrangement from the rest of the family. "Him and Meghan are living their lives like they want, and that can't be an easy thing with the whole world judging them," he acknowledged. Snoop added that the entire situation had gained his respect — and that he would be happy to host them for a Thanksgiving dinner, catered by him. 
Given that Meghan Markle told Ellen DeGeneres the Sussex family would be celebrating at home (via People), it seems they didn't take him up on it. There's always next year, right?
Snoop Dogg is a fan of another royal, too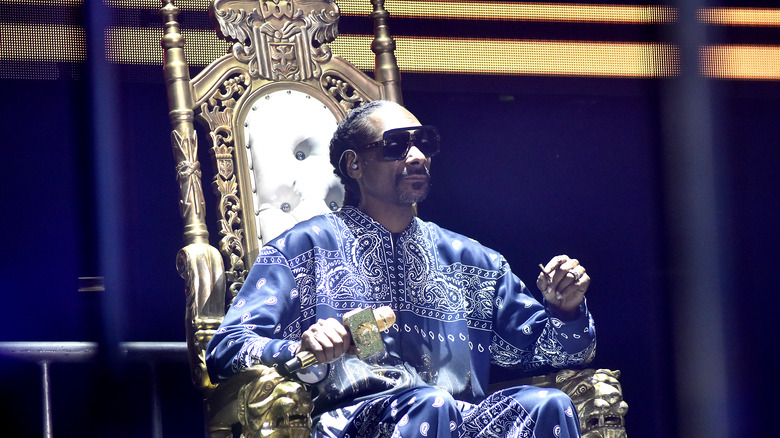 Tim Mosenfelder/Getty Images
Snoop Dogg may have offered a seat at his table to Prince Harry and Meghan Markle, but don't expect him to take sides in the royal family feud. That's because it seems Snoop has a love for everyone in the House of Windsor — including Queen Elizabeth II herself. 
Just as the princes are his "boys," in a February 2022 interview with Whoo Kid, he referred to the monarch as "my gal." The term of endearment is likely related to the fact that the queen helped Snoop remain in Britain amid his murder trial. "The queen said, 'This man has done nothing in our country. He can come,'" he whispered dramatically. In the same interview, he also hinted that the then-pre-teen princes may have had something to do with it. "You think they [weren't] there saying, 'Grandma, please let him in, grandma!'?" he laughed.
Something tells us Buckingham Palace won't be verifying that particular story. With that said, who knows? Maybe Snoop is just as tight with the monarch as he says he is. We're just happy to know he has a relationship with William and Harry — and we're hoping he and Martha Stewart can host a get-together that sees the brothers patch things up. We can dream, right?