The Moment Between Leonardo DiCaprio And Lauren Sanchez That Went Totally Viral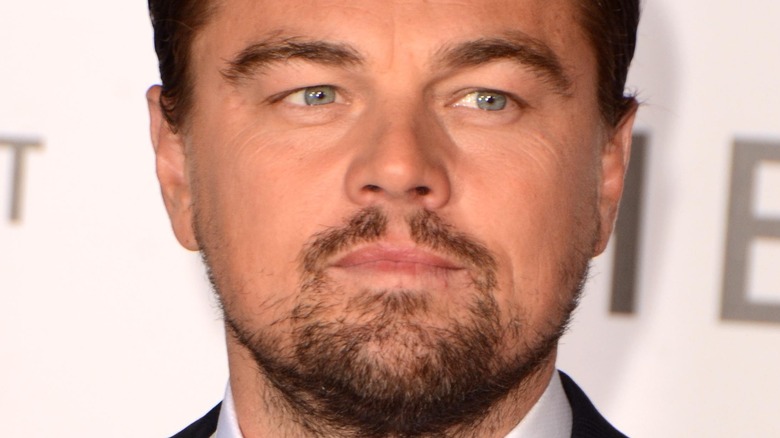 Kathy Hutchins/Shutterstock
If there's one thing in life we probably don't have to tell you, it's that Leonardo DiCaprio is pretty popular with the ladies — and the fellas, for that matter. DiCaprio has dated pretty much every model in the world (well, not quite, but he's certainly dated his fair share) with his dating history consisting of the likes of Gisele Bündchen, Demi Moore, Naomi Campbell and Blake Lively, per Who's Dated Who. DiCaprio has been known to hang around all the biggest parties in Hollywood where the most stunning models are known to be, so much so that Cosmopolitan actually spoke to nine "Sports Illustrated" models in 2015 about their interactions with him, including Gigi Hadid and Lily Aldridge.
The outlet also chatted to Chrissy Teigen, who joked she was actually offended to be one of what we're guessing is only a handful of models to have never run into him. "I've never seen him out. Everyone talks about him and models, and the thing is, in this industry, that's kind of who you're around the most," she said, admitting that she and her husband, John Legend, would joke all the time about who models would date. "You kind of date your coworkers, and in a way, we were coworkers... Good for all of them. Good for the girls, good for Leo," she added.
So, with all that dating being so notorious, it was only a matter of time before DiCaprio's womanizing ways went viral. Step forward, Lauren Sanchez.
Lauren Sanchez appeared mesmerized by Leonardo DiCaprio
With Leonardo DiCaprio's dating reputation preceding him, the internet lost it when the notorious womanizer was spotted chatting to none other than Jeff Bezos' girlfriend, Lauren Sanchez. Back in November 2021, the world couldn't get enough of the actor's brief chat with Sanchez at the LACMA Art + Film Gala, as he seemingly had her mesmerized. The clip, which was captured by Variety but went viral via by Barstool Sports, showed Sanchez flashing a big smile at the actor, getting pretty close to him, and gazing up at him — all while Bezos looked on.
Plenty tuned in to the obvious affection (hey, who could blame her?) and joked about the moment on social media. "Find someone who looks at you the same way Jeff Bezos's girlfriend looks at Leo," one person quipped on Twitter, while another speculated, "Sanchez was looking at Leo like take me, look how she stretched her neck up and looks like maybe she pushed her chest upon him?? Poor [Bezos] is moving the chair to keep up with Sanchez. All that money [Bezos] has didn't mean anything to Sanchez with Leo around!"
Of course, nothing actually happened between the two and, thankfully, Bezos saw the funny side. The businessman took to Twitter to share a hilarious response to the viral moment; a photo of himself leaning on a sign that cautioned a fatal drop with the caption, "Leo, come over here, I want to show you something..."
All was not as it seemed between Leonardo DiCaprio and Lauren Sanchez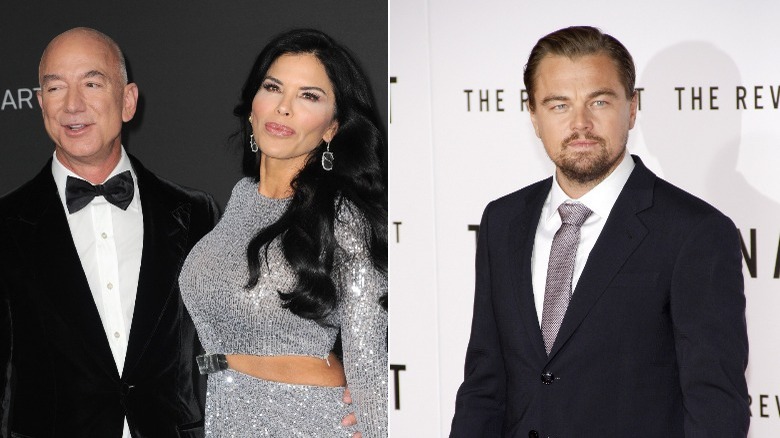 Tinseltown & Tinseltown/Shutterstock
Though it seemed like Lauren Sanchez may have turned into the heart eye emoji for Leonardo DiCaprio, what we saw in the viral clip didn't actually tell the whole story. It turns out that the group had all been close friends for a while before their LACMA Art + Film Gala interaction, according to a Page Six source, and it was actually the actor who personally invited the couple to the event. Not only that, but Bezos and Sanchez had even taken a vacation with DiCaprio and his girlfriend, Camila Morrone, shortly before they attended the gala. So there we have it. All platonic here, guys.
Of course, that was far from the first time DiCaprio had gone viral on the internet. The man is pretty much a meme machine, with some of the most used images on the web stemming from the star's roles. There's the meme of him laughing with a glass in hand in the 2012 film "Django Unchained," then there's the meme that shows him pointing at the TV in "Once Upon a Time in Hollywood." And how could we forget the suave meme/GIF of him raising a glass in "The Great Gatsby?" 
Oh Leo, when it comes to going viral, never change.