The Massive Fine NFL Player Deshaun Watson Must Pay In Sexual Misconduct Case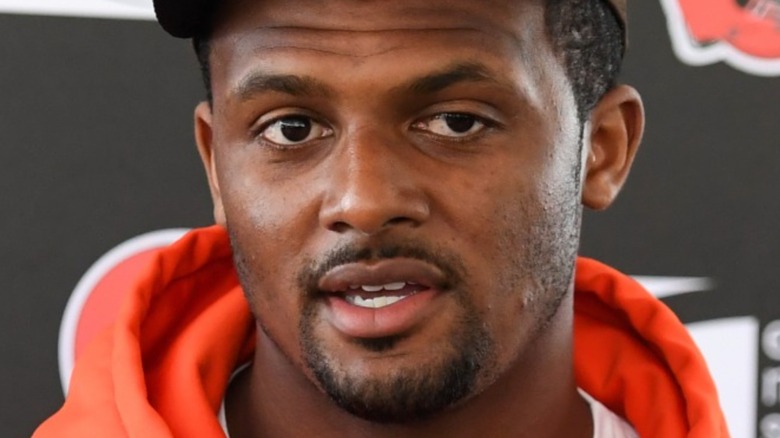 Nick Cammett/Getty Images
Cleveland Browns quarterback Deshaun Watson has received his punishment from the NFL for his sexual misconduct case, and it's no small fine.
Watson was accused by two dozen women of sexual misconduct during massage therapy sessions between 2020 and 2021, per PBS. This alleged misconduct occurred during his time with the Houston Texans, where he spent four seasons. He was then traded to the Browns in March 2022. The athlete would go on to settle 23 out of the 24 lawsuits these women filed against him.
According to PBS, the league also presented a 215-page report on Watson's alleged behavior to the NFL's disciplinary officer, former federal judge Sue L. Robinson. The report included testimony from four of 12 women interviewed by league investigators. Robinson called the sexual misconduct report "more egregious than any before reviewed by the NFL." As a result, Watson would face a six-game suspension. However, the NFL has now settled on a harsher punishment for the star quarterback.
Deshaun Watson was ordered to pay $5 million to the NFL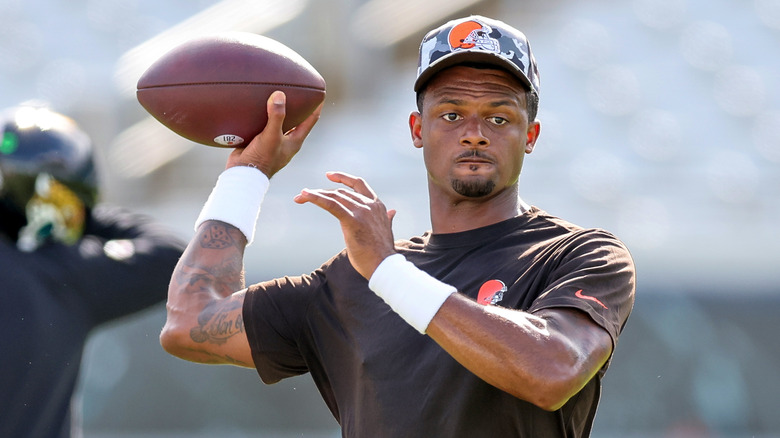 Mike Carlson/Getty Images
Per the New York Times, the NFL appealed Sue L. Robinson's decision to deliver tougher penalties for the allegations against Deshaun Watson. The footballer must now pay a $5 million fine to the league. These funds will be donated to groups focused on sexual assault awareness and prevention. The Cleveland Browns and the NFL will also donate $1 million each. Originally pushing for a year-long suspension, league officials have also set an 11-game suspension for Watson. In addition to these punishments, the quarterback must be evaluated by behavioral experts and go through a treatment program.
During a press conference captured by WKYC, Watson maintained his innocence, but accepted this punishment as a way to move forward. "I've always said that I've never assaulted or disrespected anyone, and I continue to stand on that," the quarterback stated. "But at the same time, I have to continue to push forward with my life and my career." Watson also apologized to all who were impacted by the situation.
If you or anyone you know has been a victim of sexual assault, help is available. Visit the Rape, Abuse & Incest National Network website or contact RAINN's National Helpline at 1-800-656-HOPE (4673).