The Truth About Kandi Burruss' Relationship With DonJuan Clark
Prince Williams/Getty Images
Being in the entertainment industry comes naturally to Kandi Burruss. Many may recognize her as a reality TV star, but her career breakthrough happened many years prior. Kandi has actually been in the industry since she was a teenager, as lead vocalist and founding member of the popular '90s R&B group Xscape.
The group, which was discovered by music mogul Jermaine Dupri, quickly rose to stardom and took over the music industry. "We started our group when I was in the ninth grade," she revealed to Forbes in January 2019. "We got our record deal when I was in the 11th grade." The award-winning group changed the trajectory of all-female groups and became pouplar for singles such as "Just Kickin' It," "Who Can I Run To," "My Little Secret," and more.
While she got her start early on, it's clear that Burruss has had quite a transformation. The Atlanta native joined the cast in Season 2 of "The Real Housewives of Atlanta," and quickly fit in to become one of the main faces of the franchise. Many adore Burruss for telling it like it is and having a little fun along the way. Although the reality show highlights its stars' luxurious lifestyles, the show also discusses their friendships. Over the years, fans have watched her friendships blossom and can attest to one in particular that has reigned supreme — her relationship with DonJuan Clark. How did this friendship come about?
Kandi Burruss and DonJuan Clark have worked together for years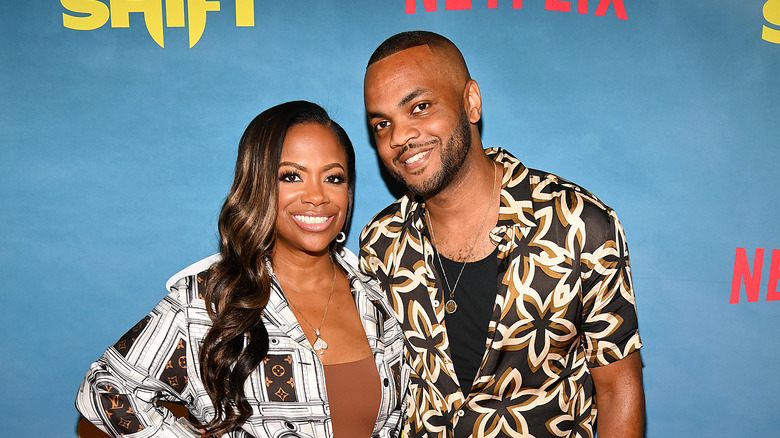 Paras Griffin/Getty Images
Running a business empire is no easy feat — just ask Kandi Burruss and DonJuan Clark. Although he would make occasional appearances on "The Real Housewives of Atlanta," Clark ​​is also a longtime business associate of Burruss and a strong supporter of her endeavors. Known as Burruss' "right-hand man," per his Bravo bio, Clark knows how to "get it done." In fact, both Burruss and Clark share a similar mentality when it comes to running a business.
"He has the same mentality of go hard or go home. He's like, we go nonstop. I mean, obviously, we have a million different things happening," Kandi revealed to Bravo Insider in April. She continued, "It's just all about, let's get it done. We just have a lot of sleepless nights that we all share, trying to make things happen for the overall goals that we share."
Their relationship proves to stand the test of time, as they met "almost 20 years ago" and have worked together "in some capacity for about 18 years." In an interview with Bravo Insider in June, DonJuan reflected on their beginning. "We met each other [because] I used to do online marketing," he shared. "So we had always kept the relationship. It would be things that would come up [and] she would refer me to other clients." From friendship to business, it's clear that Burruss and Clark have a trusting relationship.
Fans will see more of DonJuan Clark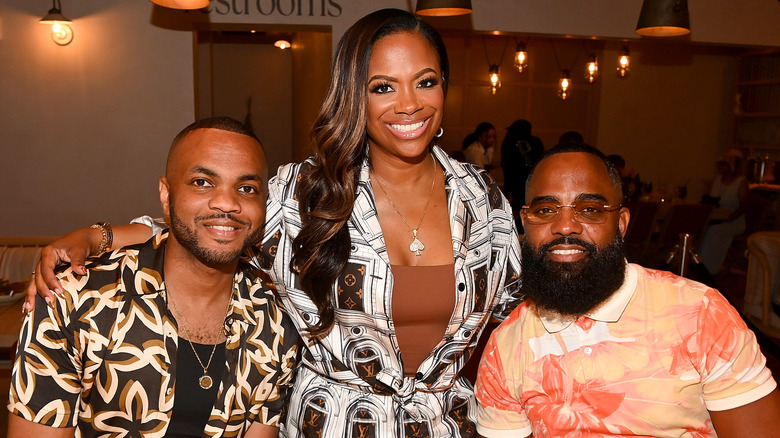 Paras Griffin/Getty Images
Kandi Burruss may be the richest housewife, per The Cinemaholic, so it's only fitting that she has someone like DonJuan Clark to keep all of her endeavors in tip-top shape — including the latest installment, "Kandi & The Gang." Per Bravo, the "Real Housewives of Atlanta" spin-off follows Burruss, Clark, and the staff of their restaurant, Old Lady Gang, as they manage the restaurant and their personal lives. In an interview, Burruss revealed that fans can expect to see a bit more of the businessman and get to know him on a "more personal level" from his involvement on "Kandi & The Gang."
Burruss told Bravo Insider that people were quick to "vilify" her business partner over the years, however, "Kandi & The Gang" is showing viewers a different side of him. "On this show, it's like he's just himself," she explained. "He gets to be his natural self, without being automatically put in [that] role."
Clark took to Instagram in March to share his appreciation for Burruss, his longtime business partner. "There are some people who are attached to you and some people who are assigned to you!" he wrote. "Know the difference!" Fans were quick to react in support of their tight bond. "The most powerful team in the game," one fan commented. From running successful businesses to a lifetime friendship, the bond between Burruss and Clark has shown no signs of slowing down.