Family Law Expert Explains Brad Pitt And Angelina Jolie's Messy Custody Situation - Exclusive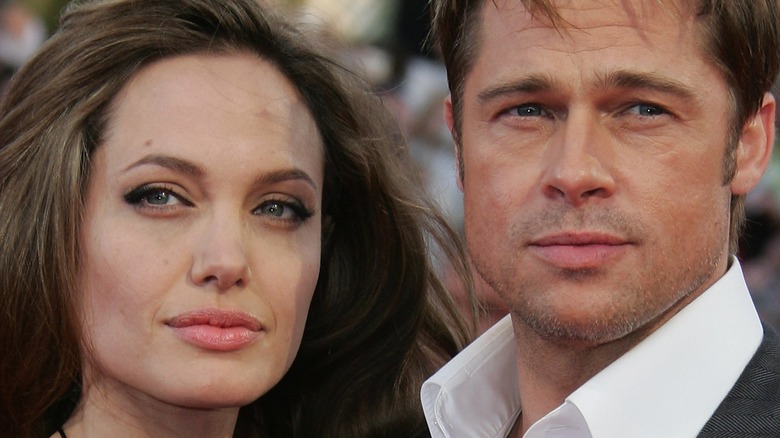 Francois Durand/Getty Images
It's been six years since Angelina Jolie filed for divorce from Brad Pitt, and their bitter custody battle still isn't over.
According to TMZ, Jolie cited "irreconcilable differences" in her 2016 divorce petition and sought sole physical custody of the six children she shares with Pitt: Maddox, Pax, Zahara, Shiloh, Knox, and Vivienne. Days after the filing, People reported that Pitt was being investigated by the L.A. County Department of Children and Family Services. An anonymous source told authorities that he had become physically and verbally aggressive toward one of his children — who was later identified as Maddox — on a private plane. Because the alleged incident happened while the plane was in the air, the FBI got involved in the investigation. No evidence of abuse was found, per Entertainment Tonight, and a rep for Jolie revealed that she and Pitt had agreed to a temporary custody arrangement.
In 2017, the former couple released a joint statement saying they had decided it was in the best interest of their kids to keep their ongoing divorce proceedings private, People reported. However, their messy custody dispute continued to play out in the headlines. In April, Jolie set out to discover why the FBI hadn't filed charges against Pitt, and the documents she obtained through a lawsuit became accessible to the public in August, per Puck. But, according to one legal expert, Jolie's dogged fight to limit Pitt's access to their kids might have harmful repercussions down the road.
Pitt's progress hasn't affected the drawn out custody battle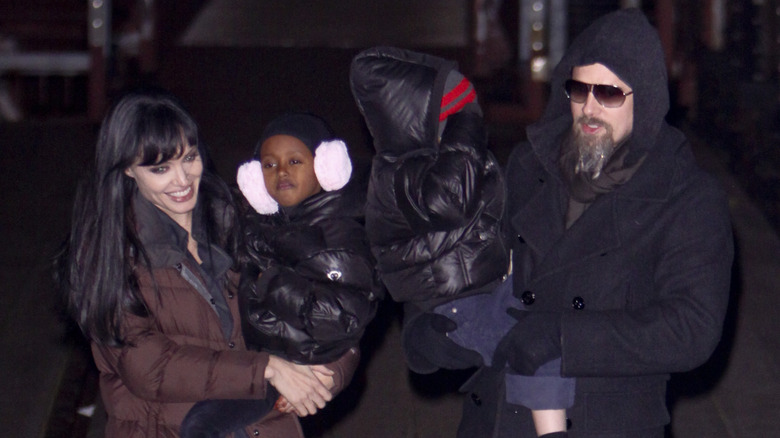 Ray Tamarra/Getty Images
Family law attorney Holly Davis of Austin-based Kirker Davis LLP spoke to Nicki Swift exclusively about Brad Pitt and Angelina Jolie's ongoing custody dispute. Davis, who has extensive experience in high-net-worth divorce cases, pointed out that Pitt has made big changes in his life in an effort to improve his relationship with his kids. This includes seeing a therapist and getting sober. "I was boozing too much," Pitt confessed to GQ in 2017. "But I've got my feelings in my fingertips again." In Davis' opinion, Pitt's actions should be sufficient to convince a judge to sign off on a joint custody agreement. "From a purely legal perspective, Brad Pitt has done the work to successfully rehabilitate himself in the eyes of the court as he asks for more time with his children," said Davis.
Davis observed that Jolie appears unmoved by any of Pitt's attempts to prove he can be a better father. "From Angelina's perspective, Brad should be forever punished for the things that occurred years and years ago, and no credit should be given to the work of the more recent past and present," she stated. Speaking to People about Jolie's lawsuit against the FBI, a Pitt insider agreed Jolie was being vindictive and explained Pitt hadn't publicly addressed her latest legal move because he believed that his silence was in the best interest of their children.
How Angelina Jolie's legal actions might impact her kids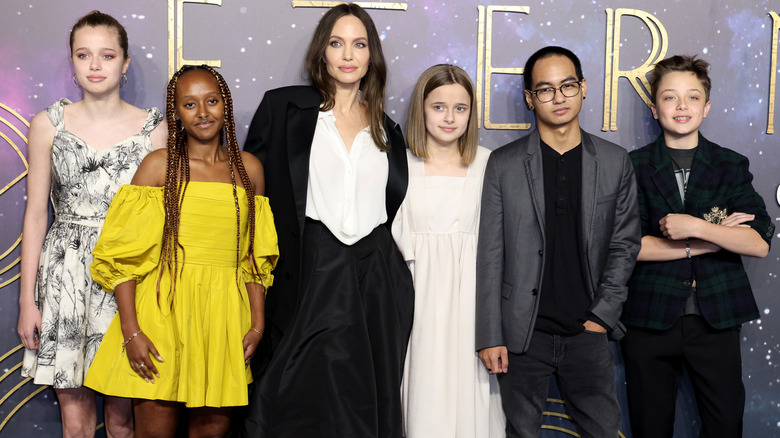 Tim P. Whitby/Getty Images
Over the years, Angelina Jolie has accused Brad Pitt of not paying enough child support, launched a successful bid to get the judge who granted Pitt joint custody disqualified from presiding over their divorce proceedings, and filed legal documents claiming she possessed evidence of domestic violence, per Entertainment Tonight. 
Attorney Holly Davis explained to Nicki Swift exclusively there may be a specific motive behind Jolie's efforts to prolong the custody dispute by using her deep pockets to pay a legal team to keep fighting Pitt in court. "She is working the passage of time to her legal advantage in order to place decision-making in the hands of the children," Davis theorized. "She knows that when the children get to decide who they want to visit, they will presumably not want to visit their father, based on the vitriol with which their mother feels about their father." In 2020, a source told Us Weekly that two of Pitt's older children, Maddox and Pax, had already cut him out of their life.
In 2016, Pitt's legal team argued that Jolie was sacrificing her children's privacy for the sake of their custody battle, per NBC News, and Davis agrees that the kids should not be stuck in the middle of their parent's legal tug-of-war. "Using the children as a weapon is a very dangerous endeavor, and likely results in emotional and mental hardship for the children as they grow to be adults," she said.