What Really Happened Between Elizabeth Hurley And Justin Theroux?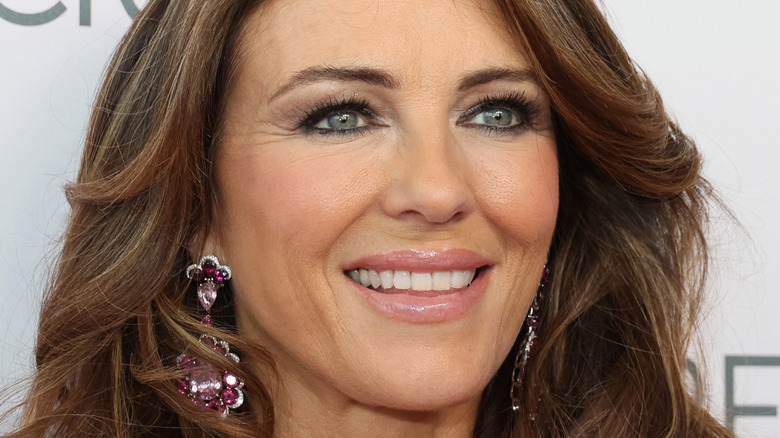 Dia Dipasupil/Getty Images
Elizabeth Hurley and Justin Theroux's romantic histories both include stars with a few rom-coms under their belts, and the two actors have both dated their co-stars.
Theroux's relationship with "Friends" star Jennifer Aniston began in 2011 when they worked together on the rom-com "Wanderlust," per Us Weekly. They wed in 2015 and remained husband and wife for three years before deciding that their real-life romance wasn't going to have a happy ending. Hurley similarly met her longtime love Hugh Grant when she was cast alongside the "Love Actually" actor in the 1987 film "Remando Al Viento" and their romance also didn't last; per USA Today, they called it quits in 2000.
Hurley has had a number of high-profile romances over the years. She had a son, Damian Hurley, with late movie producer Steve Bing, and she was married to entrepreneur Arun Nayar from 2007 to 2011. The marriage was followed by a romance with late cricket player Shane Warne that ended in 2013. After Woman's Day published an article suggesting that Warne and Hurley were possibly reigniting their old flame in 2021, Warne tweeted, "You should not be allowed to just make things up." And after other tabloids (including InTouch) reported that Theroux was another guy who had caught Hurley's eye, the "Austin Powers" actor decided to address the gossip.
Elizabeth Hurley and Justin Theroux enjoyed a day at the races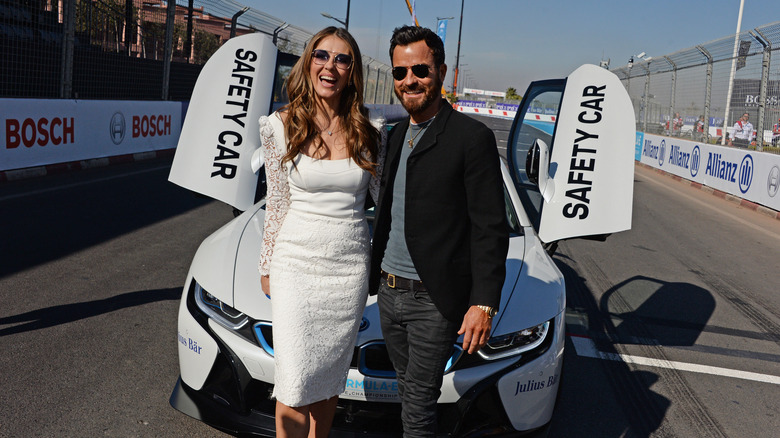 David M. Benett/Getty Images
In 2019, Elizabeth Hurley and Justin Theroux both attended the ABB FIA Formula E Championship in Morocco. The two actors posed for a number of photos together, per Radar, even taking to the racetrack to stand side-by-side in front of the event's safety car. They continued pairing up for pictures at an afterparty, and it wasn't long before the tabloids were all abuzz with speculation about the two potentially hooking up. InTouch even cited a source as saying, "No once [sic] cared about the race. The talk was all about the hot new couple, who definitely look great together."
But, while Hurley and Theroux clearly are not averse to dating other actors, they weren't actually setting each other's hearts racing at the races. Hurley addressed the dating rumors in an interview with Us Weekly, saying, "They're definitely not true. We did a job together, and he's a very nice chap, but they're definitely not true." She also told the outlet that she had decided not to speak about her love life after realizing she was being too open about it.
Hurley, however, did share her thoughts about dating in a 2019 interview with Red. She confessed that she would love to find love, but said, "'People say, 'Are you lonely?' and actually, I'm really not. I'd rather be happy and single than miserable with someone."
Elizabeth Hurley and Justin Theroux are both friendly with their exes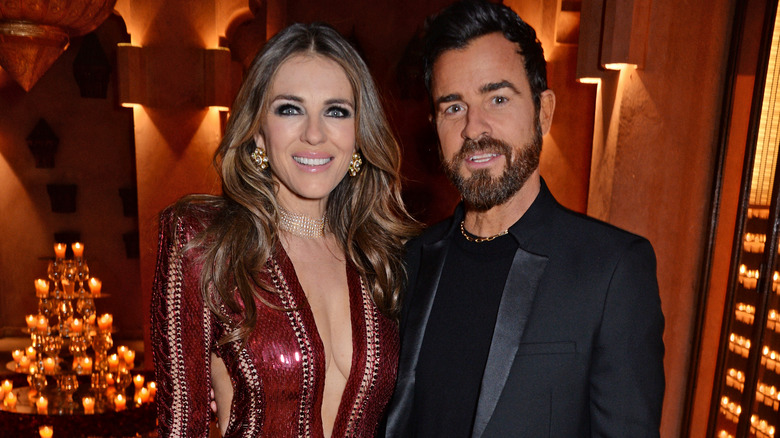 David M. Benett/Getty Images
Speaking to Red about relishing her freedom as a single lady, Elizabeth Hurley said, "I've really enjoyed the past couple of years and it's made me realize how important it is to find someone who shares similar tastes." While she and Justin Theroux weren't so compatible that their racetrack hangout sparked a romance, we do know that they both possess a specific personality trait that's not all too common: the ability to remain on friendly terms with their exes.
Hugh Grant was actually unfaithful to Hurley, as USA Today notes, but in 2021, Hurley told The Sunday Times of her ex, "We're good friends and I hope it always stays that way." They remained so amicable after their split that Hurley asked Grant to be her son's godfather, and in 2016, Hurley told Us Weekly that she and her ex-boyfriend BFF spoke to each other daily. "If someone's lovely how could you not be on good terms with them?" Hurley said of her friendships with multiple exes in a 2017 interview with the Daily Mail.
Theroux shared a similar sentiment with Esquire when discussing the end of his romantic relationship with Jennifer Aniston. While the exes weren't chatting regularly like Hurley and Grant, Theroux revealed that he and Aniston had remained in close contact after their split. "We love each other," he said. "I'm sincere when I say that I cherish our friendship."