The Truth About Zahara Jolie-Pitt's Adoption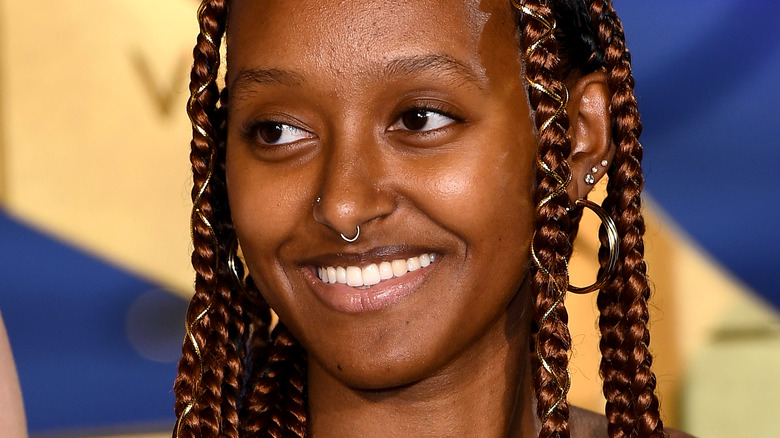 Dave J Hogan/Getty Images
Zahara Marley Jolie-Pitt was adopted from the Wide Horizons adoption agency in Ethiopia as an infant in 2005 — first by Angelina Jolie as a single mother in her country of birth. Later, back in the United States, Brad Pitt would go on to adopt his first daughter, whose surname was then changed from "Jolie" to the hyphenated "Jolie-Pitt" alongside that of her older brother and Jolie's first child, Maddox Jolie-Pitt.
While Jolie's intercountry adoption of Zahara from Ethiopia drew the attention of fans around the world, there are many details that have been found to have been misreported since, and that includes the name that Zahara was given at birth. Between these conflicting reports of her early life prior to her adoption, on top of her Brad and Angelina's fierce protection of their children's privacy, even the most dedicated fans of the Jolie-Pitt family might not know the real story behind Zahara Jolie-Pitt's adoption.
She wasn't an orphan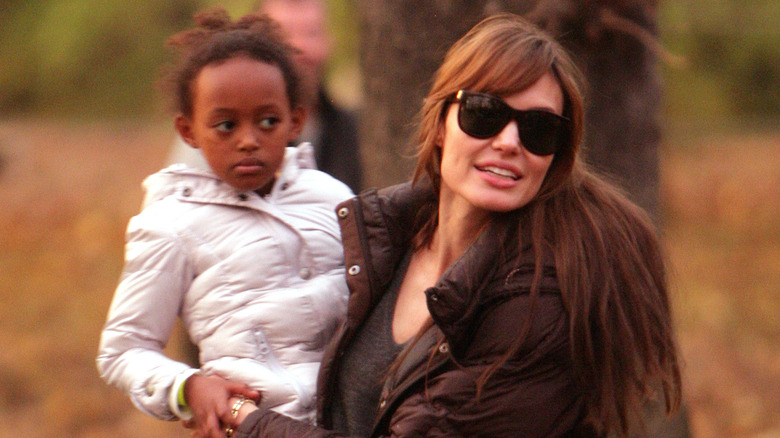 Northfoto/Shutterstock
While an early report from Star magazine shortly after Zahara Jolie-Pitt's adoption by Angelina Jolie gave her birth name as "Tena Adam" and identified her as an orphan whose birth mother had died of complications from HIV/AIDS, it emerged that this was not actually the infant's history.
As it turned out, Zahara's birth mother, Mentwabe Dawit, was found by Reuters to be alive and living in Ethiopia in 2007. Dawit stated that her daughter, whom she named Yemsrach, had been conceived after she was sexually assaulted, and it was Dawit's own mother who placed her granddaughter for adoption after she believed that she had died after running away. Zahara was malnourished at the time, and her grandmother — identified as Almaz Blfnhe from the Star magazine article — was quoted as saying, "No woman wants to give away her own flesh and blood."
"Each day I would be in tears as I took her to the adoption office. They would send me away," Blfnhe further added. "They eventually realized I did not have the money, and they took [Zahara] from me and said they could give her a better life."
If you or anyone you know has been a victim of sexual assault, help is available. Visit the Rape, Abuse & Incest National Network website or contact RAINN's National Helpline at 1-800-656-HOPE (4673).
Zahara's birth family approves of her adoptive mother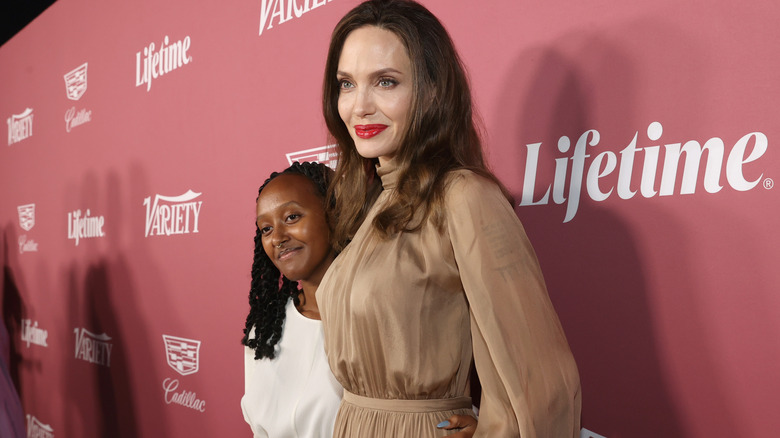 Emma McIntyre/Getty Images
Although Zahara Jolie-Pitt was not actually an orphan when she was adopted, her birth family reportedly approves of her famous adoptive mother. As quoted by Reuters, Zahara's mother said, "I think my daughter is a very fortunate human being to be adopted by a world famous lady. I wish them both all the success they deserve." Zahara's grandmother expressed a similar sentiment to Star, saying, "All I ask is that one day Ms. Angelina could send me a picture of my granddaughter so I can remember her and those beautiful big brown eyes, they are just like my daughter's eyes."
Mentwabe Dawit — identified as "Mentewab Dawit Lebiso" — requested to be contacted by Zahara in a 2017 interview with the Daily Mail. At that time, she additionally voiced her support for Jolie amid her divorce from Brad Pitt and said, "I want my daughter to stay with Angelina. She is a good mother and all children should stay with their mother."