What Really Happened Between Bridgit Mendler And Shane Harper?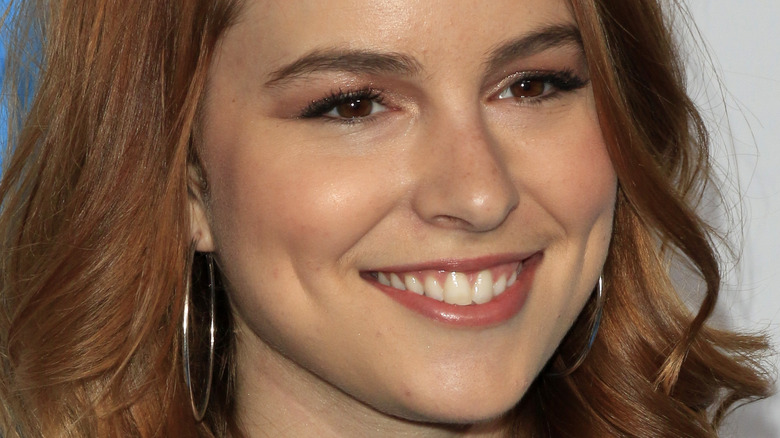 Kathy Hutchins/Shutterstock
Bridgit Mendler has done a lot of growing up since her Disney days. The charismatic Duncan sister from "Good Luck Charlie" is now a fully responsible adult, who is able to maintain a career in entertainment while earning a PhD from the MIT Media Lab. On top of it all, the "Undateable" alum finds time for meaningful relationships. In October 2019, Mendler tied the knot with Griffin Cleverly, her longtime partner, as she announced on Instagram. "Still riding the high of the weekend," she captioned a photo of the bride and the groom at the beach. "Thank you to everyone for the abundance of love that you showered on griff and I. We are so excited for this new chapter."
While Mendler finds time for Ivy League-level studies, music, acting and married life, Mendler seems less interested in fitting social media into her busy schedule. However, she does occasionally pop up to celebrate those around her. In January 2021, Mendler marked Cleverly's 30th birthday with a sweet tribute. "Love you so much you wild person, can't wait to see you rock this decade," she wrote on Instagram.
Mendler and Cleverly announced their engagement just six months before, showing they were eager to seal the deal. "Looking forward to holding ur hand forever," she captioned the April 2019 post. Things seem to be going great for the couple. But before Mendler found her one, she dated fellow Disney star Shane Harper — a relationship that played out a bit differently.
Bridgit Mendler had reservations about dating Shane Harper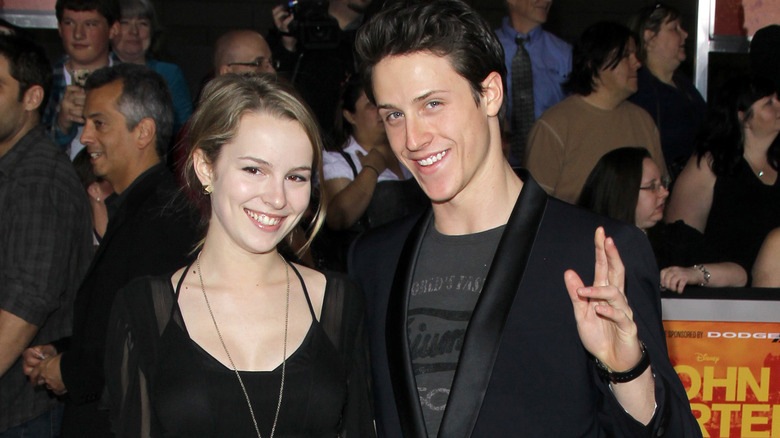 Kathy Hutchins/Shutterstock
Bridgit Mendler was initially unsure whether dating Shane Harper was a good idea. Mendler and Harper met in 2009 during the casting process of "Good Luck Charlie," according to The Hollywood Reporter, but Mendler was unimpressed by her co-star then. Complicating things further, they played boyfriend and girlfriend throughout the series. "We were 16 when we met. Actually, he was 15. I'm a cougar ... Maybe he was just too boisterous or something and I was just lame and I thought I was too good," she said on "The Meredith Vieira Show" in 2015.
But Mendler and Harper struck up a friendship as they belonged to the same social circle. For two years, Harper tried hard to impress Mendler — and it worked. "He wore me down, man," she told Vieira, adding she was glad he didn't give up. "I think chivalry should never die. I think I guy should fight for a girl and wait for a girl." While she initially had reservations, Mendler was later glad she had got to know the real Harper before dating him. "It's great that we knew each other for so long beforehand, so we were really friends," she told Yahoo.
In February 2014, Mendler expressed gratitude for their "Good Luck Charlie" co-workers, who went out of their way to accommodate their off-screen relationship. "I think everybody was very respectful about it and wanted to make sure that it wouldn't be weird," she told the website.
Bridgit Mendler and Shane Harper kept their breakup out of the spotlight
Bridgit Mendler and Shane Harper kept the details of their breakup under wraps. In fact, the former Disney stars didn't even announce their split. The public became aware of it only when she mentioned she had no special person in her life during a November 2015 interview with The Humor Mill. At the time, Mendler was starring in the NBC sitcom "Undateable," prompting the interviewer to ask whether the show's title applied to the protagonists' private lives. "I'm single, so I guess that means I'm undateable," she replied. 
Just the previous April, Harper had been gushing about her relationship with Harper on "The Meredith Vieira Show," so the news caught fans of the couple by surprise. It is unclear when the split happened, but Harper stopped featuring on Mendler's Instagram posts shortly after the interview. In early May, Mendler uploaded a snapshot of him and included a red heart in the caption, marking what seems to be the last post that includes him. In late April, Mendler shared a group photo that featured Harper. Before that, she often declared her love for Harper on her feed.
While the two have largely kept mum about the breakup, Harper — who, like Mendler, is also a musician — admitted he penned his 2016 song, "Like I Did," with Mendler in mind. "It's about the heartbreak of knowing that the person that you once loved is not with you anymore — they're with someone else," he told Seventeen.