The Truth About Bridgit Mendler's Impressive College Education
Emma Mcintyre/Getty Images
TV and movie fans of the 2010s will remember actor and singer Bridgit Mendler for her roles in several popular projects. Mendler began performing professionally at the age of 11 in 2004, when she voiced the role of Lucy in "The Legend of Buddha." In 2013, Mendler opened up to Vanity Fair about her start in the industry, which kicked off in the Bay Area prior to her moving to Southern California. "[Age] 11 was where I kind of began working at all. So that was in the Bay Area," Mendler said. "And all there really is is voice over and commercials there, so that's what I did ... Then I was like, 'Yo, this is not cutting it. I want to be down in L.A. working on stuff.'"
Following this move, Mendler went on to score major parts on Disney Channel shows. Some breakout roles that emerged for the entertainer included starring in "Good Luck Charlie" and "Lemonade Mouth." In addition, Mendler sang music hits like "Hurricane" and "Ready or Not." In a 2014 Fox 5 New York interview, Mendler stated she'd begun taking college courses with a major in anthropology, but still had a desire to maintain her thriving entertainment career. Mendler's recent pursuits as a student show that she is dedicated to expanding her impressive academic profile.
Bridgit Mendler is studying at MIT and Harvard Law
Bridgit Mendler is an accomplished performer who is currently focused on pursuing higher education at prestigious universities. Per LinkedIn, the former Disney Channel star graduated from USC in 2016, received her Master's degree from the Massachusetts Institute of Technology in 2020, and is now studying to earn her PhD from MIT, as well as a JD degree from Harvard Law School. Mendler's bio on the MIT Media Lab site states that she has "a focus on technologies that support inclusive and collaborative governance and citizen engagement." 
As a celebrity who has experienced social media interactions with a large following, Mendler became inspired to gear her studies toward utilizing technology in an effective manner. "Interaction online with her fanbase inspired her interest in social platforms as a means for bringing more voices, experiences, and expertise to government decision-making," the bio further explains. Some of Mendler's MIT projects that she has worked on include researching Twitter influencer analytics and analyzing social media story comprehension. Mendler is clearly very passionate about her studies, but still has a love for entertainment.
Bridgit Mendler 'get[s] tempted' to perform again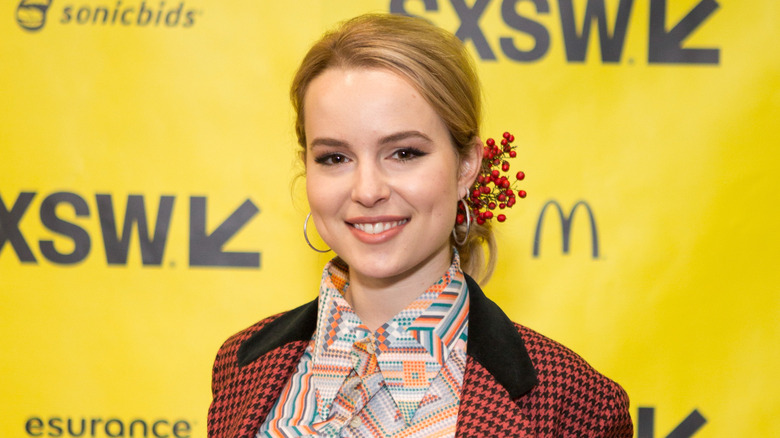 Mindy Best/Getty Images
Bridgit Mendler is a dedicated scholar who is still leaving the door open to possibly return to performing. In a 2021 episode of the "Techsetters" podcast, Mendler discussed her studies at MIT, where she is in pursuit of a PhD. "I've been working on learning about public input and government decision-making, how voices can be translated better into action through use of technology, and also through just more community-driven processes," Mendler said.
The performer and academic was also asked during the interview whether she would act or sing again in the future. "Dude, I don't know. I'm the most random person," Mendler said, before adding, "I've written, scripts, I've written music. I get tempted to come back to entertainment ... but I also feel like I'm really building upon something with my research, and so that's something that I want to continue to build upon."
The last acting role Mendler took on was the part of Emmy Quinn in "Merry Happy Whatever," a 2019 comedy series with co-stars like Dennis Quaid and fellow Disney alum Ashley Tisdale. Although the "Undateable" star has paused her acting and singing for the time being, Mendler's Twitter bio hints at her openness to potentially revisiting her Hollywood career one day. Mendler states that she is "Working on [her] JD/PhD [at] @Harvard_Law + @medialab" and is "also an actress and singer and wifey" in the bio, which references being married to Griffin Cleverly, whom she wed in October 2019.