The Touching Tattoo Lauren London Got In Honor Of Nipsey Hussle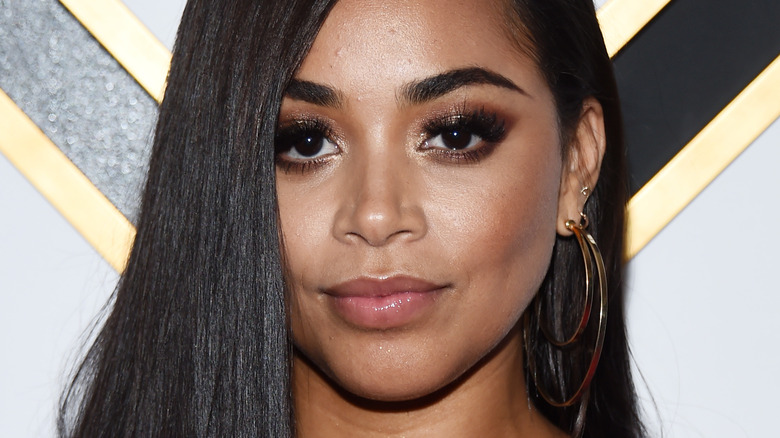 Amanda Edwards/Getty Images
Lauren London is keeping the memory of her late partner, legendary rapper Nipsey Hussle, alive. In a 2019 interview with GQ, London explained that a mutual friend first introduced her to Hussle in 2013. After she purchased some copies of his mixtape "Crenshaw," Hussle said he could give London wardrobe items from his clothing store. This encounter began their fated romance, which developed effortlessly. "We started kicking it every day for weeks, and then I realized that we never went to dinner and had, like, a proper first date," London said. "From there, it was just ... easy. It felt so natural for us to be in each other's lives."
In the years following, London and Hussle would continue to see each other and go on to have a child together, Kross Asghedom, per HollywoodLife. The two also shared two children, Kameron Carter and Emani Asghedom, from their previous relationships. Tragically, Hussle's life was cut short in March 2019 when the artist was shot and killed in front of his business, the Marathon clothing store, in Los Angeles, The U.S. Sun wrote. Since his untimely death, London has memorialized Hussle through some sentimental body art.
Lauren London tattooed Nipsey Hussle's note on her arm
Since Nipsey Hussle's death, Lauren London has sought out special and lasting tributes to her love. The actor decided to get a heartfelt tattoo in honor of her late partner back in 2020. London's tattoo artist, Steve Wiebe, posted an image on Instagram of the tattoo upon its completion. The ink, which sits on London's left forearm, is a replica of a note that Hussle previously wrote to her. "2 Lauren you My heart Love You More!!! –Ermias," the tattoo reads, in which Hussle signed his birth name to conclude the message for London. 
In addition to this tattoo, London has received other ink paying homage to Hussle's legacy. On her right forearm arm, London has a tattoo of Hussle's face, as well as the words "God will rise." Similarly, Hussle had "God will rise" tattooed on the right side of his face. This phrase references Hussle's given name, which the rapper revealed via Instagram in February 2018 means, "God will rise." Aside from getting these tattoos, London has honored Hussle's life through speaking about her love for the recording artist and celebrating his unwavering impact on the world.
Lauren London's 'pure love' for Nipsey Hussle endures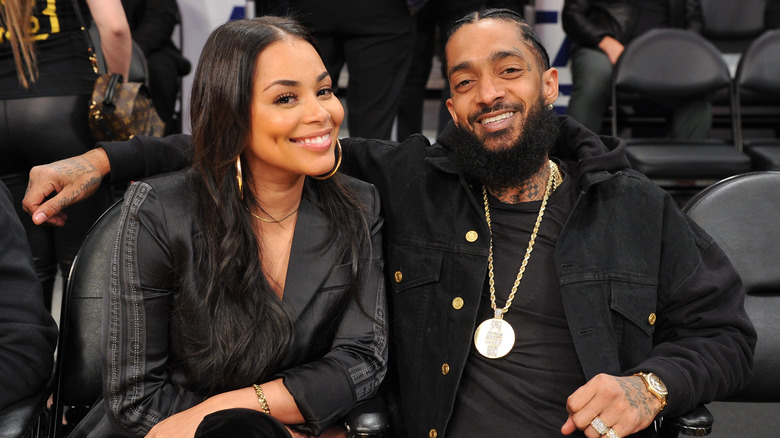 Allen Berezovsky/Getty Images
Rapper Nipsey Hussle will always be remembered by his colleagues, fans, and loved ones, including his partner, Lauren London. Most recently, Hussle was given a star on the Hollywood Walk of Fame on the day he would have turned 37, NBC 4 Los Angeles reported. During the gathering to celebrate the occasion, London opened up about always feeling that Hussle was meant to have a powerful destiny. "I think I speak for the entire city of L.A. when I say that we've always known Hussle was destined for greatness," London said. "This moment only amplifies this for us. Nip would've been honored by this moment."
London also took to Instagram to celebrate the accolade, writing, "From 60th St to a Star on Hollywood. Happy Heavenly Birthday Hussle Man. Love You Beyond" alongside an image of Hussle. In 2021, London likewise posted an image of Hussle to commemorate his birthday. "Happy Birthday My King!I Love You Today and Forever Missing you is just apart of my DNA and I wear it with honor," London captioned the image, before writing, "1 of 1 Hussle The Great there will never ever be another." While speaking on the "Angie Martinez IRL" podcast in July, London described her union with Hussle as one that consisted of "pure love," and the way London continues to honor Hussle certainly reflects their one-of-a-kind bond.