Does Keke Palmer Have A Problem With Kylie Jenner?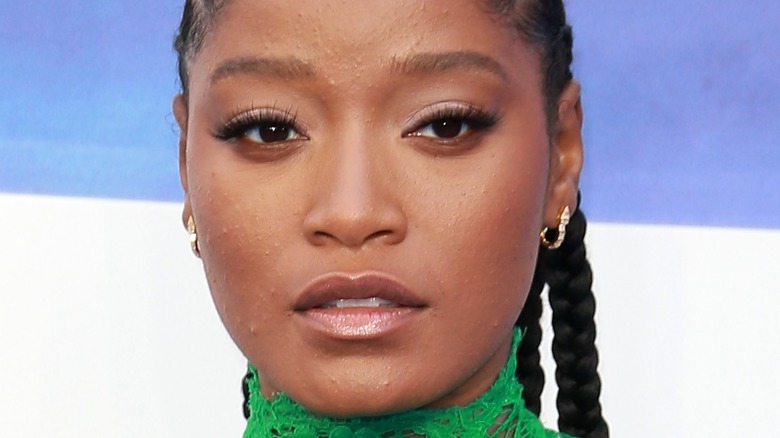 Cubankite/Shutterstock
Keke Palmer is a woman who isn't afraid to speak her mind. Apart from her stellar acting skills, her outspoken personality is what fans love about the "Nope" actor and what kept her on the radar throughout all these years. In what is her most recent unfiltered moment, Palmer spoke out on the comparisons between the trajectory of her career to that of fellow Disney star Zendaya "as a clear example of how colorism plays out in Hollywood." "They were both child-stars, but their mainstream popularity is very different," the viral tweet observed.
"A great example of colorism is to believe I can be compared to anyone," Palmer wrote on Twitter in July. "I'm the youngest talk show host ever. The first Black woman to star in her own show on Nickelodeon & the youngest & first Black Cinderella on Broadway." As the "Hustlers" star pointed out: "I'm an incomparable talent. Baby, THIS, is Keke Palmer."
Indeed, Palmer is not one to bite her tongue — even if her views on certain things are deemed controversial and could possibly get her in trouble. (Her tweets about colorism and Zendaya had, in fact, drawn mixed reactions from fans on Twitter, despite her best intentions.) And back in 2016, Palmer's hot take on Kylie Jenner's transformation found her at the center of unwanted attention, especially from fans of the Kardashian-Jenner clan. One might wonder, what does Palmer think of the beauty mogul-slash-reality star?
Keke Palmer weighed in on Kylie Jenner's transformation
Frazer Harrison/Getty Images
Back in 2016, Keke Palmer came to the defense of Kylie Jenner amid a sea of criticism against the reality star over her drastic transformation throughout the years. In her since-deleted Instagram post, the "Joyful Noise" actor said Jenner shouldn't be getting hate on her decision to change her looks, as it wasn't her fault that the world deemed her as "ugly" growing up.
"That girl was a child and she was bullied and named ugly and not as a character but as HERSELF," Palmer said, as quoted by Refinery29. "And unlike some that experience such ridicule, she had the $$$ to change. She 'fixed' what the world said was broken and it worked! Now you are mad that it was that easy?"
Jenner, at that time, denied ever having undergone permanent plastic surgery, but did admit to getting lip filler injections at the age of 17 in an episode of "Keeping Up With the Kardashians." In her profile for Complex, the Kylie Cosmetics founder said her natural puckers had been a source of insecurity for her ever since she was younger. "This guy I kissed was like, 'Your lips are really small but you're a really good kisser. I didn't think you were gonna be good at kissing.' It was so rude," she recalled. "From then on, I just felt like I saw guys staring at my lips. I felt like no one wanted to kiss me."
Keke Palmer used Kylie Jenner's experience to illustrate a point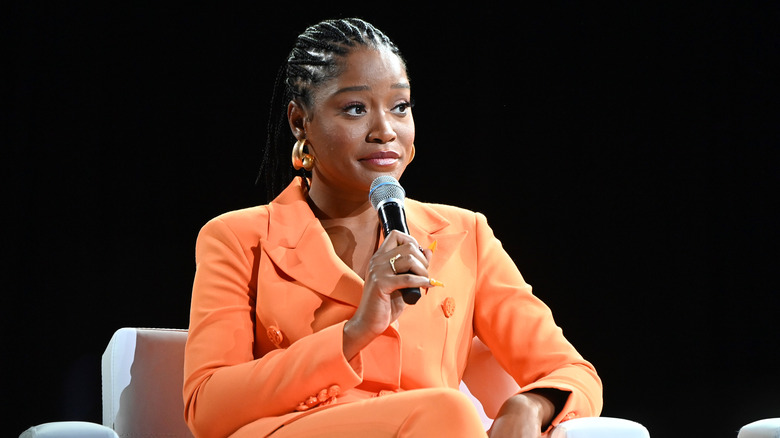 Paras Griffin/Getty Images
Then, during the Yahoo Beauty event in 2017, Keke Palmer again gave a no-holds-barred commentary on the unrealistic beauty standards put on women by society, and how the likes of the Kardashian-Jenner family — specifically Kylie Jenner — caved into this pressure. "In the situation with Kylie, where you've had a young girl people have seen on television since she was a kid and they literally told her she was so ugly ... the ugly person in the family," she said, per Page Six. "She went and did apparently everything the world deems as beautiful. The even crazier part is that everybody loves her for it."
While many fans interpreted her comments as a shade on Jenner, Palmer later clarified on "Watch What Happens Live" that she didn't mean for it to be a personal attack on the reality star. She said she only used the beauty mogul as an example for, well, obvious reasons. "It's just my comments on how the world would tell you to change, and then when you do, they appreciate you for, or sometimes they hate you still," she explained. "It's like, I hate how they force that sometimes on young people to change when you're beautiful just how you are. When your lips aren't full, who said that only full lips is beautiful? Who said that only big butt is beautiful?"
While it's unclear where Palmer and Jenner stand today, what's obvious is that the two aren't exactly what everyone would call best friends.