Who Inherited Tupac Shakur's Money After His Death?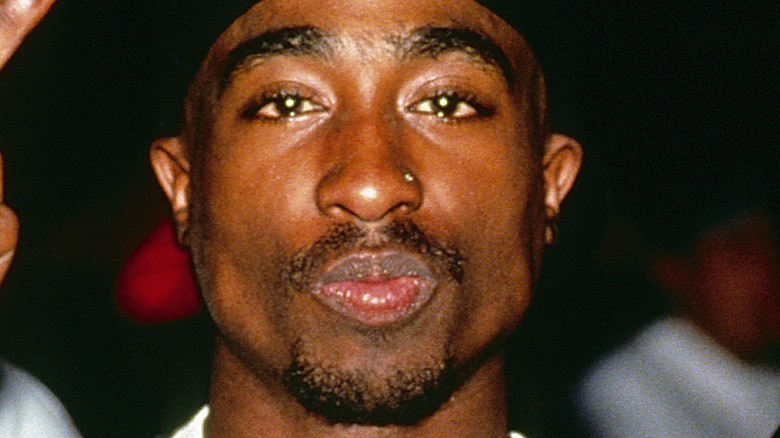 Al Pereira/Getty Images
It's been decades since Tupac Shakur's mysterious death, but his musical and cultural influence can still be felt up to this day. The legendary rapper was shot multiple times on September 7, 1996 after watching a boxing match. He died a few days after.
Over the course of his career, Tupac garnered more than $60 million worth of album sales, cementing his place as one of the top-selling artists of his time, per the Los Angeles Times. He had an increasingly expanding fan base at the time of his death (a portion of which still believes he's alive), and many of his peers in the industry believe he single-handedly changed hip-hop. "When we think about Tupac Shakur ... not just in hip-hop but popular culture, in America and globally, you have to think about Elvis Presley, James Dean, Marilyn Monroe, John Lennon, Bob Marley," writer Kevin Powell said, per NPR. "It's that significant. He is one of the most important figures that we've seen in the last 25 years or so."
Tupac's legacy cannot be understated. When he died, he had no will, leaving many wondering: Who inherited Tupac's money?
Tupac Shakur's mother handled his assets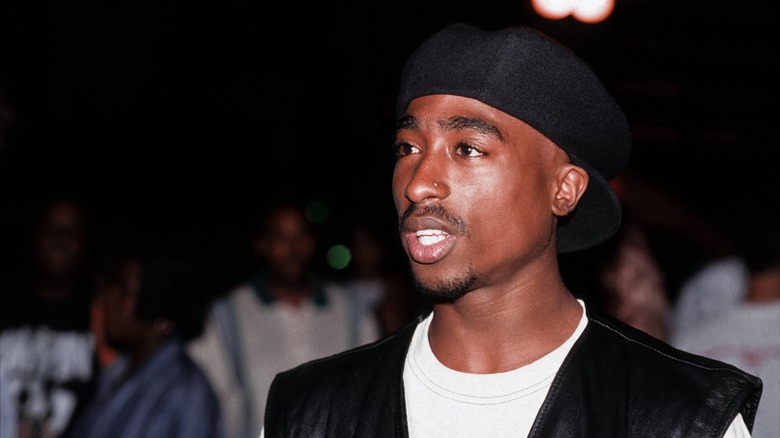 Al Pereira/Getty Images
One of the most baffling things about Tupac Shakur's money and assets at the time of his death was that he barely had any. Despite selling millions in records, his net worth reportedly did not even breach seven figures, and his label at the time even claimed he owed it money.
Per Entertainment Weekly, when Tupac died at age 25, he did not own any real estate, nor did he have investment vehicles like mutual funds or IRA. He only had two cars, a life insurance policy that went to his half-sister, and a checking account that had approximately $105,000. "Tupac was one of the most successful artists in the music business — and yet somehow, on the day he died, he had absolutely nothing to show for it," New York attorney Richard Fischbein said, per the Los Angeles Times. "We believe that Death Row withheld royalty payments from Tupac and failed to deliver many of the advances promised under his contract."
The rapper's estate ultimately went to his mother, Afeni Shakur, who managed everything on his behalf until she died in 2016. In 1997, she sued Death Row Records for royalties amounting to $17 million — an amount the company reportedly never paid Tupac, per MTV. The move was apparently in retaliation over the label's claims that Tupac had advanced money to pay for cars, jewelry, houses, and recording costs. According to Courthouse News Service, she founded Amaru Entertainment to manage her son's copyrights. She also struck a deal with the label to own the rights to Tupac's master recordings and audiovisual works and to receive royalties from past and future releases.
Tupac's estate legal battle continues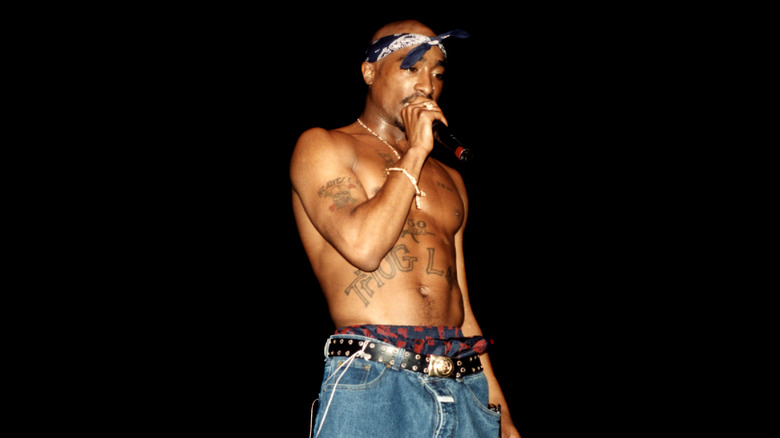 Raymond Boyd/Getty Images
Afeni Shakur died in 2016, and at the time, Tupac Shakur's estate was entrusted to Tom Whalley, the former head of Warner Bros. Records, who played a big part in helping the rapper rise to popularity. Although he was named the sole executor, Tupac's sister Sekyiwa Shakur claims that Whalley mishandled funds.
In a lawsuit filed in January 2022, Sekyiwa accused Whalley of committing "blatant violations" as the executor. "He has effectively embezzled millions of dollars for his own benefit," Sekyiwa wrote, per Billboard. "Whalley has unreasonably enriched himself at the expense of the beneficiaries and in bad faith by taking excessive compensation in a position from which he should properly be barred based on the inherent conflict of interest." He has allegedly paid himself $5.5 million over five years.
There's no word yet as to what would happen to Tupac's estate, which is said to be worth around $40 million today, per Express. Whalley's camp vehemently denies the claims, saying that he was acting in the late rapper's best interests. "Tom Whalley was a friend and confidant of Tupac and his mother, Afeni Shakur, since signing Tupac to his first major recording deal in the '90s and helping to arrange the funds to bail Tupac out of jail," his lawyer, Howard King, told Rolling Stone. "These legal claims are disappointing and detrimental to all beneficiaries of the trust. We are confident the court will promptly conclude that Tom has always acted in the best interests of Amaru, the trust, and all beneficiaries."