What Ashley Graham Had To Say About Tyra Banks After ANTM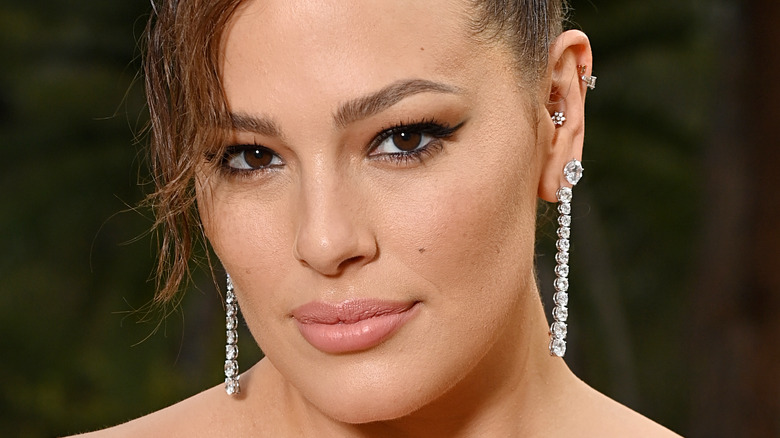 Pascal Le Segretain/amfar/Getty Images
When Ashley Graham joined the judges panel for Cycle 23 of "America's Next Top Model," the show was undergoing an overhaul as Tyra Banks had stepped down from her "ANTM" hosting duties. Even though Rita Ora had replaced the supermodel as the show's host, Banks stayed on as a producer, and spoke about how the hit reality show had evolved. "My goal is to really get into these girls' heads that I'm not looking for some successful model and I'm not looking for some social-media star. I'm looking for both," Banks told USA Today in 2016 as the series moved from UPN to VH1.
The "ANTM" creator had built a rapport with Graham after seeing her land the coveted cover of the "Sports Illustrated Swimsuit Issue." "Tyra reached out to me at the beginning of the year when my SI cover came out [to congratulate me]," Graham told People in 2016. Graham's cover was notable for being the first plus-size model to be on the cover, which came 20 years after Banks was the first Black cover model.
Landing the "ANTM" gig opened a lot of doors for Graham, and allowed her to be a vocal advocate for body positivity. Even though Banks was no longer the host at the time, the "ANTM" judge said her impact was still felt. "Tyra started 'ANTM' and Tyra started the smize, so of course we're smizing," Graham said in a 2016 Marie Claire interview. The relationship between the two models continued to change after working with each other. 
Tyra Banks mentored Ashley Graham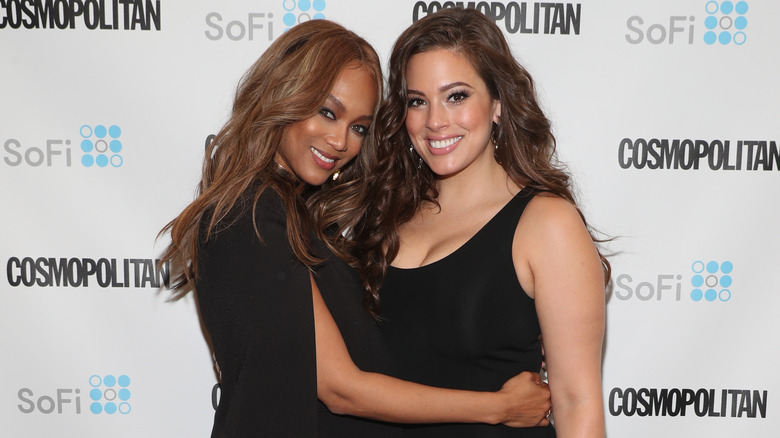 Cindy Ord/Getty Images
After briefly relinquishing her hosting duties, Tyra Banks returned to her on-camera role on "America's Next Top Model" for Cycle 24. During that time, Ashley Graham worked alongside Banks, and gained invaluable experience seeing the seasoned reality TV host work. "Tyra didn't need cue cards, she didn't need a teleprompter, she didn't need an earbud," Graham told The Hollywood Reporter in 2018. "She just had it. She is 'America's Next Top Model.'"
Not only did the "Coyote Ugly" actor work with Graham, but she took the younger model under her wing. "Tyra has been such an incredible mentor to me ever since I met her," the former "ANTM" judge told THR. Afterwards, Graham followed in Banks's footsteps and was the host and producer on her own reality series, "American Beauty Star," and used the lessons she acquired from working with Banks. "The biggest thing I learned from Tyra is that no matter if you make a mistake, just know that we all make mistakes and keep it moving," she said.
While watching Banks on set, Graham was given a master class in hosting. "I was taking mental notes every single day," Graham told People in 2018. The mentorship relationship between the two models went beyond working on television projects. "I could call her right now and say, 'OK girl, what would you do with this business decision?'" Graham added. Banks had similarly high praise when discussing her "ANTM" co-worker.
Ashley Graham was annointed by Tyra Bans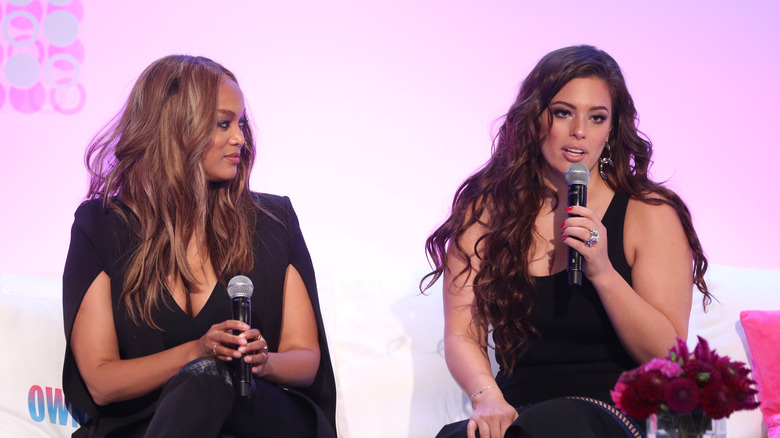 Cindy Ord/Getty Images
Ashley Graham parlayed her modeling success into television roles and a massive online following. In 2017, she was named to Time's "The 100 Most Influential People" list with Tyra Banks penning her a dedication for the honor. "Every inch of Ashley Graham's face tells the story of beauty — inside and out," the "Modelland" author wrote while declaring Graham a force in the modeling world. "It is time for everyone to bow down to the fashion industry's — no, make that beauty's — new queen," she added in the blurb.
After having her son through a surrogate, Banks put on some weight as she adapted to motherhood. That weight gain led to criticism in the press, but Banks fired back at her critics. She also mentioned how refreshing it was to see how Graham and others had helped change the perception of beauty in the industry. "What I'm hoping for is that the Ashley Graham's, the Gigi Hadid's, everyone is just models. Not plus, not short, not trans, not curvy," she told People in 2018. "I just want it to be normal."