Everything We Know About Scott Disick's Frightening Car Accident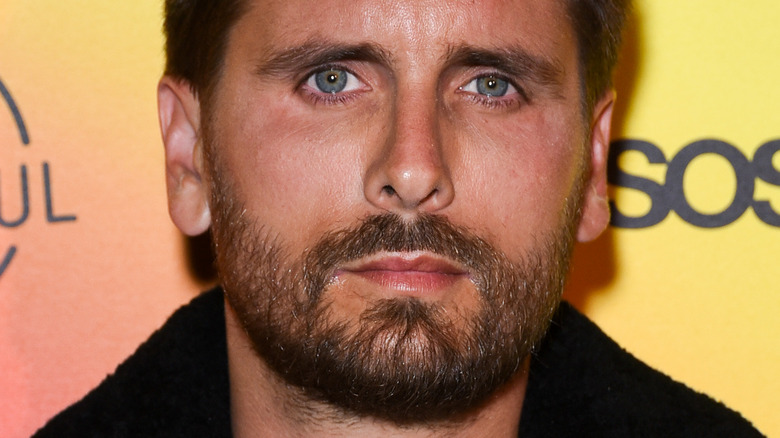 Presley Ann/Getty Images
Scott Disick is most well-known for his relationship with "Keeping Up With the Kardashians" star Kourtney Kardashian, and even though the couple called it quits, he remains in the spotlight — and has earned a pretty big fan base of his own. The star boasts an impressive Instagram following of over 27 million, and he loves to share glimpses of his life with fans.
As those who follow him on social media know, Disick has a soft spot for cars, and he is no stranger to showing off his impressive collection — much like other members of the Kardashian crew (like Kylie Jenner). A video shared by The Celebrity Cars showcased a few of Disick's most impressive vehicles. One of them is a McLaren 720S, which will set consumers back around $350,000. The star also is the proud owner of a pair of Ferraris. Disick has customized most cars with his own personal touches, like wraps and even new engines. He also owns a Rolls-Royce Cullinan and a Lamborghini.
But on August 21, that Lamborghini was involved in a scary crash that left it pretty mangled.
Scott Disick suffers minor injuries in scary car crash
Scott Disick is lucky to be (almost) unscathed following a scary car accident that looks like it could have been a lot worse than it was. Photos shared by TMZ show the reality star's Lamborghini flipped over near the side of the road in a residential area. The outlet reports that the accident occurred on the afternoon of August 21 when Disick drove his car into a stone mailbox in a gated community. At the time of the crash, Disick was alone in his car, and it did not appear that he was "impaired." Another report from Page Six suggests that the crash may have been due to speeding. Luckily, he walked away with just minor injuries, including a small gash on his head.
A report from the Los Angeles Police Department shared by Hollywood Life reveals Disick "declined medical treatment," and "family members" — though it's unclear who – picked him up from the crash scene.
Disick has not posted about the accident on social media, nor has he made a statement about what transpired that day. On the bright side, Disick isn't badly injured, and it's safe to say that he has plenty of backup cars while his Lambo is out of commission.