The Rumors About Tom Brady Appearing On The Masked Singer Fully Explained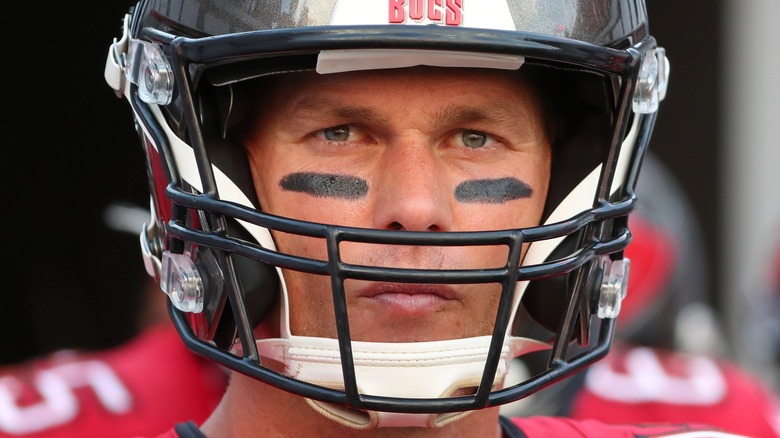 Steve Jacobson/Shutterstock
Tampa Bay Buccaneers quarterback Tom Brady was famously in retirement for a total of 40 days, per NPR, and announced in a tweet in March that he was back in action for his 23rd season. On August 11, NBC Sports reported that Brady was absent from training camp due to personal reasons that weren't revealed.
"He'll be back somewhere around after Tennessee," Buccaneers head coach Todd Bowles said in a press conference after the report came out, per NBC Sports. "He's going to deal with some personal things." The head coach said that he spent the first two weeks of training camp getting to know the new team, and the absence was discussed beforehand.
Although Bowles said he was confident that Brady would be back on the field before the season begins, Greg Auman, the Buccaneers beat writer for The Athletic, tweeted that there is a chance that he wouldn't be coming back. "Brady's already retired once this year, so I think it's hard to rule anything out," Auman wrote, responding to a fan who asked if the former Patriots quarterback would retire again. Because Brady's absence has been so under-wraps, theories about what the quarterback is up to have been all over the internet, with one including him appearing on a popular competition show.
A secretive absence leads to The Masked Singer rumors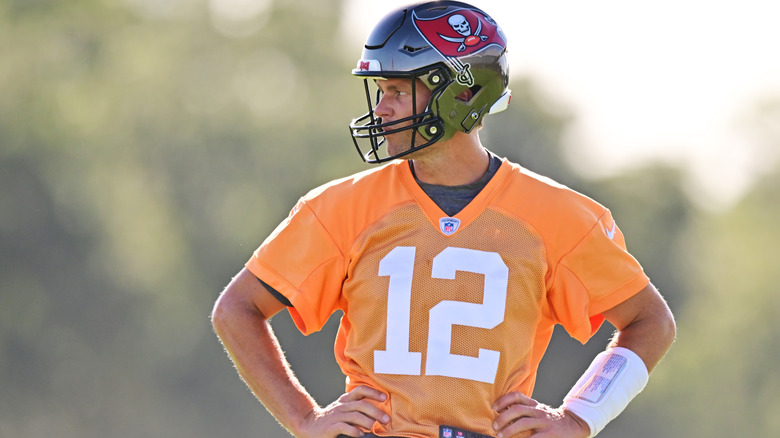 Julio Aguilar/Getty Images
Tom Brady's excused absence from the Buccaneer's training camp sparked a rumor that the star quarterback could be appearing on "The Masked Singer." Fantasy football analyst theorized in a Twitter video that Brady being on the show could explain why the reason for the absence is so secretive. She also pointed out that former Buccaneers teammates Antonio Brown and Rob Gronkowski have appeared on the show. Even the Los Angeles Rams' chief operating officer, Kevin Demoff, joked about the theory.
"Hopefully Tom Brady will still be on 'The Masked Singer' by the time we go to Tampa in November," Demoff joked during a game broadcast on August 19 (via Us Weekly). "So, if that's the case, maybe we'll have a chance."
But it seems that the rumors of the star football player being on "The Masked Singer" are reportedly not true. League sources have pointed out that Brady's decision to take some time off was strictly for family time, per Pro Football Network, as he planned a trip to the Bahamas with his wife, Gisele Bündchen. Maybe Brady will consider being on "The Masked Singer" once he fully retires.