Julia Fox's Bold Parenting Advice Gets Roasted On TikTok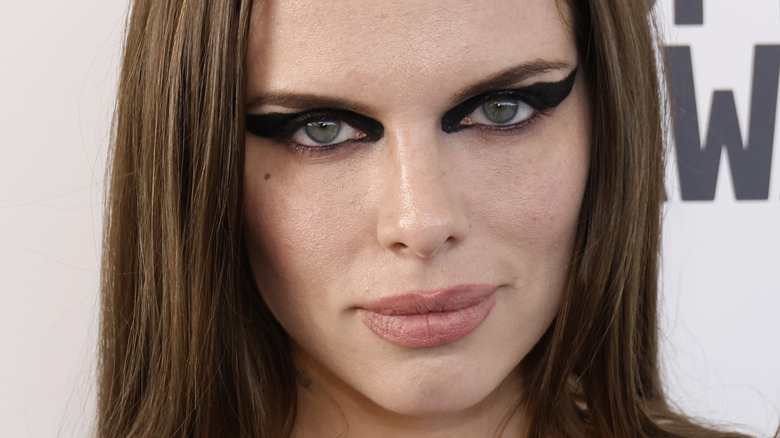 Frazer Harrison/Getty Images
Ever since Julia Fox landed in the headlines for her much-talked about but short-lived romance with Kanye "Ye" West, her life hasn't been the same. After one fan commented that Fox perhaps wanted to extend her 15 minutes of fame with Ye, she responded that it was the rapper who wanted their relationship to generate as much attention as possible, according to Page Six. Fox even teased that she has much more to say in a now-deleted comment that read, "Anyway If u want the full tea ur gonna have to buy the book when it comes out."
Well, there's no word as to when that book will come out, but Fox has been keeping herself quite busy, posing for photographers during her pant-less trips to the grocery store and attending numerous red carpet events. Clearly, Fox wants to make headlines with her fashion choices. Well, now it seems like Fox is also making headlines for something totally different: her parenting advice. Or at least, the parenting advice that people are roasting her for.
Julia Fox's not-so-conventional parenting advice
Julia Fox is known for things like her Hollywood films and her work as a model. But if there's one thing she's not known for, it's her parenting advice. Yet that's exactly what she gave to her fans in a bizarre TikTok, urging parents to buy kids cleaning tools instead of new toys. Fox has one child, Valentino, with her ex, Peter Artemiev, per People. Fox explained that prior to the 18th century, children were regarded as little adults, which is why she thinks they should learn how to act like adults and pick up their own belongings. She said, "So I suggest that everyone buy their kid a mini-mop and mini-broom and start teaching them those life skills really young, so when they enter the real world they don't have to outsource for everything."
Of course, it didn't take long at all for her TikTok followers to weigh in on her comments. Some wrote that they were going to have their kids start filing their taxes. Another person wrote, "My baby carried his own bags home from the hospital after I gave birth." But then again, seeing how Fox likes to go grocery shopping in her underwear, perhaps it makes sense why she thinks the roles should be reversed.