The Maya Hawke And Tom Sturridge Dating Rumors Fully Explained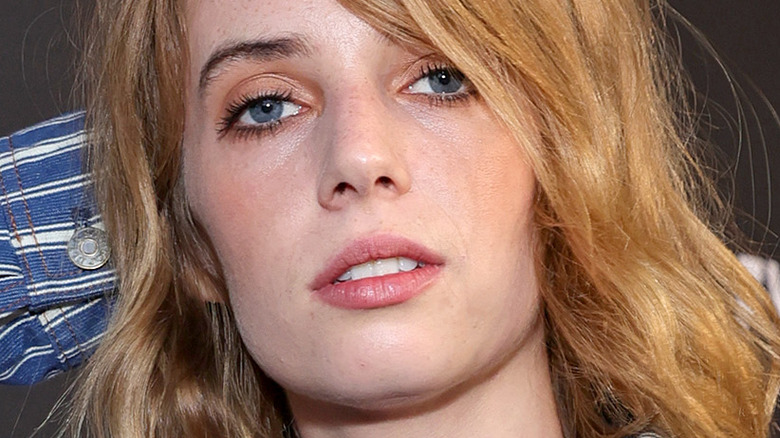 Emma Mcintyre/Getty Images
"Stranger Things" fans know Maya Hawke as Robin Buckley from the third and fourth seasons of the hit Netflix show. The 24-year-old also happens to be the daughter of Ethan Hawke and Uma Thurman. However, she has forged her own path in the entertainment industry, and Hawke has a new Netflix film already on the horizon, according to IndieWire.
Since stepping into the spotlight, Hawke's personal life has become of interest to her many devoted followers. Fans are desperate to learn more about her personal life, including who she is dating. Over the years, Hawke has been spotted with more than one lucky suitor, but a recent development in her dating life caused quite the stir. Hawke was found spending time with British actor Tom Sturridge, according to the Daily Mail, who is 12 years her senior and known for critically-acclaimed projects like "Being Julie," "Like Minds," and "The Boat That Rocked."
Here, we will fully delve into the dating rumors surrounding Sturridge and Hawke, giving fans insight into what happened with that romance.
Fans weighed in on the rumors of Maya Hawke and Tom Sturridge dating
Kathy Hutchins/Shutterstock
In July 2020, Hawke was spotted spending time in the Hamptons with actor Tom Sturridge (who fans may recognize as Dream from "The Sandman"), Page Six reported. After Hawke and Sturridge had attended numerous events together, the Daily Mail captured pictures of the actors in December 2021. The publication also reported that their romance was "heating up." 
Some fans on Twitter were excited about the prospect of the two being together. One user tweeted, "On one hand, I want to be Maya Hawke so I could date Tom, but on the other hand, I want to be Tom Sturridge so I could date Maya." 
Others, meanwhile, were completely floored that they hadn't heard about the romance yet. In August 2022, another Twitter user wrote in all-caps: "Who was going to tell me Maya Hawke and Tom Sturridge dated?"
Yet another tweeted, "I just found out that Maya Hawke and Tom Sturridge used to be together? Omg."
Hawke and Sturridge rarely comment on their personal lives in interviews, and they never confirmed nor denied being in a relationship with one another. Sadly, however, it's clear that they decided to go their separate ways. 
Maya Hawke was linked to a musician in early 2022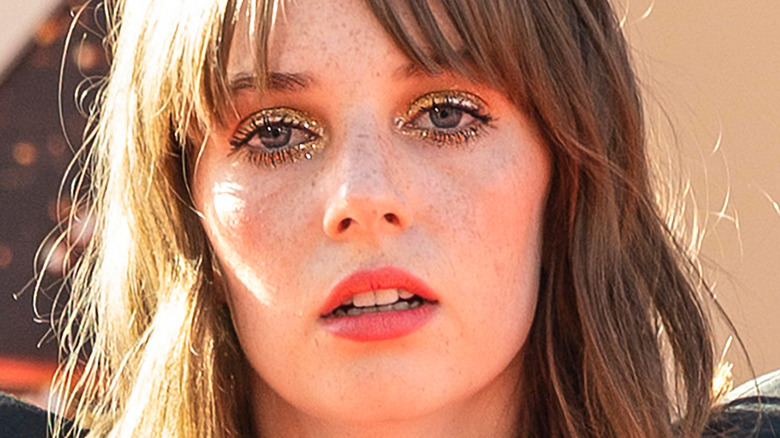 Ovidiu Hrubaru/Shutterstock
These days, it seems Maya Hawke and Tom Sturridge have moved on with other people.
In July 2022, Sturridge was spotted kissing TV presenter Alexa Chung at Wimbledon in London, per People. Interestingly, they were seated one row behind Sturridge's ex, Sienna Miller, with whom he maintains a positive co-parenting relationship. Sturridge previously dated Sienna Miller and shares a daughter, Marlowe, with the actress. The two called it quits in 2015, but, according to Harper's Bazaar, they have remained close since the split. 
As pointed out by People, July was the first time Sturridge was linked to Chung, a former model who now works as a TV presenter. She is also an entrepreneur, having launched a clothing line in May 2017. Chung is highly regarded in the world of fashion, with Vogue's Anna Wintour calling her "a phenomenon," according to Business of Fashion.
Similarly, Hawke has been spotted in public with a man who is not Sturridge. In February 2022, the "Stranger Things" actor was seen getting cozy with her rumored boyfriend, Spencer Barnett. According to the Daily Mail, the musician's parents are Roger Barnett, SEO of Shaklee Corporation, and Sloan Barnett, who previously worked as a district attorney in Manhattan.