Kristin Cavallari Gets Real About Her Plastic Surgery
Tinseltown/Shutterstock
Lately, Kristin Cavallari has been gaining attention for her podcast with "Laguna Beach" castmate and ex-boyfriend Stephen Colletti. She also recently spilled some tea about her split from former football player Jay Cutler. Now, she's making headlines for a new reveal, and it doesn't involve her exes. 
The reality TV star is coming clean about plastic surgery, a topic she's been vocal about in the past. In 2019, an Instagram account claimed Cavallari had "lip, cheek and under eye filler and Botox," per E! News. Cavallari fired back, commenting, "I've actually never touched my face but thanks for the compliment I guess. Maybe get your facts straight before u start making claims like that. I'm proud to be injectable free." Then, this past June, Cavallari spoke out on plastic surgery rumors on her Instagram Story (via BuzzFeed). She said, "I don't inject anything in my face. So quit saying 'my face has changed.'"
But now there's a new development, and Cavallari isn't leaving fans guessing.
Kristin Cavallari revealed one procedure she's had done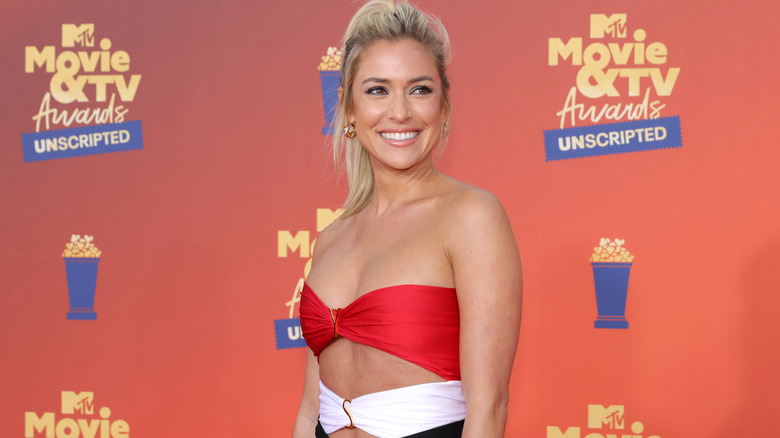 Rich Polk/Getty Images
According to Page Six, Kristin Cavallari recently answered some followers' questions on Instagram Story. Someone wrote, "Are your boobs real? They look amazing! (Jealous mom of 2 here)." The Uncommon James founder replied, "Gonna keep it real with y'all: got a lift after breast feeding all 3 kids," with a picture of her in a bikini.
Cavallari also explained that Botox and fillers aren't her cup of tea, per People. She said, "It's not for me (or maybe I should say, I've never done it). But I've seen it look amazing on some people." She elaborated on her perspective, saying her "concern is that we don't know the long term effects of it (and I don't mean like 5-10 years, I mean like 20 years) and I think your face is a muscle, so we need to work it out the same way we would any other muscle."
This isn't the first time Cavallari has addressed Botox and fillers. In 2021, she told Page Six, "I have fine lines on my face! I don't care. I'm really expressive. I like that my face moves." Well, that settles that!