The Masked Singer Leans Into Tom Brady Contestant Rumors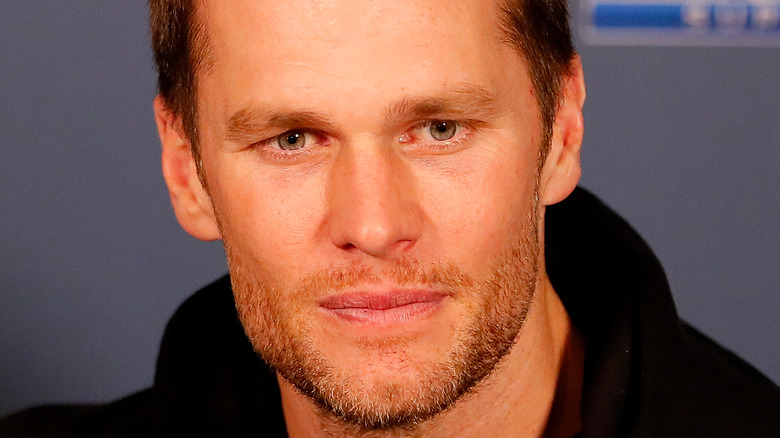 Kevin C. Cox/Getty Images
Is it possible that Tom Brady might be the next athlete to make an appearance on "The Masked Singer"? The hit reality series is about to enter its eighth season, and a promo video released by Fox on August 15 revealed some previews of what viewers can expect. This includes contestants donning mermaid, robot, and Venus flytrap costumes.
Fox stated that the upcoming season, which features host Nick Cannon and judges Ken Jeong, Robin Thicke, Nicole Scherzinger, and Jenny McCarthy, will be "As Epic As It Gets." The show has had a number of sports stars competing in disguise in the past, including NFL greats like Jordan Mailata, Rob Gronkowski, Mark Sanchez, Terry Bradshaw, and Antonio Brown, per Insider.
As Us Weekly wrote this week, Los Angeles Rams COO Kevin Demoff jokingly said that he hoped Brady would "still be on 'The Masked Singer'" in November, when the Rams are going up against Brady and his teammates of the Tampa Bay Buccaneers. Brady was on a short hiatus from playing at the time, and Dermoff's comment sparked some gossip that Brady may be on the series soon. A new sneak peek from "The Masked Singer" Season 8 now has fans buzzing even further.
Tom Brady tries to squash Masked Singer speculation
Rumors have been swirling about Tom Brady's possible participation in "The Masked Singer," but the football star denies this claim. In a video obtained by TMZ Sports, "Masked Singer" judge Ken Jeong is shown trying to guess who an undercover contestant dressed as a hummingbird could be. Jeong then states that the singer is "screaming out like a football legend," and he believes they "could be the greatest [player] of all time." This hints that Brady could be the singer, and Jeong's following statement directly addresses the notion: "He just got fined for not showing up to training camp because he is here on 'The Masked Singer.' This is seven-time Super Bowl winner Tom Brady!" Jeong said.
Brady has since responded to the gossip. He took to Twitter to address the idea that he will be featured on "The Masked Singer" this year. "Wasn't on the masked singer last week. Was wearing a mask though," Brady wrote. On August 23, it was stated by CBS Sports that Brady had resumed practicing with the Tampa Bay Buccaneers after pausing playing for 11 days due to "personal reasons." This absence fueled the "Masked Singer" rumors, as TMZ noted that Brady reemerged two days after the show had ceased filming.
It looks like fans will have to wait and see for themselves once the series begins airing on September 21.